Tom Aspinall does not believe he would face Jon Jones in a fight in a potential bout. Jones returned after an absence of three years to compete at UFC 285. He defeated Ciryl Gane in the first round to become the UFC heavyweight champion. However, Aspinall does not think Jones will remain in the sport long-term.
Tom Aspinall doubts Jones would even be interested in fighting young fighters like him. "I've been saying this for ages," he told Michael Bisping. "I was like, 'Look, he's going to go up there, he'll have one fight, fight Stipe, and then retire.'.. I'm like, there's no chance." Aspinall's comment indicated Jones only wanted to compete against fighters with significant name value.
Jon Jones hinted that he might retire from the UFC in the near future. The next fight with Stipe could potentially be his last in the octagon. Jon Jones is slated to make his first title defense against Stipe Miocic. Stipe is widely regarded as one of the greatest heavyweights in UFC history. Miocic is a former two-time UFC Heavyweight Champion and a formidable opponent for Jones to conquer.
Aspinall said, "The guy doesn't have to be fighting …maybe he'll come up, have one or two fights, and then leave… I'm sure that's what he's gonna do." Tom Aspinall recently faced his first UFC loss against Curtis Blaydes via TKO. Aspinall badly injured his knees during the fight. Blaydes went on to fight Sergei Pavlovich but got destroyed in the first round. Pavlovich called out Jon Jones after that fight and challenged the winner of the Jones–Miocic fight.
Related: "Hits stupidly hard and accurate" – Fans demand Jon Jones to fight Sergei Pavlovich for title after Russian heavyweight extends first-round KO record
Sergei Pavlovich challenges Jon Jones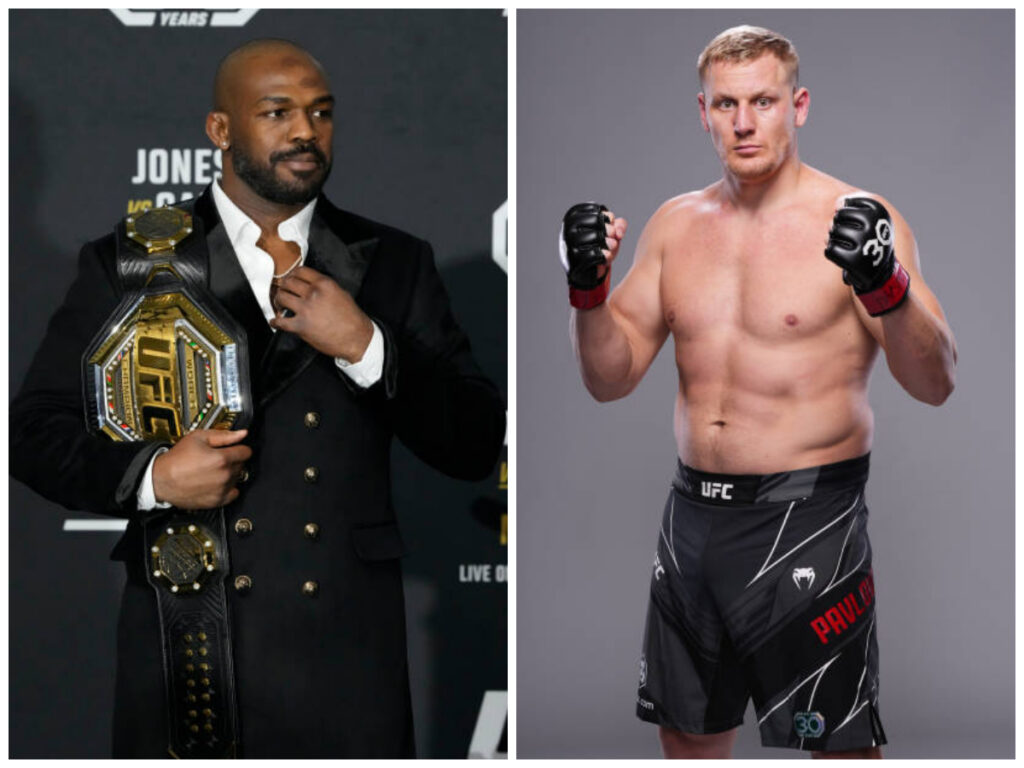 Russian fighter Sergei Pavlovich defeated Curtis Blaydes and immediately challenged Jon Jones for the Heavyweight title. Pavlovich said he would wait forever to challenge the winner of Stipe vs Jones.
He acknowledged that both men are extremely adept in their game and that he would have to train equally hard for both of them.
"I wouldn't say that either of them would be an easy fight…I mean, they're both hard warriors so I would have to prepare for whoever it is, then be ready for whoever they give me," Pavlovich said in the post-fight press conference.
Sergei is a talented fighter with a professional record of 18 wins and only one loss. He is among the most talented prospects in the heavyweight division and possesses enormous knockout power. Fight fans will be delighted to see Pavlovich challenge the winner of Jones vs Stipe in a future bout.
In case you missed it!