Khamzat Chimaev is one of the scariest fighters to grace the octagon. The fighter from Chechnya not only has an amazing fighting style that is very captivating but his work on the microphone is also just as entertaining as his fights.
Khamzat "Borz" Chimaev is a fighter born in the Russian Republic of Chechnya. The fighter moved to the country of Sweden and has been fighting out of there in his entire professional career. Khamzat has not been in the UFC for a long time but is already one of the most polarising figures on the roster and a huge draw.
Chimaev made his debut in the year 2020 and has risen to the top of the mountain within the span of 2 years. This fighter has seen a rise like no other in the UFC roster and is undoubtedly one of the favorites to fight for the welterweight and middleweight titles. His first-ever bout inside the octagon absolutely stunned everybody and the post-fight interview was a hit as well.
Khamzat Chimaev has a very "scary" personality about himself. The fighter is famous for his "I SMASH EVERYBODY I KILL EVERYBODY" line which has been one of the most used lines in the MMA community. Khamzat should also be given props for how he has promoted himself since his UFC debut.
Related: Is Khamzat Chimaev related to Khabib Nurmagomdev?
Is Khamzat Chimaev fluent in English?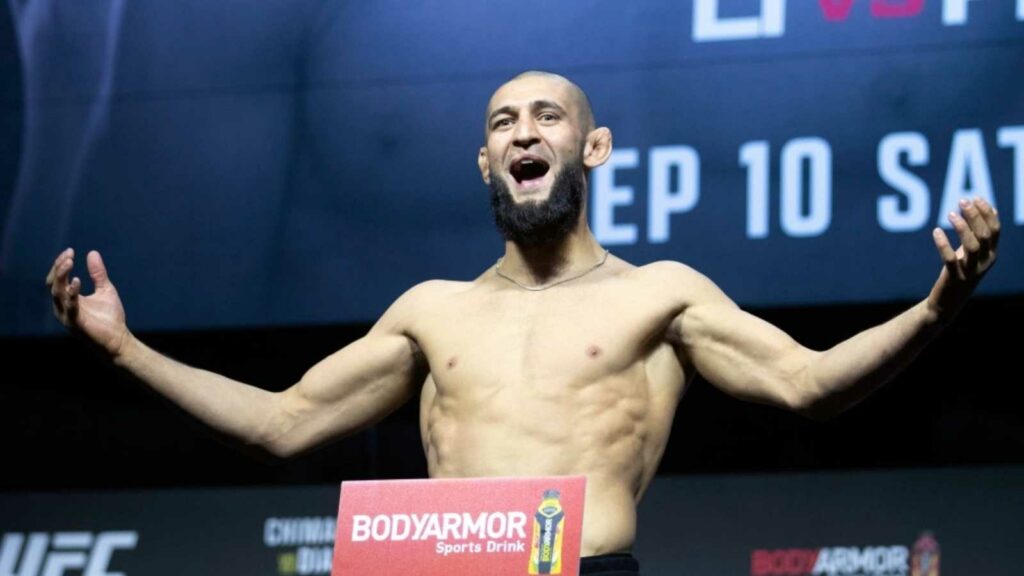 For someone whose native is not an English-speaking country, the rising superstar has great command over the language. Khamzat does all his interviews and press conferences in English and is also down to go back-and-forth with his opponents and talk trash about them ahead of his fights.
The fighter can also be seen talking in Swedish in several interviews. His time in Sweden has helped him develop a very good command of Swedish. The fighter is originally from Chechnya, which is a republic of Russia. "Borz" also speaks his native language, Chechen, and is also fluent in Russian.
Also read: "I love him," Khamzat Chimaev clarifies misunderstanding between him and former champion Khabib Nurmagomedov
The fighter knows 4 languages and is very fluent in them. Khamzat never shies away from speaking any four of these languages and is always down to reply to local reporters in their language. Many talented fighters have failed to make it big in the UFC because of the language barrier.
Khamzat is the best example of the heights one can reach if he takes the trouble of speaking in English. Not only does Khamzat's fighting do the promotion for him, but his press conferences and interviews are also now look forward to because of the fighter's crazy personality.
Also read: "There are NO MUSLIMS around him" – Khabib Nurmagomedov makes controversial statement about Khamzat Chimaev's teammates