Neil Magny officially now holds the record for most wins in the UFC welterweight division. The UFC veteran has yet again gained the respect of the MMA fraternity with his win at UFC Vegas 64.
UFC Vegas 64 saw one of the best welterweights Neil Magny taking on Daniel Rodriguez in the co-main event. While this fight was important for D-Rod to climb up the rankings, Magny had a milestone to reach with a win earlier today. The UFC veteran impressively submitted his opponent in the third round to record his 20th win in UFC.
Fighting since 2013, Neil was tied with the legendary Georges St-Pierre at 19 wins leading up to this fight night. Magny was only one win from becoming the No.1 most-wins of all-time in UFC welterweight history. The "Haitian Sensation" did its style to achieve this feat. Magny is one of the most underrated fighters on the UFC roster and has never turned down a fight.
Magny is widely considered as the litmus test in the welterweight division for several up-and-coming fighters. If you can pass the Neil Magny test, you are fit to fight the top flight of the division.
Read more: "I'll give you my word, that I'm slapping you on sight and teaching some respect!" Neil Magny fires back at Khamzat Chimaev
Neil Magny reacts to passing Georges St-Pierre for most wins in the welterweight division's history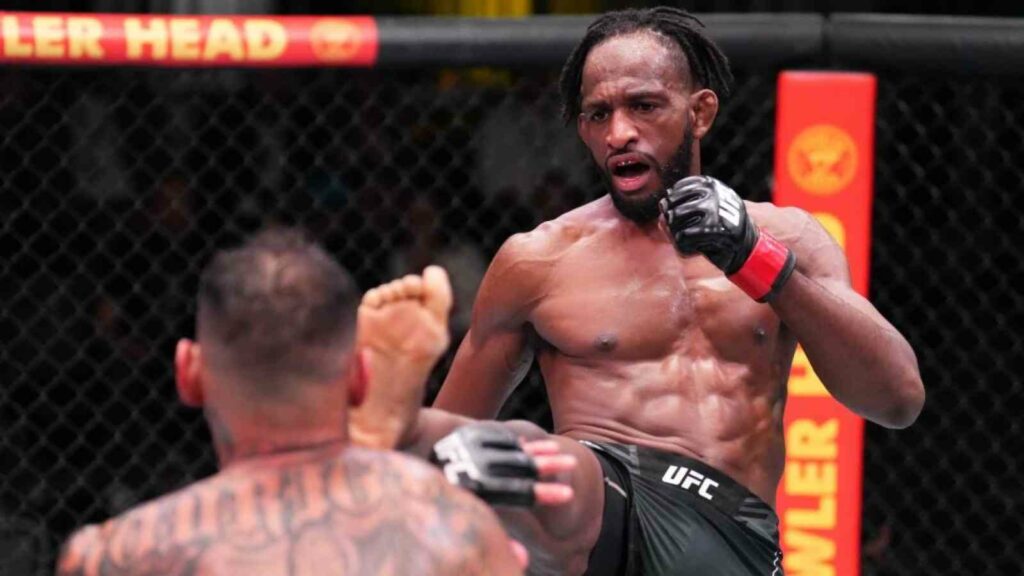 UFC Vegas 64 would be a special night for Magny. The veteran not only secured an amazing victory against the dangerous Daniel Rodriguez, but he also reached the milestone by passing an all-time great. Despite passing the great GSP, Magny shuts down any comparisons between the two.
Also read: "One tweet at a time" – UFC Fighter calls out Elon Musk and Donald Trump to "make America great again" after impressive win in the octagon
"I believe Georges St-Pierre is the greatest welterweight of all time. It was cool to be able to get to the point where I have the most wins in UFC right now but I just have to accept that his career is far different than mine," said Magny talking to media after his win at UFC Vegas 64.
Magny is also touching up on another milestone. The fighter now has 27 fights in the UFC welterweight division, only 2 behind the legendary Matt Brown for most fights in the history of the weightclass. Across all divisions, Magny joins the great list of Rafael Dos Anjos, Jon Jones, Dustin Poirier, GSP, and Michael Bisping for having 20 wins in the promotion's history.
Also read: "Wanted me to finger him in the a**" – Polyana Viana exposes SHOCKING secret about Colby Covington's sexual interests