In a recent instalment of the JRE Podcast, Joe Rogan is joined by Green Bay Packers quarterback Aaron Rodgers. The UFC commentator discusses the effect that Covid 19 restrictions had on the American people. He had been in a lot of controversies regarding his views on Covid in the past with people even accusing him of spreading misinformation.
Rogan host the JRE podcast which is exclusively available on Spotify. He was recently dethroned by Meghan Markle's Archetypes podcast on Spotify's No.1 U.S podcast list. However, with over millions of downloads every month and billions of listeners his podcast is still one of the biggest in the world.
The UFC commentator is famous for sharing his opinions and views on topics without any filters. The listeners adore listening to his podcast for this reason. He also never backs down in expressing his opinions on controversial issues such as abortion or gun control.
Related: 'Podcast King' Joe Rogan is dethroned by Meghan Markle's 'Archetypes' of The No. 1 spot On U.S. Podcast charts
Joe Rogan believes that a lot of people are already going to vote Republican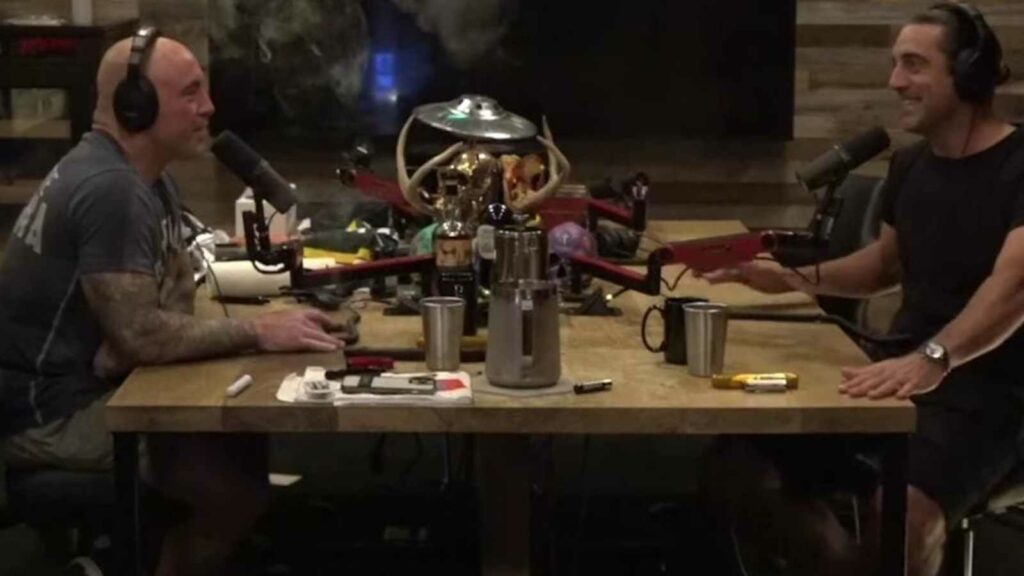 In episode #1865 of the 'Joe Rogan Experience' The UFC commentator is joined by Aaron Rodgers. They both talk about a plethora of topics including Leon Edwards' win over Kamarus Usman in the octagon last weekend. Rodgers also clarified his "Immunized" Controversy. The guest furthermore shared a story about how he was nearly expelled from the University of California.
While discussing COVID-19 restrictions in California and across the U.S, Joe stated that "No one who is alive today had ever experienced a true pandemic and I'm hoping that now that this is over people are going to recognize that some serious errors were made and not repeat those."
Also Read: "Trying to lean society"- Joe Rogan and Aaron Rodgers ridicule the absurdity of the World Economic Forum's BIASED article
Rodgers curiously asks Joe's advice for the people that suffered during the Pandemic, "So what do you tell those people?" The UFC commentator replies, "'Vote Republican'. That's what a lot of them are going to do anyway."
Joe then cited an Associated Press article from July that said that more than 1 million voters across 43 states had switched to the Republican Party in the past 12 months. He further said that people lost everything that they ever worked for, and were just going to be angry.
Also Read: "They've to pee in bottles" – Joe Rogan berates Jeff Bezos over the DESPICABLE treatment of Amazon Warehouse Workers