UFC featherweight champion Alexander Volkanovski has proved to be one of the deadliest fighters on UFC's roster. Although he faced a split-decision loss to Islam Makhachev, Volkanovski was able to put on a dominating performance against the Dagestani champion. Despite the cheerful nature, the Australian fighter is a force to be reckoned with. YouTuber Logan Paul and his friend were reminded of the same during their time with Alexander Volkanovski.
Ever since its launch Prime has created huge waves in the beverage industry and also signed huge promotional deals with Arsenal and UFC. After becoming the official sports drink for UFC, they also added champions Alexander Volkanovski and Israel Adesanya to Team Prime. Following the deal, Logan Paul and his co-host Mike Majlak appeared on Cooking with Volk. The show where the UFC featherweight champion displays his love for cooking.
'The Great' has collaborated with several guests and this time, taught Logan and Mike to cook some Big Mac Tacos. Volkanovski was also seen sporting an iced-out necklace and a Team Prime T-shirt advertising his new sponsor. Two minutes into the show and Logan Paul talked about how easily Volkanovski could kill him and his friend. This was then affirmed by Mike who proceeded to ask Alexander what would be his weapon of choice. "If you were to kill us right now, how would you do it?" questioned Mike.
Without skipping a beat Volkanovski uttered a single word that made Logan and Mike confirm their suspicion. "Strangle," said Alexander as he chose his favorite method to end the duo. The troupe started laughing uncomfortably and Mike even snuck in a Knife for his protection. While all of this was simply a joke nothing could stop Volkanovski if he decides to go for the kill.
Related : "Disrespect to Buckley is crazy" – Fans explode as Logan Paul reveals Israel Adesanya and Alexander Volkanovski as PRIME-sponsored athletes; snubbing important UFC star
Logan Paul's friend jokes about Alexander Volkanovski's loss to Islam Makhachev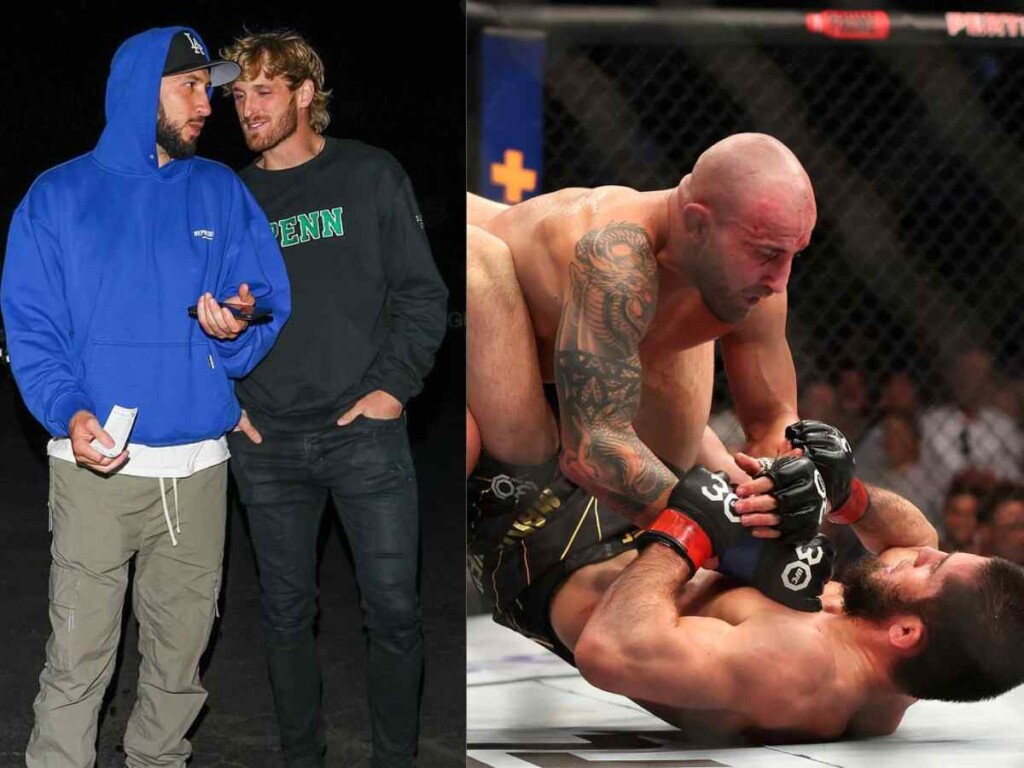 Logan Paul recently revealed UFC featherweight champion Alexander Volkanovski and middleweight champion Israel Adesanya as the First athletes sponsored by Prime. Ever since the deal, both fighters have been producing content in collaboration with Prime co-founder Logan Paul. Paul also appeared in Volkanovski's Youtube cooking segment, Cooking with Volk along with Mike Majlak.
The featherweight champion is a passionate cook and has displayed his culinary skills on the show. During its recent episode 'The Great' taught Logan and his friend Mike the recipe for Big Mac Tacos. Once both Mike and Paul were done with their dishes, Volkanovski was asked to judge the better Taco. 'The Great' sided with Paul based on its appearance which brought up a hilarious reply from Mike.
"You know what? Islam did win the f***ing fight. You know what? I'm just gonna f***ing say it, alright? He had ground control the entire time," said Mike. Logan Paul stepped in to console Alexander by opposing Mike's statement. The trio laughed at the joke and approved of Volk's recipe after trying it out for themselves. Apart from his appearance in the kitchen fans will soon see Volk back in action inside the Octagon. 'The Great' will be defending his title against Yair Rodriguez at UFC 290.
In case you missed :