A legendary kickboxer, Mark Hunt is one of the greatest combat athletes to come from Oceania region. With an extensive career in kickboxing and MMA, Hunt in his prime was a force to reckon with. While he was known to have tremendous power in his fists, Hunt also had a granite chin and often ate shots as if they were nothing.
Over the course of his career, Hunt achieved many accolades. However, his journey to the top were filled with hardships and obstacles. In his book, 'Born to Fight', Hunt opened on the same. 'The Super Samoan' detailed on the abuse he suffered in his childhood by the hands of his late father.
Describing the incident, Hunt wrote, "My old man was ruthless. He terrorised us. He'd start with the mental games before he even found the implements to hit us with. He once tied me up in the garage with my hands above my head and beat me with a frigging broom handle. I got away and my brothers came after me. They said f**king get back there or we're all gonna get it" [H/T MMA Mania]
Despite going through such troubling times, Hunt was able to make the most of his career. Not only did he achieve fame and fortune, but Hunt also cemented his legacy by winning the prestigious K-1 Grand Prix in 2001.
Related: Ahead of his boxing bout against Paul Gallen, former UFC star Mark Hunt swings wildly at Gallen during the weigh-ins
Mark Hunt does not value the UFC title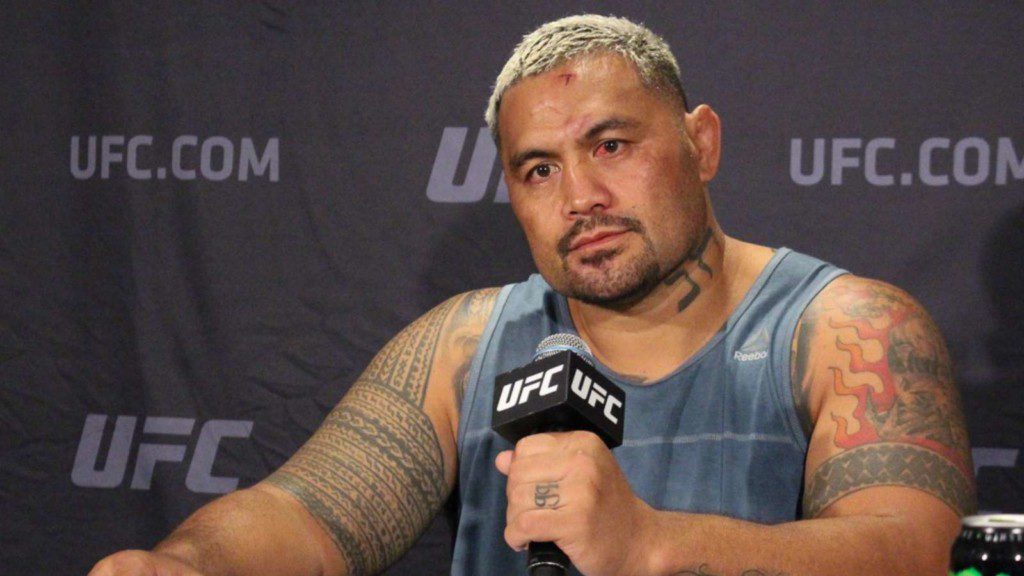 Even after making quite the name for himself in the UFC, Mark Hunt was never able to win gold in the promotion. While he did compete for the interim heavyweight championship against Fabricio Werdum at UFC 180, Hunt was unsuccessful as he lost the fight via TKO in round two. But years later, it seems Hunt does not view the UFC championship highly.
During an interview with Submission Radio, Hunt mentioned there was no prestige in the UFC title. He said, "There's no prestige in that title, in the UFC title. There's no money in that title. And that's not just me telling you, you can see from the evidence that everyone's doing."
'The Super Samoan' further spoke about not wanting to be a UFC champion. He added, "Why would you want to be a UFC fighter? Why would you want to be the heavyweight champion of the UFC? Why would you want to be the champion of these things when they're just f*ckin' paying them 16 percent? It's garbage. It's honestly garbage. "
Also Read: "Hard time without food" – Khamzat Chimaev opened up on the tough times he faced in his childhood
Hunt's statement further brings light to the issue of fighters being underpaid. Several fighters of the past and present have spoken about the same. It will be interesting to see the changes the UFC makes to combat this issue. What are your thoughts on Mark Hunt's statements? Let us know your views in the comments below.
Also Read: "We want revenge" – Conor McGregor fans are in wait of vengeance against Floyd Mayweather in their potential rematch