Every fighter learns from his or her loss, for some, there's a special lesson that stands out of one odd loss, for Marlon Vera, it was his loss to Jose Aldo. After his loss to Aldo back in December 2020, Vera went on a 4-fight winning streak and beat the likes of 2 former world champions via a spectacular knockout. Ever since that fight, Vera is currently ranked #5 in the official bantamweight rankings and Aldo has announced his retirement from MMA.
In an interview with Submission Radio, Vera talks about his reaction to Cory Sandhagen's call out of him, his grandfather's influence in his life, how a fight against him vs Sandhagen will play out, prediction of TJ Dillashaw vs Aljamain Sterling and Sean O'Malley vs Petr Yan at UFC 280 and much more. In the midst of all, Vera also reacted to former opponent Aldo's retirement.
"First of all, the guy is the best featherweight of all time as it is today, you know," says Vera. "As of now doesn't matter what Volkanovski or Holloway did, both were great but Aldo did more for a longer time… so you gotta pay respect when you have to and as an opponent, it was a close fight… I could've just done better but you know…
I took it like a man, I took it in my chin, I blame it on me because it was my fault how I lost but… he taught me a big lesson…" says Vera who also wished to have fought Aldo again but doesn't hold to the wish now. Veras also claimed that Aldo did a smart thing by retiring at the top.
Also Read: "He couldn't handle himself," Sean O'Malley's fight record CRITICALLY ripped by Marlon Vera's brutal assessment
The legacy of Jose Aldo, the last man to hand Marlon Vera a loss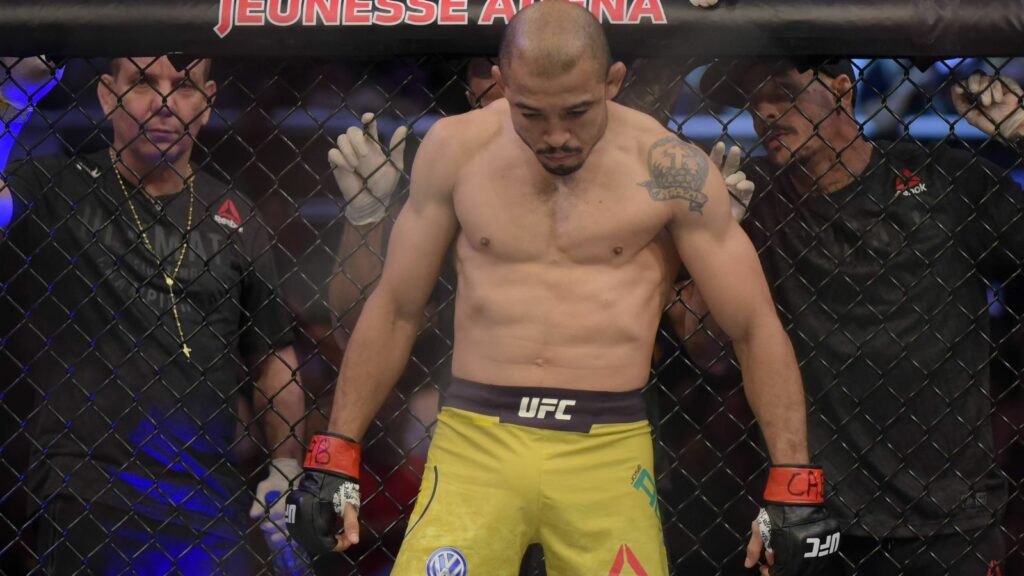 Jose Aldo has the record for the most title defences in UFC-WEC featherweight history. He is submitting for himself a record of 31-8 in his overall MMA career. Out of those 31 wins, Aldo has won 17 by the way of knockouts. His list of wins includes the likes of Rob Font, Marlon Vera, Pedro Munhoz, Jeremy Stephens, Renato Carneiro, Frankie Edgar, Chad Mendes, Ricardo Lamas, Chan Sung Jung, Kenny Florian, Urijah Faber, Mike Thomas Brown, Cub Swanson and many more.
During the official announcement of his retirement, while the world was tributing him with wholesome and nostalgic tweets of his days of fighting, Aldo was enjoying witnessing the birth of his second child, Jose Aldo III in a hospital in Brazil. What's next for Aldo is not sure but the Brazilian has enough businesses running to keep him monetarily secured for life.
Also Read: "Don't talk about that prison" – Jorge Masvidal's limits are tested as DARING interviewer asks the superstar about his dark past
What did you make of Vera's words on Aldo's retirement? Where do you put Aldo amongst the greatest UFC fighters of all time? Where do you put Vera amongst the most dangerous UFC fighters on the current roster? Do you think Vera will become the first UFC champion out of Ecuador? How do you think Aldo will do in boxing if he is to choose to keep fighting, just in other combat sports?
Also Read: "He wanted me to put sharks to sleep" – Mike Tyson tells Joe Rogan how Dana White ALMOST got him killed