While most MMA critics weren't much appreciative of the fact that Mark Zuckerberg had the entire UFC Apex for himself at UFC Vegas 61, Michael Bisping believes the Facebook founder's "takeover" might actually do the sport well.
There is no doubt that Mark Zuckerberg was the most influential and famous person at UFC Vegas 61. The Facebook founder/billionaire was present with his family to watch the Fight Night event octagon side. The entire UFC Apex in Las Vegas, Nevada, which is usually open to media and limited fans, was shut down on account of Zuck's appearance.
Zuckerberg has proven that he is a huge MMA fan who also happens to practice jiu-jitsu in his free time. According to Bisping, Zuckerberg watching a live UFC event will now push people from his demographic to take up the sport or watch a UFC event.
"Mark Zuckerberg was in attendance. Pretty cool to see," said Bisping on the "Believe You Me" podcast. "I don't know what to think about Mark Zuckerberg, he's a fu**ing nerd, let's be honest, but he's awesome because he's there and he's watching the UFC," added the former middleweight champ on the podcast.
Related: "A Black Mirror Episode"- Fans React to Billionaire Mark Zuckerberg renting out a UFC Live Event amid massive speculation
Michael Bisping is positive that Mark Zuckerberg will influence many to accept mixed martial arts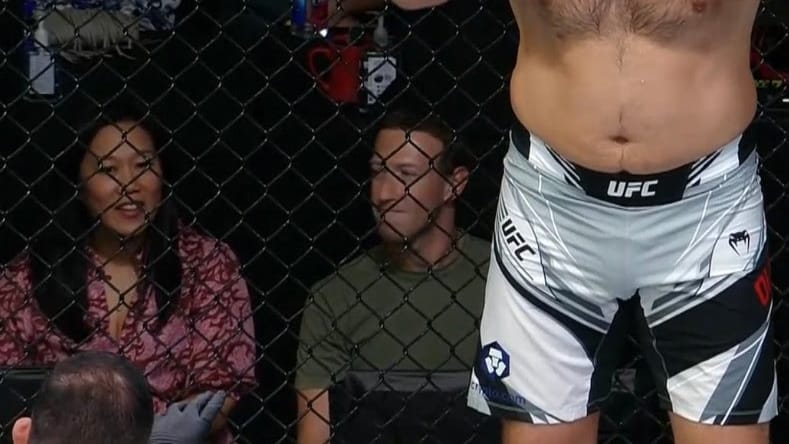 Though boxing is wildly accepted by people all around the world, mixed martial arts has its struggles to convince the general audience. While many seem to refrain from giving the sport a chance, an influencer like Zuckerberg could truly do the sport great good, believes Bisping.
Also read: "Jiu-Jitsu is the best sport" – Billionaire Mark Zuckerberg surprises Joe Rogan with his love for mixed martial arts
"I believe this will open up, potentially, another realm of people because MMA is hugely and wildly popular, but there's still skeptics, there's critics, and there's still people that won't give it a shot," said Bisping talking about the sport's global acceptance.
"He's not typically who you would think is the 'just bleed' MMA fan," added Michael Bisping while talking about Zuckerberg being an MMA fanatic. Many were surprised to know that the Facebook founder was a huge mixed martial arts fan.
Also read: "F*****g awesome Mark!" – Conor McGregor and Joe Rogan react to Mark Zuckerburg's MMA training video