Michael Chandler and Dustin Poirier are all set to fight each other in the co-main event of UFC 281 on November 12. The long time coming fight has finally been scheduled and the fans are super excited.
Poirier has been out of action for a long time since he last fought Charles Oliveira for the lightweight title at UFC 269. However, the fighter has shown the intention to come back for some time now. Poirier wanted to go up and fight Nate Diaz but that fight didn't happen later the fighter got into an verbal altercation with Chandler. The former Bellator champion and Poirier were present at UFC 276 and things got heated and it continued for a long 30 Seconds.
During the altercation, Poirier called Chandler a fake. He said,"you are a fake motherf. "I'll f** you up.
This was a great opportunity for UFC to finally make the fight between Chandler and Poirier and that's exactly what happened 3 months later. Recently, UFC twitter account made the official announcement about the fight..
Read More: "It's OFFICIAL"- Dustin Poirier, Michael Chandler's massive GRUDGE match is set for UFC 281 in MSG
Michael Chandler tries to mock Dustin Poirier's sauce brand but ends up praising it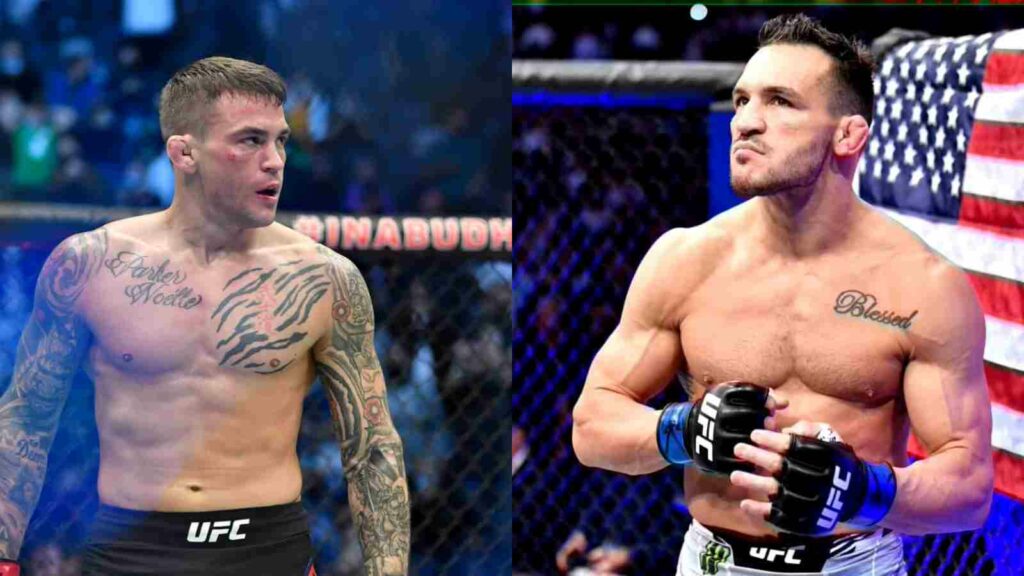 It seems like the Michael Chandler and Dustin Poirier rivalry has been around for a long time. Not like now, where both the fighters are hungry to beat each other inside the octagon but something more subtle.
A viral clip of one of Chandler's Instagram stories has been circulating on the internet lately which has gathered the attention of the fight fans.
Also Read: "Thank Me" Gilbert Burns wants credit for UFC 281 Fight Between Dustin Poirier and Michael Chandler being confirmed
In the clip, Chandler can be seen throwing away Poirier's Louisiana Hot sauce inside the garbage can in order to mock the fighter. Later in that same clip, Chandler went and brought back the sauce and used it on a fried chicken. Out of respect towards the sauce, Chandler hilariously gives the sauce a thumbs-up by saying, " it's pretty good."
Since coming into the UFC, Chandler knew he will have to fight Poirier in future and the time has finally come. Both the fighters have the reputation of bringing their best game into the octagon and this time it will be no different.
Also Read: "BUM Olympics" – Dustin Poirier, Max Holloway, and other legends react to Nate Diaz's FINAL win in the UFC against Tony Ferguson