Paulo Costa could be on the up again. Following the consecutive defeats to UFC Middleweight champion Israel Adesanya and Marvin Vettori, Paulo Costa's aura has noticeably diminished in the last couple of years. That, coupled with issues making weight has significantly affected "Borrachinha's" stake in the Middleweight division.
On Sunday, at UFC 278, Paulo Costa successfully attempted to steer himself in the right direction once again, beating aging Luke Rockhold, who retired at the end of the bout. The fight did a lot of favors for Costa, letting him showcase his striking ability and much-improved takedown defense against ex-champion Rockhold.
In a 3-round brawl, Costa had Luke's number for most of the fight, despite getting rocked a couple of times. However, the highlight of the fight was Rockhold smearing blood on Costa's face towards the end of the fight.
The difference in Costa's attitude this past weekend has been night and day, as compared to when he fought Adesanya and Vettori. Markedly calmer, Costa made weight with no major issues and went about the media scrum with jokes, a smile on his face, and his "secret juice."
Related– "He MIGHT be the GREATEST middleweight of all time," Chael Sonnen LEAPS LIMITS in praising Luke Rockhold after UFC 278
"I'd like to stay in the UFC" – Paulo Costa reveals his intentions to continue fighting in the promotion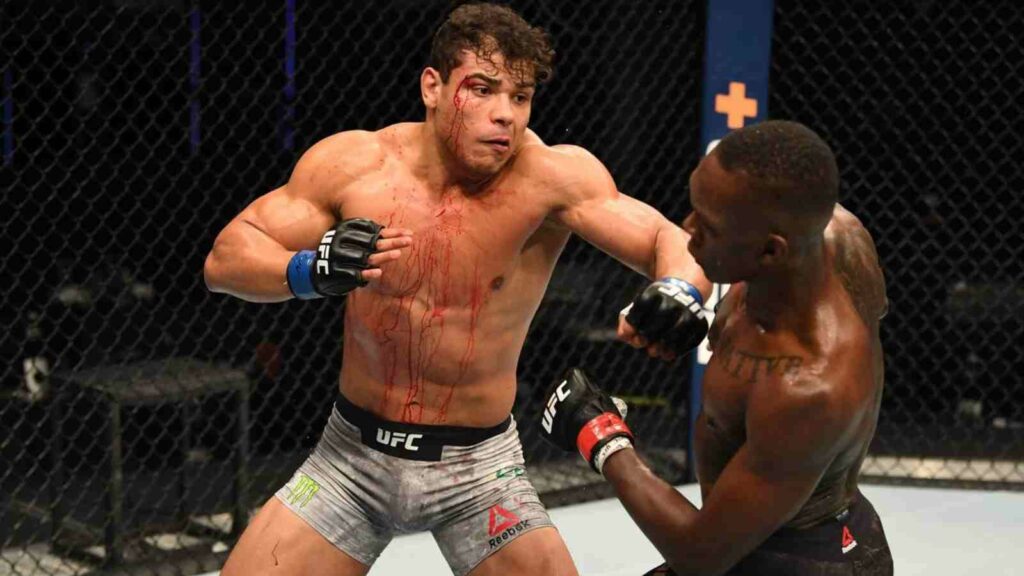 Costa, his coach Eric Albarracin and his manager-girlfriend sat down in an interview with the Schmo today to talk about his plans for the near future. Among the things discussed was him wishing to pen a new deal with the UFC, despite saying that being a free agent would be good for business. This comes after Costa's chat with Ariel Helwani where he detailed his measly pay for the Vettori fight, and not too impressive purse against Rockhold.
Moving on to who he would like to fight next in the last fight on his current contract, "Borrachinha" was offered the entrée when The Schmo asked if he had his eye on the winner of Whittaker-Vettori, at UFC Paris this weekend, to which he nodded and smiled. Additionally, his coach added that alternatively, "Blonde Brunson could be next!"
Also Read: "Can't do this s**** anymore" – Luke Rockhold bid an emotional Farewell from the UFC after losing to Paulo Costa at UFC 278
Meanwhile, on a lighter note, Paulo Costa revealed his plans to sell his "Secret Juice," saying "it makes you strong and jacked." Additionally, in a bit of banter, Paulo Costa seems serious in his ice-cream competition against Lightweight Paddy Pimblett, calling him out and saying "I can even eat a Jalapeno ice-cream!" Both men deserve some time off after their grueling bouts in July and August respectively, with this intense rivalry coming at the right time to blow some steam off.
Also Read: "Hulu did PAY him," Chael Sonnen dismisses Mike Tyson's claim of being exploited by OTT platform by stealing his life story in a rhetorical tweet