Stipe Miocic recently tweeted a photo of himself with famous actor Adam Sandler, and to spice up the party, Rob Schneider and Kevin James were present too. Although actors meeting UFC fighters is not a new thing, there is an influence from them in action movie making.
The former UFC heavyweight champion has registered his name in the book of UFC GOATs. As his career progressed, no wonder he gained popularity not just in the MMA community, but also in Hollywood. Stipe Miocic has great friendships with lots of Hollywood celebrities. Recently, 'the silencer' shared a post where he was with actors from the movies Grown Ups and Grown Ups 2.
The Caption he gave to the post was "What a night! @AdamSandler @KevinJames."
Kevin James rose to fame with his breakout role in the 2012 television series "Here Comes the Boom", in which he played the character of Scott Voss. Initially a biology teacher, Voss transitioned into the world of Mixed Martial Arts and became known for his incredible skills and tenacity. Meanwhile, Adam Sandler had already established himself as a prominent sports movie icon, having starred in a variety of comedic classics such as "The Longest Yard", "The Waterboy", and "Happy Gilmore". Each of these films revolved around the world of sports and showcased Sandler's prowess as a versatile actor.
Adam Sandler and Kevin James also attended UFC 71 in 2007 at the MGM Grand Garden Arena. At the event, Quinton 'Rampage' Jackson's victory over Chuck Liddell in the light heavyweight division left fans stunned.
Related: "You convince yourself I'm afraid of you," Jon Jones comes clear about Stipe Miocic fight after Dana White's 'going ghost' comments
Fans were ecstatic to see Adam Sandler and Stipe Miocic meet each other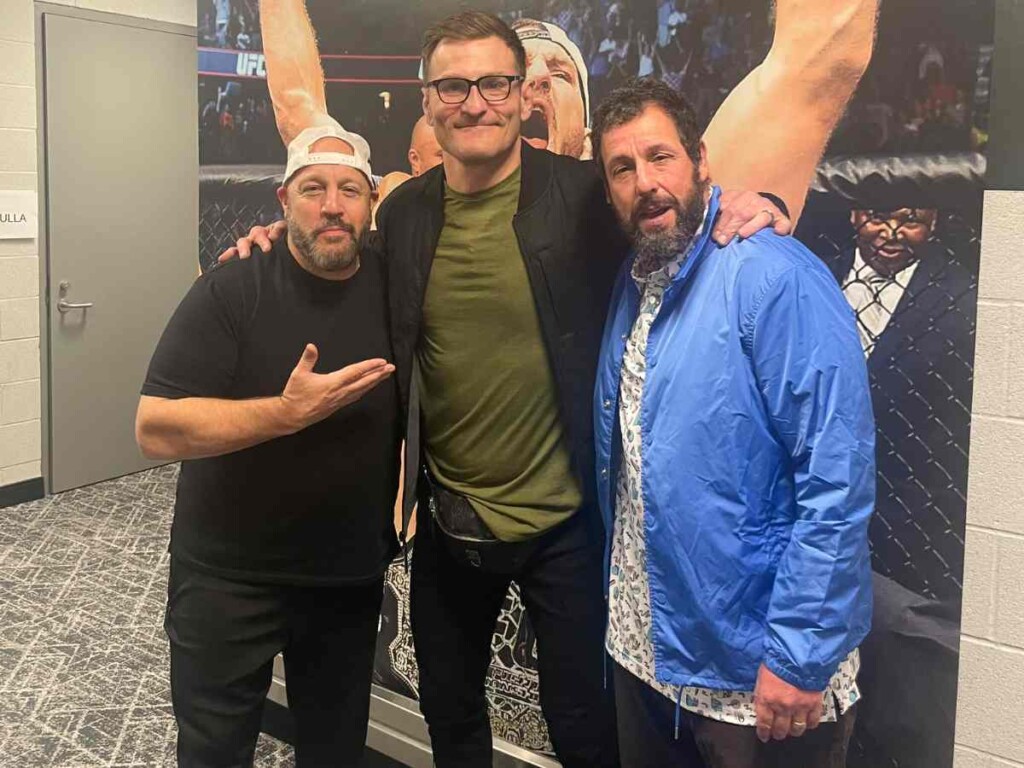 Many fans thought that the former champ caught up with the stars with the hope that Stipe would get featured in a movie. As both are legends in their respective fields, fans showered them with love and praise. Adam Sandler has a worldwide fan base, and as their favorite actor clicked a picture with the Heavyweight GOAT, they were even happier to see it.
Celebrities always visit UFC events at regular intervals to show support for their favorites. Meeting in the background with celebrities is not an easy deal, as celebrities have a much tighter schedule than fighters. UFC fighters are always preparing at the gym, especially during the offseason. Fans get regular surprises from their favorite fighters on social media like the ones Miocic did here.
Apart from all these, Stipe Miocic will have the toughest challenge against UFC GOAT Jon Jones. After defeating Ciryl Gane, Bones has already called for his next fight against Stipe. Fans will get to see them in action in July, as Jones made the call to make the bout in that month.
In case you missed it!