Former two time heavyweight champion Stipe Miocic opened up about meeting his current wife and knowing she was the one. Stipe is widely regarded as the best UFC Heavyweight ever, boasting the most wins at Heavyweight and notable victories over the likes of Francis Ngannou.
Stipe recounts a moment when he was engaged to his current wife, Ryan Marie Carney, and he got into an altercation with a woman about their Uber trip as they were leaving a pub. Stipe got into his cab, hesitant to debate while drunk. At this point, the lady backhands Stipe through the open window of the automobile. His wife gets out of the car and approaches the lady at this moment. A punch was thrown at this time, which was slipped by the wife, who responded and knocked the impolite lady down. Stipe chuckles as he tells the anecdote, revealing that he realised it was time to go home at that point.
Even though the story is very cute, the situation could have gotten out of hand as cops were in the scene immediately, however they were let go immediately as no one wanted to escalate the situation. Watching his wife drop someone cemented for Stipe that she was the one.
Read: "A reality that Stipe beats him" – Bisping believes Stipe Miocic is going to be a huge problem for Jon Jones' heavyweight debut
Stipe Miocic upset on not receiving rematch with Francis Ngannou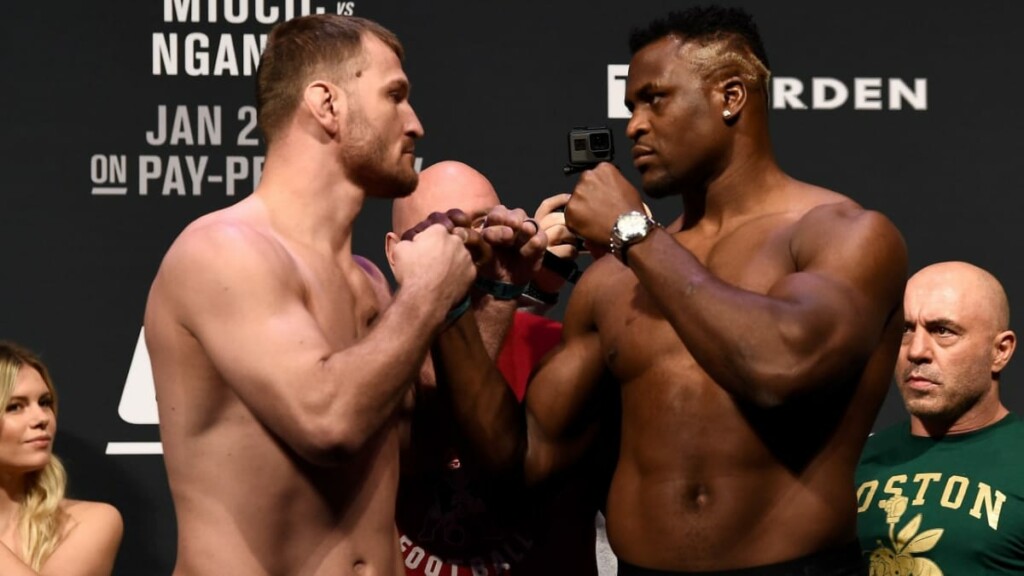 UFC fans are currently awaiting Stipe's return to the octagon after he lost the title to current champion Francis Ngannou. Although they didn't meet for a third time immediately it looks like Stipe's path to the title is still clear if he can a win in the division upon his return.
Stipe Miocic feels he should face Francis Ngannou next, and he is frustrated by the need to wait for a trilogy with the series deadlocked at one win each. The former UFC heavyweight champion vented his rage on Instagram, commenting on a post by ONE Championship CEO Chatri Sityodtong asking who he should sign next for the promotion. Miocic answered with a slew of "thinking face" emojis, implying that he was mocking him.
When another fan reacted, he was questioned about his motivation for the statement. He replies, "I shouldn't have to wait for a winner.I have the most heavyweight title defenses of all time. We're 1-1 butgot instant rematches and trilogies against me?"
Also Read: "Beating Stipe says more"- Jon Jones discreetly shades Francis Ngannou to justify fighting Stipe Miocic
Also Read: "Jones doesn't want that fight," Chris Weidman warns Jon Jones to beware of facing Stipe Miocic in his return