UFC Vegas 59's main card is kicked off by an entertaining lightweight matchup between Terrance McKinney and Erick Gonzalez. This is one of the most exciting fights on the main card.
Terrance McKinney has become a fan-favorite fighter in a short amount of time. The DCWS graduate has wanted to make it big in the UFC for a long time and has finally come around to showing the world that he is the real deal in the lightweight division. UFC Vegas 59 takes place at the UFC Apex in Las Vegas, and both the lightweight fighters will kick off the pay-per-view card.
Terrance's opponent for this fight is another UFC newcomer, Erick Gonzalez. Erick is 14-6 in his professional mixed martial arts career and is only one fight into the most prominent promotion. The fighter did not get the debut he wanted as he faced Jim Miller. Erick wants to get a win against Terrance to get his first win in the UFC. Terrance on the other hand is looking to bounce back from his previous loss. McKinney is 2-1 in the UFC and is one of the most significant prospects of the promotion's 155-pound division. Continue reading to see how the fight between Terrance and Erick played out.
Related "My life is forever changed"- Terrance McKinney sends a wholesome message of hope to fans as he recounts his journey to the UFC
Terrance McKinney gives Erick Gonzalez no chances inside the octagon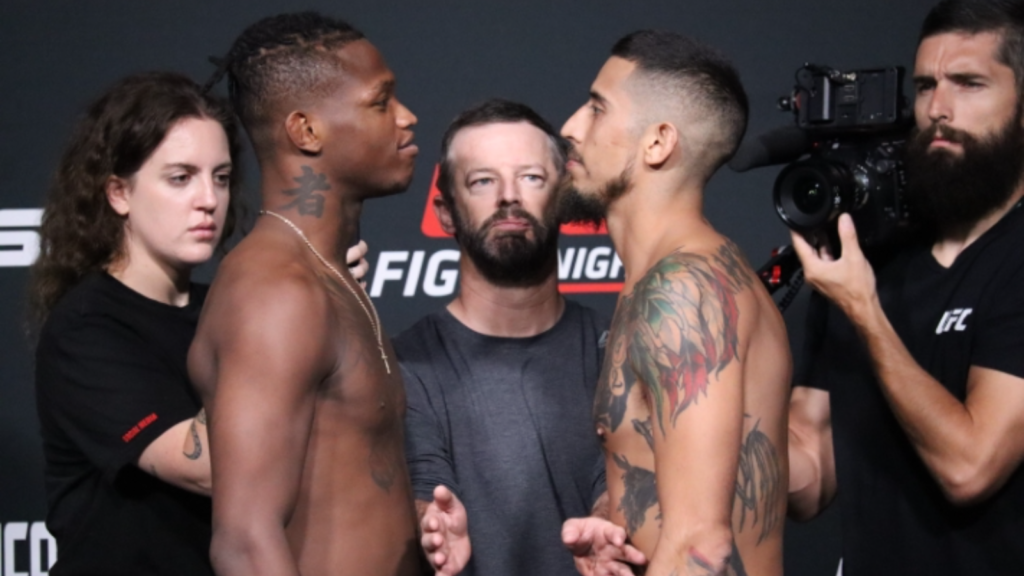 Round 1 McKinney has always had a very aggressive approach to his fights and comes in with the aim to put on a show for his fans and be as entertaining as possible. Terrance immediately puts the pressure on Gonzalez and tries to land some combinations. Gonzalez is flustered by McKinney's pace and goes for a level change. Erick is unsuccessful with his attempt and now Terrance is all over his opponent in the first round.
An uppercut lands for Terrance too! McKinney after showing some great takedown defense now has gone for the level change himself and gets it easily. Not long before the youngster takes back Gonzalez. Terrance going for the rear-naked choke and could very possibly seal the deal. AND THERE IT IS! Erick has tapped and Terrance gets yet another first-round finish. This is amazing work by the youngster.
Results Terrance McKinney def. Erick Gonzalez via submission – Round 1, 2:17
Terrance now has 12 first-round finishes out of the 13 wins in his career. Terrance will now be aiming at a higher level of opponent for his next fight and put a statement to the entire lightweight division.
Also read 'The Greatest Ever' – Fans go crazy over UFC 278: Kamaru Usman vs Leon Edwards official trailer
Also read Ali Abdelaziz says Conor McGregor's MANHOOD was taken away by legendary fighter