UFC bantamweight champion Aljamain Sterling is going to defend his belt against TJ Dillashaw at the co-main event of UFC 280. Sterling proved his worth after defeating Petr Yan in a much awaited rematch at UFC 273, and he is hell bent on retaining his title against Dillashaw as well.
Dillashaw was stripped off his bantamweight title for using Performance Enchanging Drugs back in 2019, and he jumped back into action in 2021 when he faced Cory Sandhagen in an exciting back-and-forth contest. Dillashaw displayed tremendous will and got the narrow split decision victory against his opponent. However, he busted his knee in the same fight, and so he had to wait for another year to get his much deserved title shot.
Aljamain Sterling doesn't shy away from bringing up Dillashaw's 'PED incident' and he claimed that he'll most definitely try something in their upcoming fight. Dillashaw has been in the sport long enough to not let the mental warfare affect him, and talking about this on ESPN's DC & RC, he said, "I think he's already building excuses of why I'm gonna beat him and trying to play that mental warfare but it ain't going to work with me."
TJ Dillashaw claims he's a better wrestler than Aljamain Sterling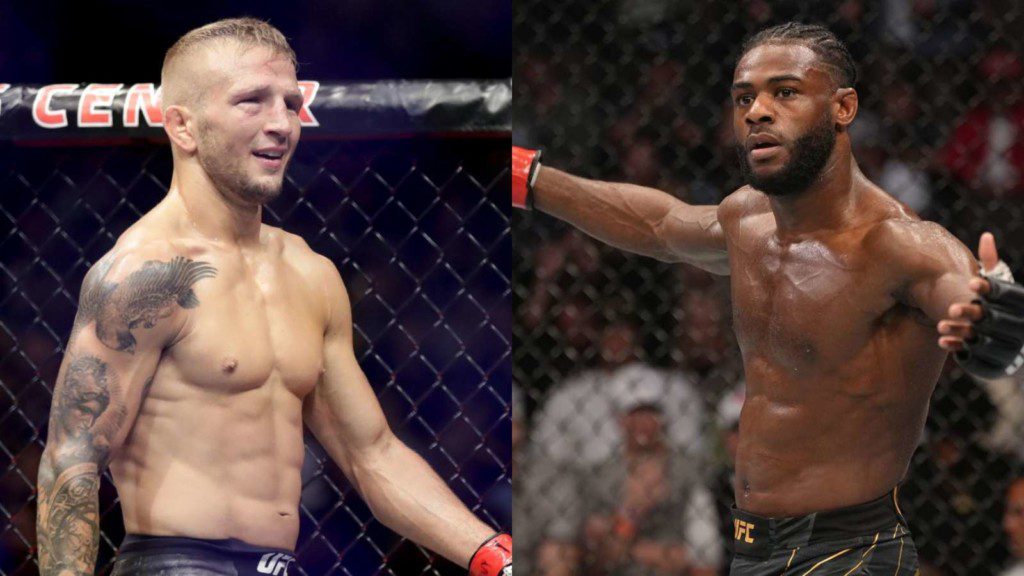 Sterling is a tremendous wrestler, and the way he imposes his will over his opponents is unmatched. His 1st round victory over Cory Sandhagen turned many heads, but Dillashaw believes he'll have the advantage on the ground in their upcoming fight.
"I'm actually the better wrestler," Dillashaw claimed. "I wasn't really impressed with his shots to get those takedowns (against Yan). He had to take 22 of them to get two, right? So, those odds aren't that great, but he's so desperate and persistent in getting them that it helped for him.
"To be honest, man, I'm not feeling the threat. I'm gonna get out there and do what I do best, show him what D-1 wrestling's all about," Dillashaw concluded. Even though he is extremely confident, he is smart enough to not underestimate his opponent. This fight has the potential to become of the best bantamweight contests of our era, and fans can't wait for these two get locked inside the octagon.
Related – "Not feeling the threat" – TJ Dillashaw dismisses danger of Aljamain Sterling's grappling ahead of UFC 280
Also read – When Dana White stopped Conor McGregor from betting 3 million dollars on himself
Also read – Viral sensation Hasbulla Magomedov has officially signed with the UFC as A FIGHTER