Valentina Shevchenko is a name that every MMA fan is aware of. She is one of the best female fighters to ever step in the octagon and her performance has been impeccable throughout her career. Valentina is currently the UFC women flyweight champion and is also the pound-for-pound best female fighter in the UFC. Valentina will face Taila Santos at UFC 275 on June 11 and she has discussed her plans to move to the bantamweight division.
Valentina fights in the flyweight division of the UFC and started her professional MMA Career in 2003. Valentina made her UFC debut in 2015 against Sarah Kaufman and she won the fight via a split decision. She fought for the flyweight title against Joanna Jędrzejczyk in 2018 at UFC 231 and won the fight via a unanimous decision.
Valentina, in her recent interview, talked about moving to the bantamweight division again. During the UFC 275 press meet, Valentina expressed her desire to move to the bantamweight division but was also told that she has new contenders in the flyweight division and she is open to any of these two options. Valentina Shevchenko said: "Every possibility is still there. Maybe bantamweight, but still a lot of like new contenders rising into my division, so any of to this option would work for me."
Valentina also talked about fighting Amanda Nunes or Julianna Pena, and she said she is ready to fight them. Valentina has fought both fighters in the past and used to compete in the bantamweight division before moving to flyweight. Shevchenko defeated Pena in their match in 2017. However, she has lost to Amanda twice in their two fights.
Related: WATCH: Valentina Shevchenko and Joanna Jedrzejczyk's battle in Muay Thai from 2006
"Division is weak"- Dana White speaks out on Valentina Shevchenko's dominance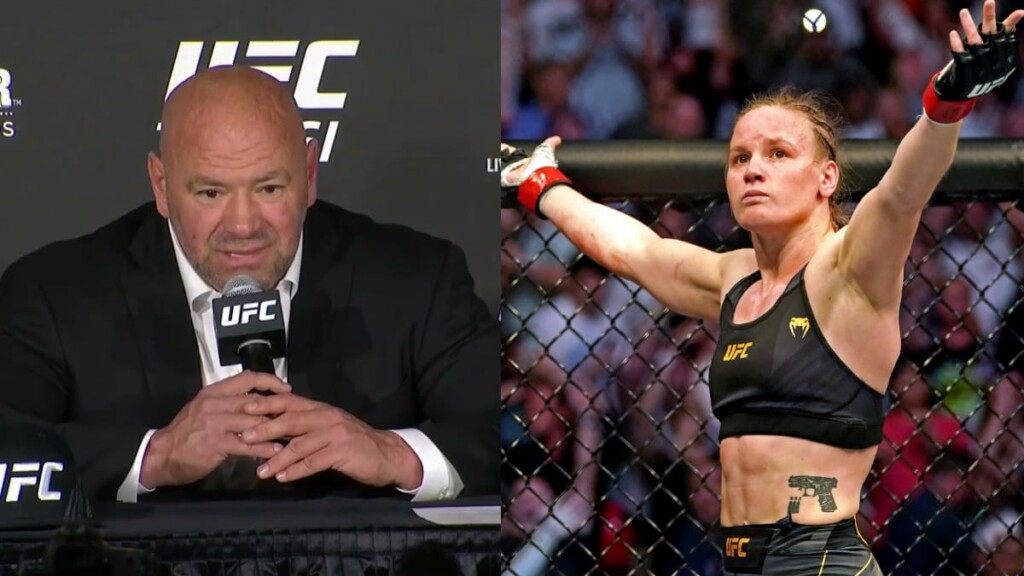 The dominance of Valentina Shevchenko is no secret. After moving to the flyweight division in 2018, Valentina showed her dominant performance and has not lost a single fight in the division. Valentina has successfully defended her title 6 times and will face Taila Santos at UFC 275 to defend it for the seventh time.
Valentina's dominance is acknowledged by everyone and even the UFC president Dana White has appreciated Valentina for such performances. In a recent interview with MMA Underground, Dana white said that Valentina has made the flyweight division look weak.
Dana said: "You're absolutely right. You're absolutely dead on. Yeah, what Valentina has accomplished, what Anderson [Silva] did during his reign, the list goes on and on–And that's exactly what happens. People say the division is weak. No. Valentina Shevchenko is so good, she makes the division look weak."
Valentina has a professional record of 22 wins and 3 losses and she is currently on an 8 fight win streak. She will face Taila Santos, who has a professional record of 19 wins and 1 loss, and she is ranked #4 in the flyweight division.
Also Read: "It's easier to fight Julianna"- Jessica Andrade makes bold claims about beating Julianna Pena for the women's bantamweight title
Also Read: 'No one fits the criteria'- Chael Sonnen reacts to Mike Tyson's advice to Conor McGregor, denies existence of easy fights for the Irishman