UFC flyweight champion Valentina Shevchenko lands another ruby on her belt for her seventh title defence which is quite sure to go on to become the record for the most title defences in women's UFC history. Shevchenko faced the toughest fight of her career with the promising aspect from Brazil, Taila Santos was putting Shevchenko in trouble on various occasions in the title fight at the co-main event of UFC 275. Check for yourself in the narration below to see how close was the fight to announcing a new champion but the ongoing champ maintained her calm in the face of chaos to win in the battle of distance.
Round 1: Lead kick by Shevchenko. Santos in distance. Slow starting by both women. Shevchenko counterstrikes with lead hand Santos' initial attempt. Santos with a leg kick. Spinning attack attempt by Shevchenko. Women close the distance to get into cage-side wrestling. Shevchenko with a knee on Santos' face. Shevchenko with double under hooks.
Shoulder strikes to the face by Valentina Shevchenko. Santos advances with a takedown as Shevchenko slips and gets back control. Santos nears a rear-naked choke attempt. The body triangle is there. Shevchenko is doing a good job of controlling Santos' hand to avoid getting choked and lands some hand strikes off her back. Round ends and 10-9 for Shevchenko.
Round 2: Shevchenko attempts another spinning attack. Santos working in the clinch again. Shevchenko doing good so far in defending Santos' takedown attempt. But Santos gets the takedown! A dominant position on the ground for Santos yet again. Toughest fight for Valentina so far in her career. Shevchenko attempts for an omoplata submission but Santos escapes it.
A little bit of war on the ground as Shevchenko is in full guard while Santos is on the top. The fight is got back to standing by the referee and while back on their feet, Shevchenko takes just a few seconds to assess a takedown in her favour as well. Strikes as usual on the ground. The round ends. Close 10-9 for Santos.
Also Read: UFC 275: When and where to watch this exciting PPV event
Valentina Shevchenko overcame the adversity of getting her back controlled dominantly by Taila Santos to stay the champion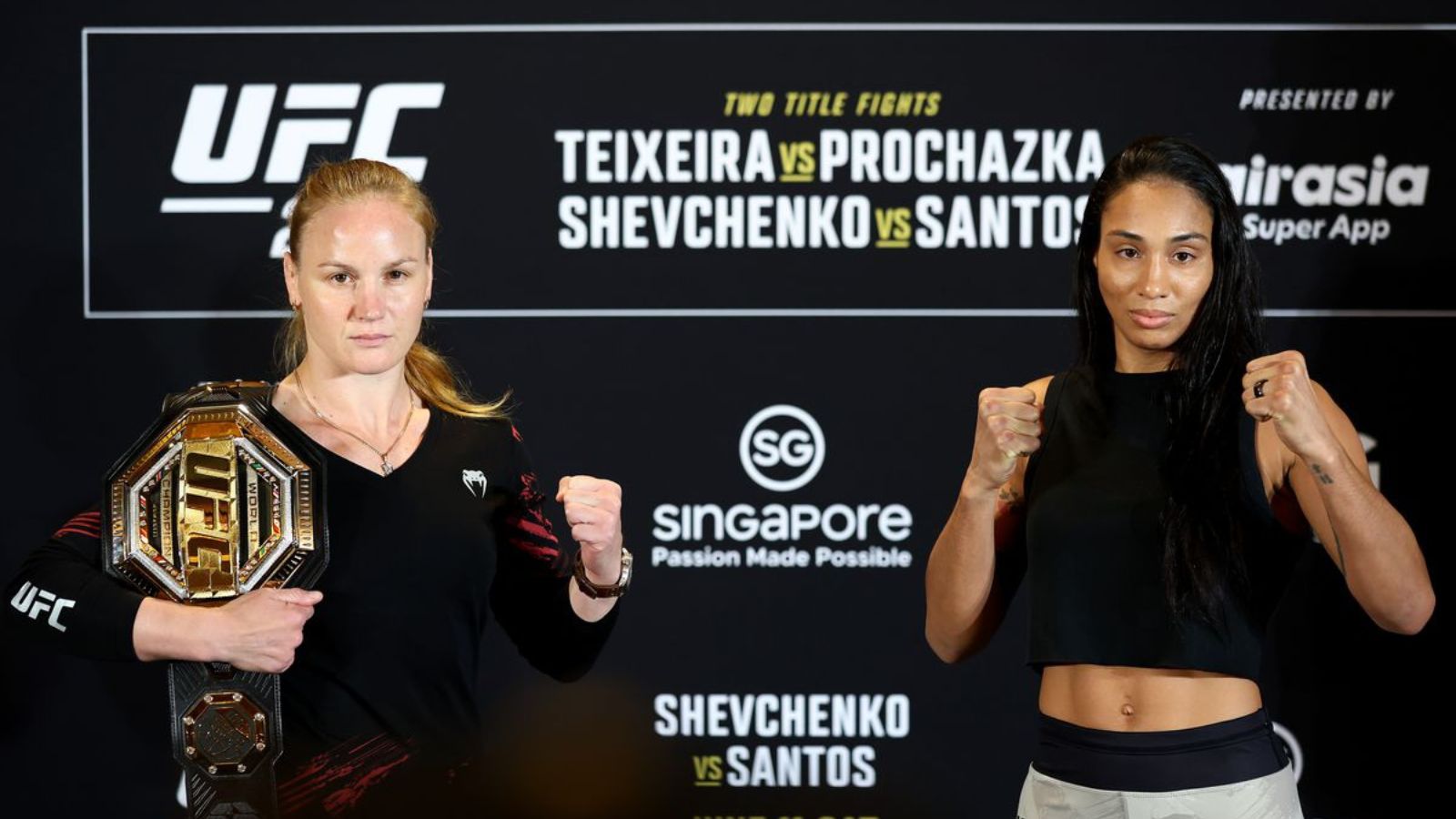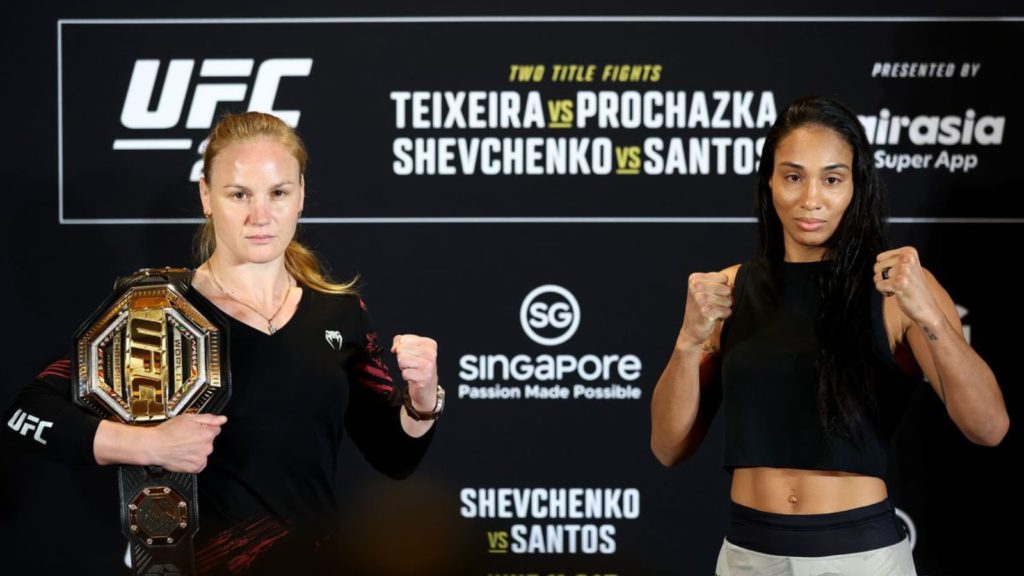 Round 3: Shevchenko is so far a sharper person on feet. A low kick from Santos. A lead leg kick for Shevchenko. Spinning attack attempt for Shevchenko. Both women are very cautious. Teep kick for Shevchenko. Shevchenko gets the takedown but Santos gets right back! Fight back on the feet with low kick exchanges from both sides. Santos now evading Shevchenko's low kicks.
Closing the distance and Santos gets Valentina's back to the cage side. Santos lands a huge takedown. Santos gets Shevchenko's back now. Santos nearly gets Shevchenko in a choke. Santos is dominating Shevchenko on the ground, particularly the back control. The round ends with Shevchenko being a rebel with her striking in response to the position. The round ends. A 10-8 for Santos.
Round 4: Swelling on Santos' right eye. Striking is an edge for Shevchenko. Shevchenko lands an accidental groin kick followed by some huge shots. Now the referee pauses the fight just for a while. Back to fight. Shevchenko lands again. Commentators say a huge clash of heads in round 3 led to the aforementioned eye swelling on Santos. Left kicks from Shevchenko since she can see the vision to view the attacks from that side is blurred for Santos.
Shevchenko avoids wrestling at all costs. Shevchenko is doing a great job of firing kicks on the body. Shevchenko escapes Santos' teep to throw her punches. Shevchenko avoids Santos' grappling exchange attempt with a knee to the body. Jab and straight for Shevchenko. Santos lands a huge takedown with perfect timing. The round ends with 10-9 Shevchenko.
Round 5: Leg kick for Santos. Lead hands for Valentina Shevchenko. Jab and straights are working for Valentina all day. A beautiful combination for Shevchenko. An attempt for a takedown but Santos ends up taking the top position. Santos transitions to back control. Shevchenko slips through the back control and the fight is back on feet. Low kicks and straight punches from Shevchenko.
Low kicks from Santos but a huge takedown by Shevchenko. Seems like Shevchenko wants a ground-and-pound finish but cannot get it so far. Shoulder strikes from Shevchenko. Open-handed strikes from Shevchenko. Body shots from Shevchenko as she maintains the top position. Santos attempted for a kimura but the fight ended as Shevchenko escaped and landed some strikes in the final seconds. A dominant 10-8 for Shevchenko.
Official Results: Valentina Shevchenko defeats Taila Santos via split decision.
Also Read: Video: Colby Covington admitting he hates all the 'trash talk' and won't ever resort to such measures
Also Read: "Doing out of respect," Chael Sonnen makes his pick for UFC 275 main event, calls his prediction 'unprofessional'