It looks like TJ Dillashaw's return and victory paid off well. The reason being though he is not able to fight right now due to his recent or upcoming surgeries needed as a result of his fight with Cory Sandhagen, he has regardless been assured a title shot at the UFC's bantamweight championship in the future as per Dillashaw himself.
This comes from Dillashaw's interview at "The MMA Hour" with sports journalist Ariel Helwani. Dillashaw, a former 2-time champion himself had a split decision victory against Cory Sandhagen who's now going to fight for the interim- UFC bantamweight title against former champ Petr Yan at UFC 267 on October 30, 2021. This was Dillashaw's first victory in 2 years since he was suspended in 2019 for failing a drug test.
Here's what TJ Dillashaw had to say about his discussion with UFC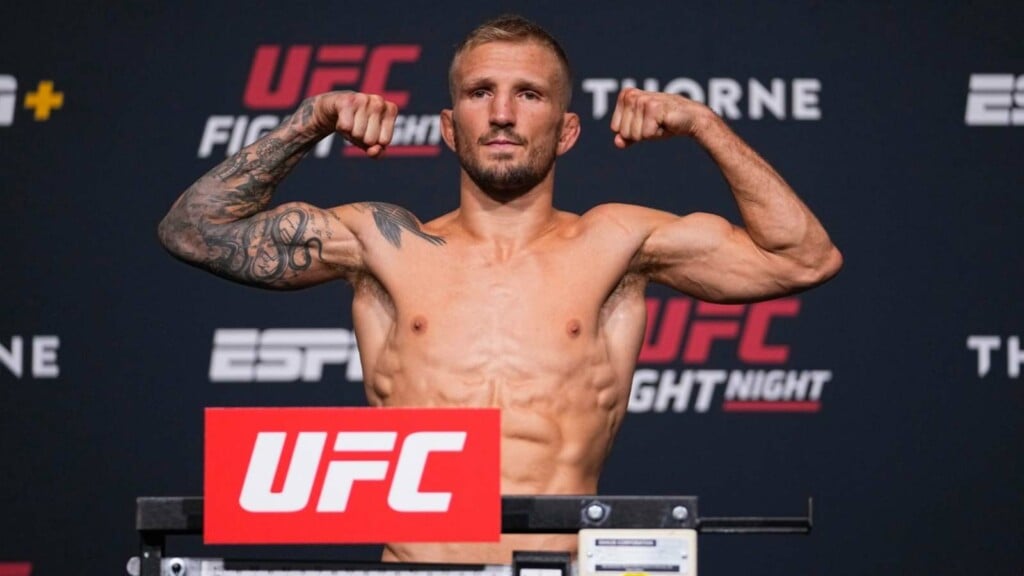 In his interview with Ariel Helwani, Dillashaw is positive that he will be back to the fighting scenes after dealing with his health issues by March or April of next year.
Dillashaw was asked if he will fight Jose Aldo sometime soon, especially if Aldo defeats his upcoming opponent Rob Font, or if he is only interested in securing the title fight. TJ responded "No from what I've been told I am fighting for the belt next. No matter what that belt is with whom that belt is with so that's kind of where my mindset's at right now." But nevertheless, Dillashaw isn't in rejection of fighting Jose Aldo, but not as of now."
With a return so impressive, and provided he faced and overcame his worst adversity as a fighter, TJ Dillashaw is in all debate with strong advocacy for title contention and it would be interesting to see who Dillashaw fights next provided there is an elite striking class of fighters like Petr Yan and Cory Sandhagen close to him in title contention and then there are other fights like that with legends Jose Aldo, or even a rematch with Dominick Cruz would be an amazing match up.
Also Read: UFC Vegas 39 "I would like to punish this b**ch," Mariya Agapova details bad blood with Maryna Moroz in an aggressive post-fight interview