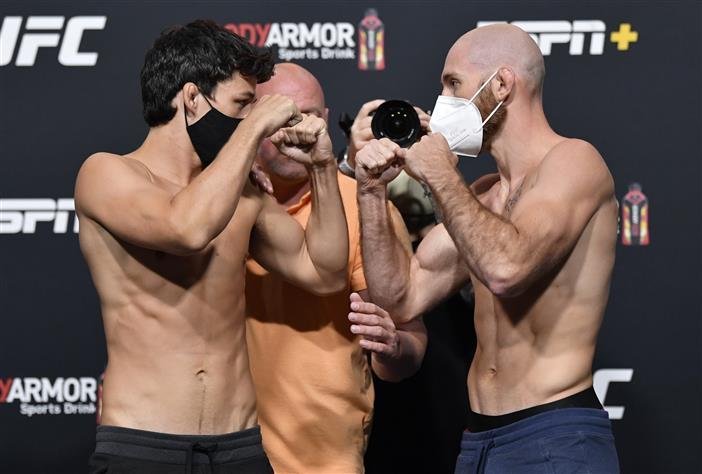 The first fight of the main card of UFC Vegas 10 saw Billy Quarantillo facing against Kyle Nelson in a Featherweight bout. In which Quarantillo puts the light out for Nelson in early seconds of Round 3. 
Billy Quarantillo wins against Kyle Nelson
As the fight commenced both fighters seemed to have surged a strategy to attack via elbow blows. Quarantillo as well as Nelson seemed to be trying to run the fuels out of their opponent in the first round. However, Quarantillo's cheap shot did put a halt on the fight in the last minute of the first round. But as the first round got to a close Quarantillo might have edged past Nelson.
As the second round started Quarantillo as well as Nelson started hammering at each other, more than body blows there were attempted shots at faces of each other. But Nelson seemed to be running out of air in the last minutes of the fight. It came so close to a knock out in the same round that when Quarantillo started landing his shots at Nelson's face, the latter had no answer but was saved by the bell. Even when both fighters went back to their corners, Nelson looked down and out. 
As the third round started, there was very little left to do for Quarantillo who landed a big right hand on the face of Nelson. Who was only going to dazzle after that, as soon as that hand connected, and Nelson went to the floor. The referee called it off known that the Canadian will not be able to get up.
Winner- Billy Quarantillo won via TKO against Kyle Nelson in Round 3.
Also Read: UFC Vegas 10: Roxanne Modafferi earns a hard-fought victory against Andrea Lee