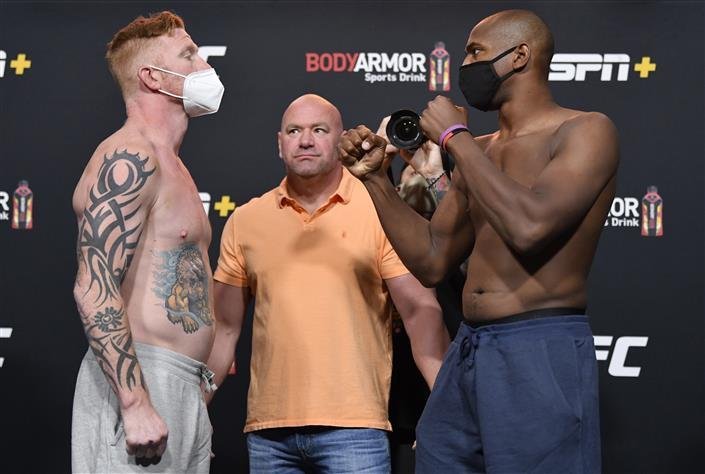 Ed Herman registers his 15th win via submission by beating Mike Rodriguez at UFC Vegas 10. A great light heavyweight contest featuring Ed Herman vs Mike Rodriguez was scheduled for UFC Vegas 10. Wherein Ed Herman wins in the most controversial way via submission against Mike Rodriguez.
Ed Herman vs Mike Rodriguez- As it happened
First Round
With the 39-year-old Herman heading into the octagon, he had already made headlines. He still had a lot to prove inside the octagon. Having said that, as the fight got underway composure seemed to be the key for the duo. Low body kicks and leg kicks were seen a lot from each of the fighters in the initial minutes. But it was Rodriguez who connected better, punched better, jabbed better and moreover adjusted better to the conditions. It did seem that Rodriguez blows did hurt Herman in the first round itself. As the first round got to a close, Rodriguez clearly seemed more dominant.
Second Round
Herman came out for vengeance in the second round throwing continuous jabs and punches at Rodrigues. Following up with rounding him up onto the fence. Although Herman showed resilience but his attempts of taking down Rodriguez were not getting successful. The key from Herman was to slow down the explosive Rodriguez in the second round. Rodriguez started to land multiple brutal kicks on the body of Herman. One of those body kicks from Rodriguez even caught Herman off guard which let the referee step in and call a time out. But even then, Herman was on the floor during the stoppage. Seemed like what could've been a TKO was rather adjudged as a time out. But just as the second round was coming to an end, Herman was saved by relentless leg kicks from being knocked out.
Third Round
The last round started with a takedown on Rodriguez and Herman looking somewhat in the groove. But Herman was caught in the wrong position, leading to take 10-15 shots on the side of his head. That could be referred as the beginning to the end of Herman. But using his experience Herman reversed the position to tangle Rodriguez in a painful position. Herman won via submission in the third round.
Also Read: UFC Vegas 10: Michelle Waterson wins over Angela Hill at Strawweight main event