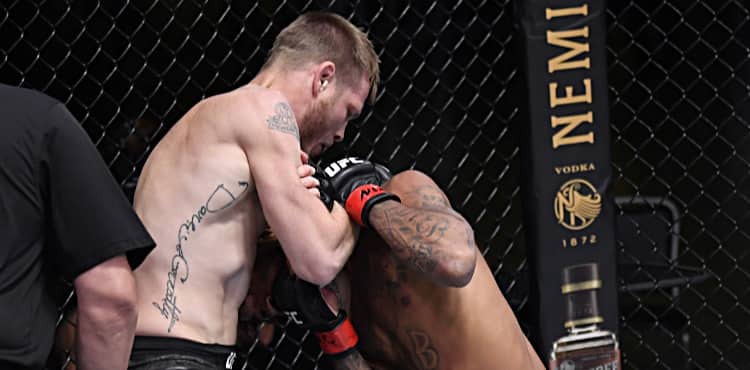 Kevin Croom outcasted everyone's opinion and prediction after winning in just 31-seconds via submission against Roosevelt Roberts at UFC Vegas 10. 
Talking about the key moment in the game, Kevin said, "I heard (coach) James (Krause) yell 'Throw a split one,' and so I did it. I ended up catching him with that hook. He dropped, and there's nothing like dropping someone. You're certainly not expecting it. As soon as he fell, he presented that neck. My coaches were yelling, 'Hit him! Hit him!' But I had that neck, so I just snatched it up, put my hips in, put him up against the cage and that tap is the best feeling I have ever felt."
Kevin Croom urging to return in the octagon
Kevin Croom had $64 in his bank account before earning UFC's 50K bonus at UFC Vegas 10.
Kevin Croom shocked the MMA world when he came into this UFC debut and absolutely dominated with a 31-second submission of Roosevelt Roberts at UFC Vegas 10. The feat alone would have been buzz-worthy, but the fact that Croom had taken the fight on short notice during a pandemic made it event that much more special.
What we didn't know as the fight was going on was the fact that Croom, like many budding MMA fighters, was struggling with bills ahead of his fight. He took to Twitter to explain that just days before he won, he was trying to figure out how to increase his current $64 bank balance.
Speaking on his impressive win Croom said, "I waited my whole life for this. I've worked my whole life. There was a long time I didn't know I'd ever get here, and here we are on top of the world!. Thirteen years – this has been my entire life. I've given up everything I've ever had – not that I ever had a lot. But I've given everything to get here, and boy, I did it like that."
Having said that, fighter pay is considerably low and often talked about so we don't want to make this sounds like he's rich overnight and set for life, that's hardly the case. But it's nice to see Croom get a moment of rest from money worries.
Also Read: UFC Vegas 10: Preliminary Card Results