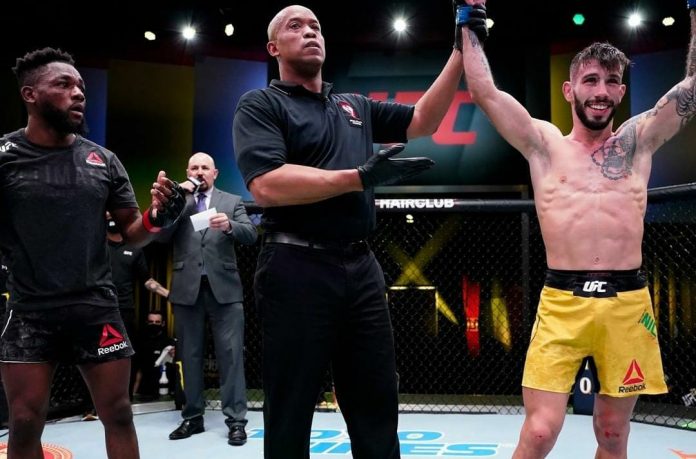 The flyweight contest between Manel Kape (15-5 MMA, 0-1 UFC) and Matheus Nicolau (15-2-1 MMA, 3-1 UFC) just went down at UFC Vegas 21 and Matheus Nicolau secured the victory via split decision.
Round 1: The round started with an early leg kick from both these fighters, Kape throws a kick and gets taken down by Nicolau and he attempts a close standing guillotine but couldn't finish it, Kape throws a spinning kick to again get taken down. Nicolau then controls him on the ground and finishes the round strong. 10-9 in favor of Nicolau.
Round 2: Kape lets his hands go in this one, he is the aggressor and he pushes the pace, and he finds his range and connects with a clean punch that puts Nicolau on notice, now Nicolau is up against the fence trying to counter Kape's shots but Kape is connecting clean and the gets taken down only to get right back up. Kape again lands some shots and finished the round strong. 10-9 for Kape.
A close contest but Matheus Nicolau secured the victory via a split decision
Round 3: Nicolau re-gains some confidence in this round and is landing some nice combinations, and now these two are just standing in the pocket and exchanging shots. Kape tried to pressure him but Nicolau but tries for a takedown and couldn't complete it, at the end of the round Kape lands two nice kicks to the body to end the round.
Result: Matheus Nicolau won the fight via split decision
Also read: UFC Fight Night: Edwards vs. Muhammad Prelims Results.