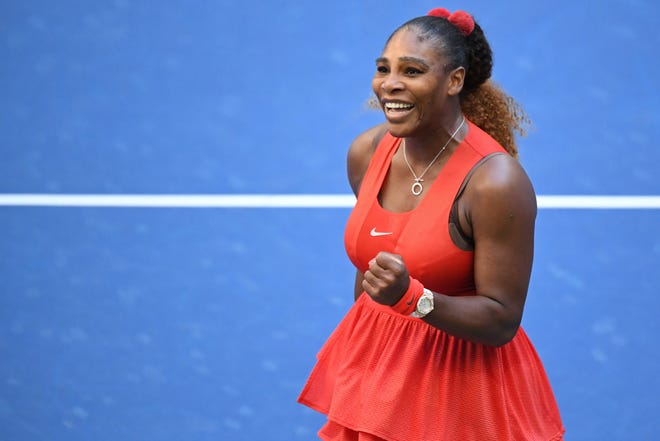 Serena Williams played a three-setter to reach the quarter-finals of the US Open 2020. Before losing the second set, Serena saved five jaw-dropping set points before Maria Sakkari won in the tie-break.
The contest was neck to neck in the last set as Sakkari was serving well and broke Serena to lead 2-0. But the comeback queen showed she still has a lot of fighting spirit left. Serena played aggressively to win the last set.
Serena Williams beats Maria Sakkari 6-3, 6-7(6), 6-3
Serena started the first set with a lead and won comfortably. Sakkari was always close behind but in the second set, she took the set to a tie-break and led 4-1. She easily won the next three points as Williams could not cover-up. The American was running around and covering the whole court, yet the Greek won the tie break 8-6.
The final set had Sakkari on the lead, but the comeback queen started to attack. Her first serves increased and the returns were more aggressive. Serena used a lot of cross-courts and changed the directions to dominate the points. Ultimately she won 6-3,6-7(6),6-3.
Post the match, at the on-court interview, Williams claimed that she surely match ready and match fit. After a long halt, Serena is playing only the second tournament. She only played the Top Seed Open in Lexington before playing at Flushing Meadows.
Record broken with Serena's victory
Serena has made her 100th victory at the Arthur Ashe stadium in New York. Serena is a six-time US Open champion, winning the major first in 1999. The living legend has come a long way and won her 100th Arthur Ashe match at the US Open.
Another record now Serena holds, is to reach a major quarterfinal 53 times. Her record was earlier at par with Chris Evert, but her victory against Maria Sakkari has made her reach the quarters at the American slam.
Serena Williams will now focus on her Quarterfinal clash. She will make all efforts to win the title and get hands-on her 24th slam, equalling the record of Margaret Court.
Also Read: Serena Williams answers how it feels to always carry 'Serena' on her back!