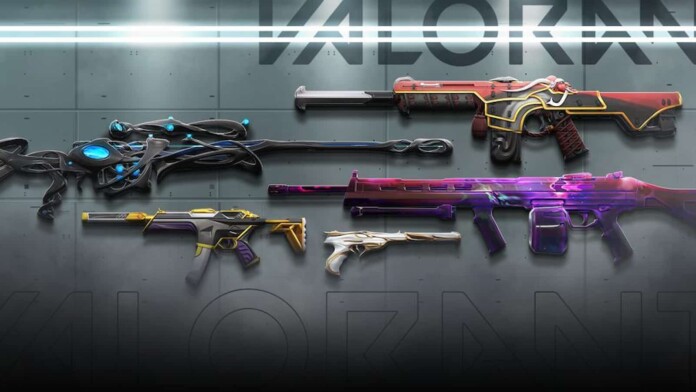 Riot Games made the tactical shooter called VALORANT which is a 5v5 character-based FPS game where precise gunplay meets unique agent abilities. We list the top 10 Best Skin Bundles though there are never ending-series of skin collections in Valorant. This ability-oriented tactical shooter is currently only available for the PC platform and showcases a wide variety of skin line collections, including both Animated, VFX infused, and normal skin lines.
Weapons are separated into two categories, Sidearms and Primary weapons. Sidearms consist of handguns used for close-quarters. Primaries include SMGs and Shotguns that are used for close-quarters, Sniper rifles for long-range, and Rifles and Machine guns to accommodate for both close and long-range. The skin bundles provided by RIOT consist of a mixture of different guns.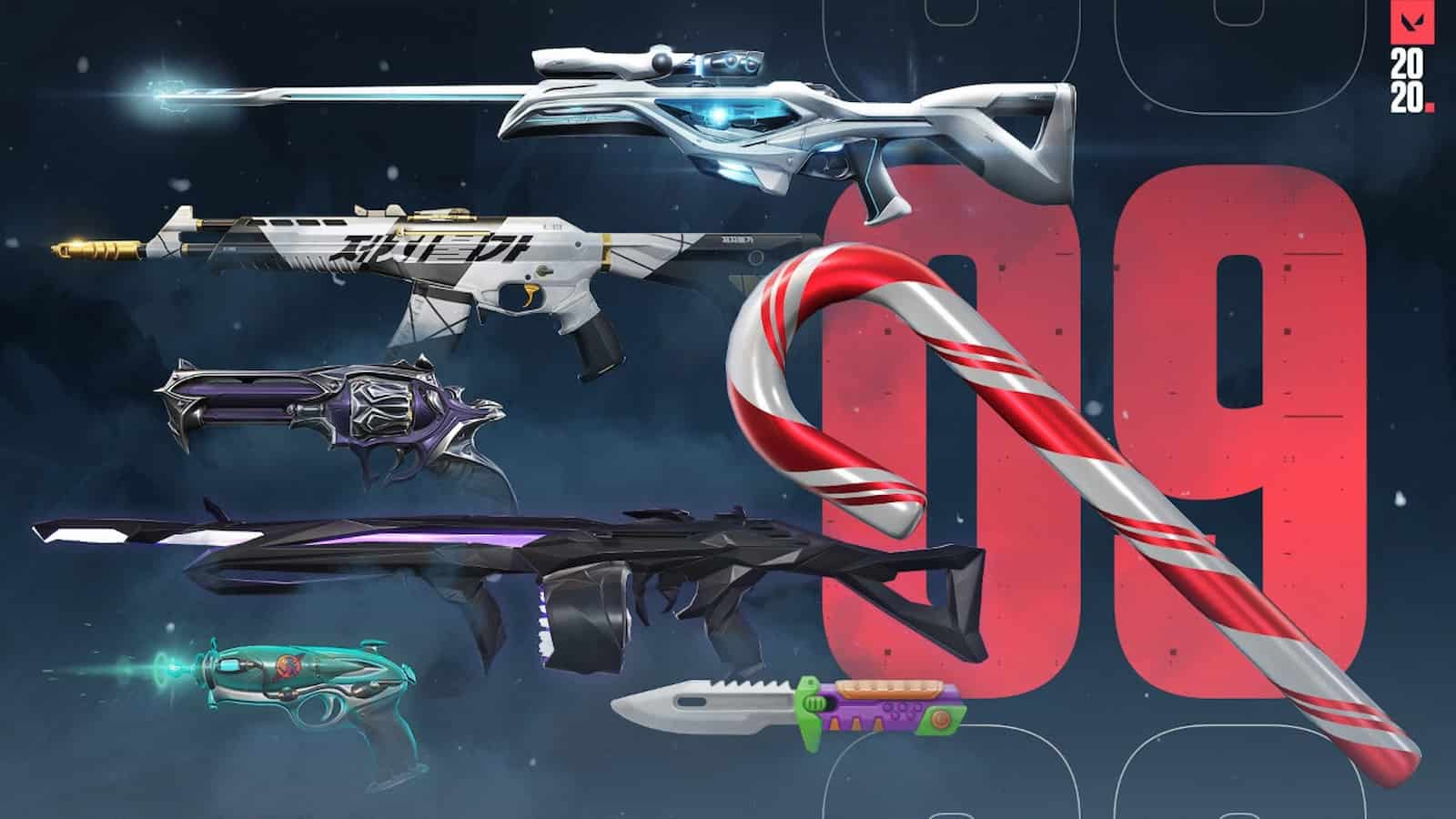 The article lists the VFX and animation-infused Top 10 Best Skin Bundles you should definitely get to jazz and notch up a game ahead of both your gun and gameplay.
Also Read: Valorant Mobile is Reportedly Under Development
Top 10 Best Skin Bundles to Liven up the game
Weapon Skins are arms in VALORANT that have their appearance modified. There are pistols, SMGs, rifles, shotguns, snipers, and heavies, each offering a uniquely different way to play the tactical shooter. They can be bought from the store with Valorant Points or Radianite Points. The animated collections of Vandal mostly are offered in exchange for a generous amount of Valorant points, but it's definitely worth the purchase.
#1 Prime Bundle 1.0
Old is Gold, they say, and nothing can be more apt than saying it for the good old prime bundle. The all time favorite of the Valorant community, no skin will ever get the place the Prime owns. As one of the tac shooter's first skin lines, it admittedly is a bit outdated compared to some of the intricate and flashy cosmetics released recently. Unlike other skin lines, Prime Vandal isn't distracting. It's animation is smooth, has a clean colorway, and subtle VFX animations.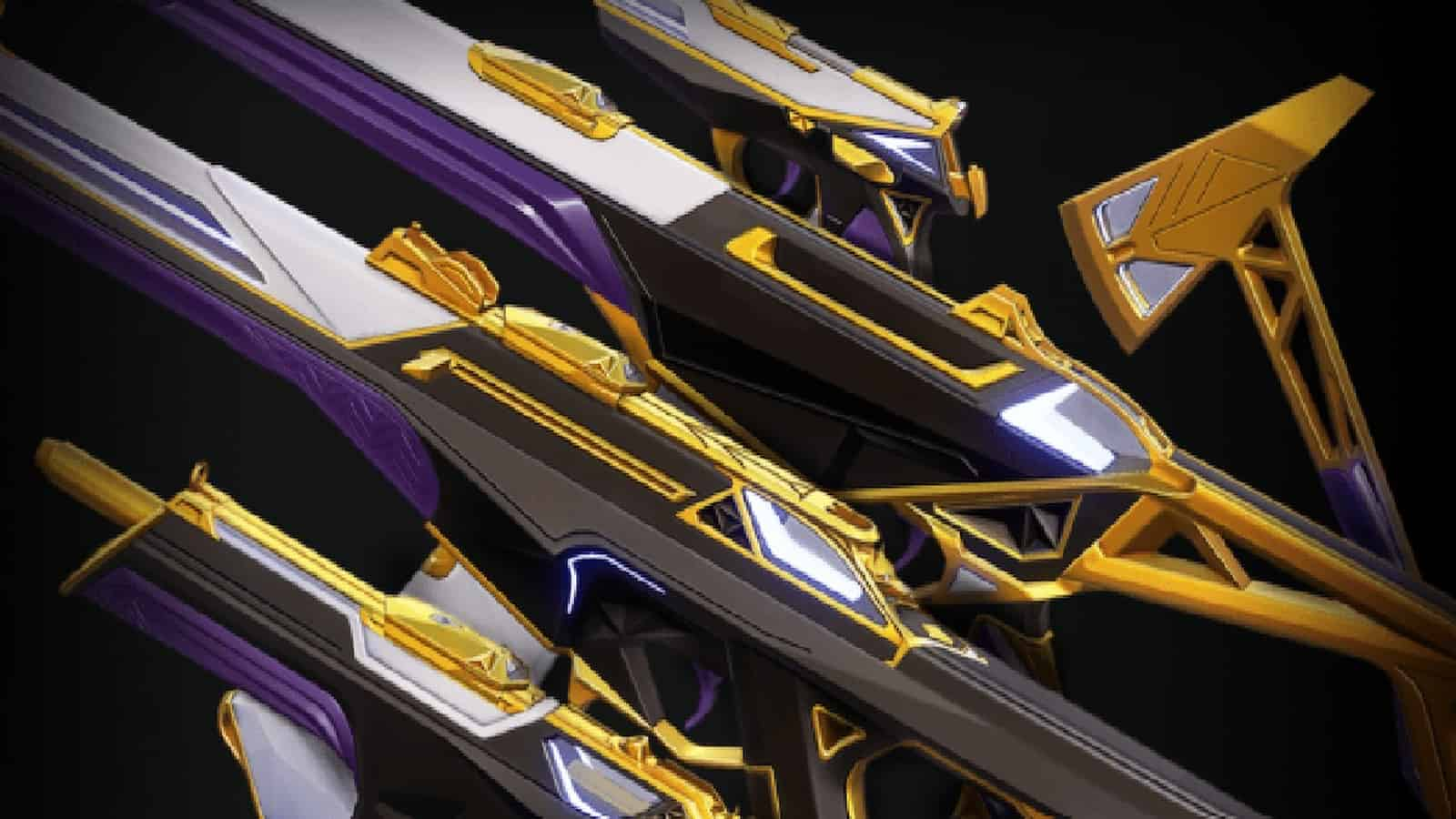 The finisher is a dragon flaming with different colours, attractive as it sounds. It comes in four variants, mainly comprised of gold, purple, and white suggesting a theme of royalty. It was also the first bundle to introduce an axe instead of a knife. The bundle cost 7,100 VP and here are all the skins that come in the Valorant Prime Collection:
Prime Spectre
Prime Knife
Prime Guardian
Prime Vandal
Prime Classic
#2 Prime Bundle 2.0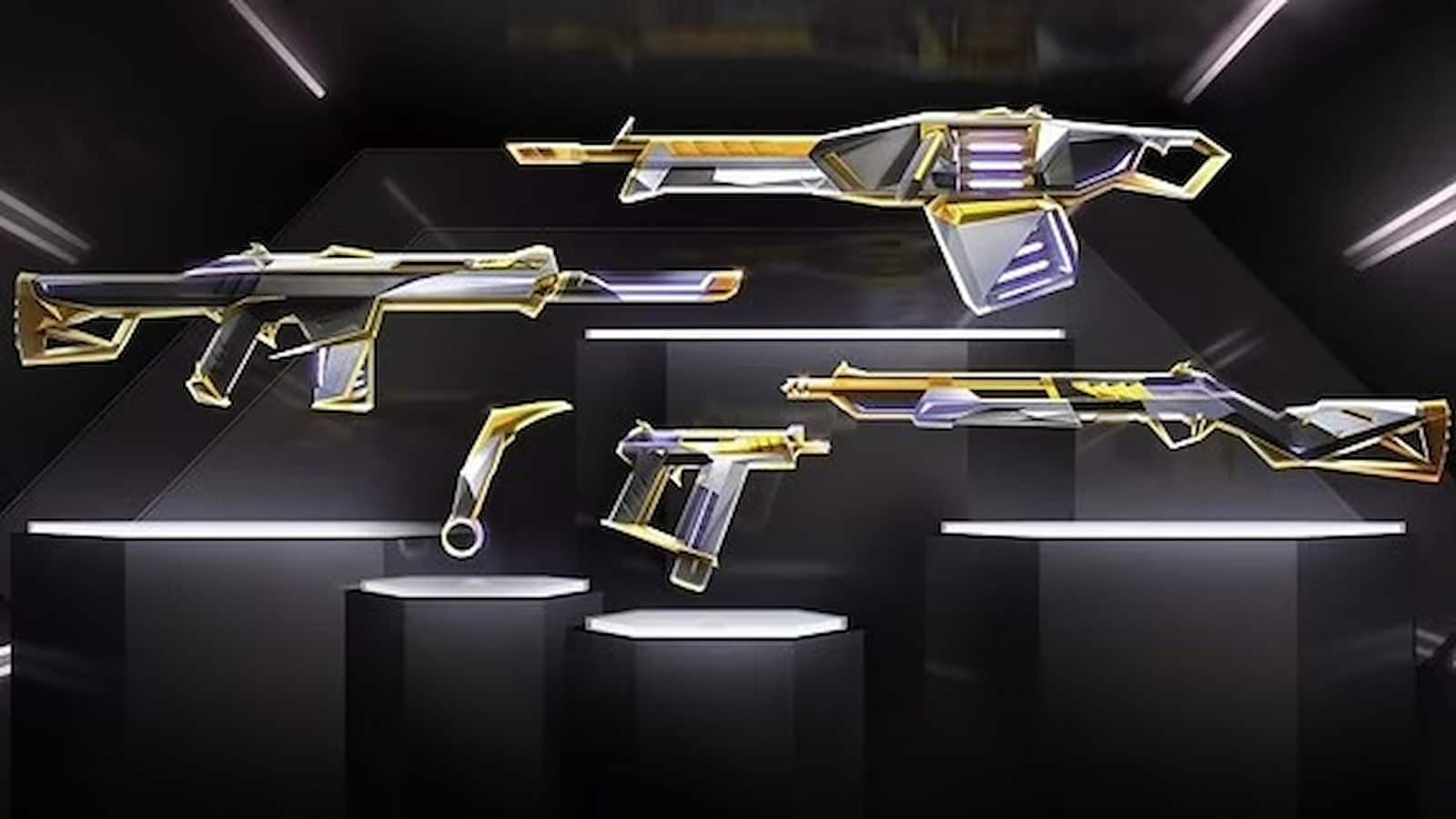 The original Prime set was and still is one of the best Skins in Valorant, but that set did not have a Phantom Skin. So, Riot came up with Prime 2.0 and added Phantom Skins in Valorant along with a few more additions. This futuristic skin definitely deserves a spot in this list of Best Skin Bundles by Valorant. The VFX and nominations are pretty similar to that of Prime 1.0, although the finisher is a howling wolf, which is pretty appealing. Priced at 7100 VP Valorant Points, the bundle features 5 weapons, listed below:
Phantom
Frenzy
Bucky
Odin
Melee (Karambit)
#3 Elderflame Bundle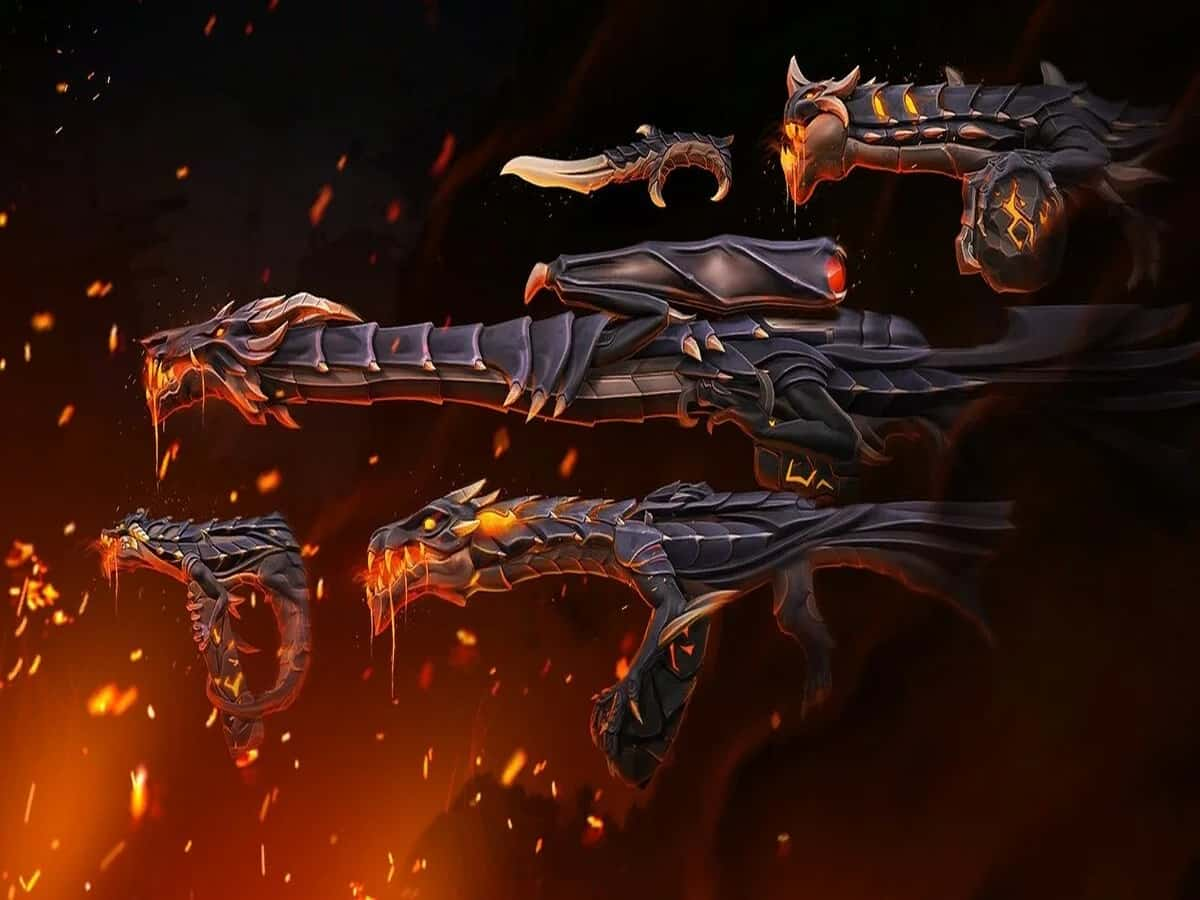 After Prime Collection, the most discussed Vandal skin is Elderflame, as its dragon animation, VFX and finisher attract users to keep using it. Although many claim the animations to be a little distracting, a dragon on a gun has nothing on a few shots missed, right? The reload animations, the finisher, and the VFX on a gun get perfect with Elderflame. Let's face it, no other gun is more discussed than elderflame and it definitely is one of the Best Skin Bundles to get your hands onto, but with a little bit more money. Priced at 9900 VP Valorant Points, the bundle features Frenzy, Judge, Operator, and Vandal, along with a melee weapon.
#4 Reaver Bundle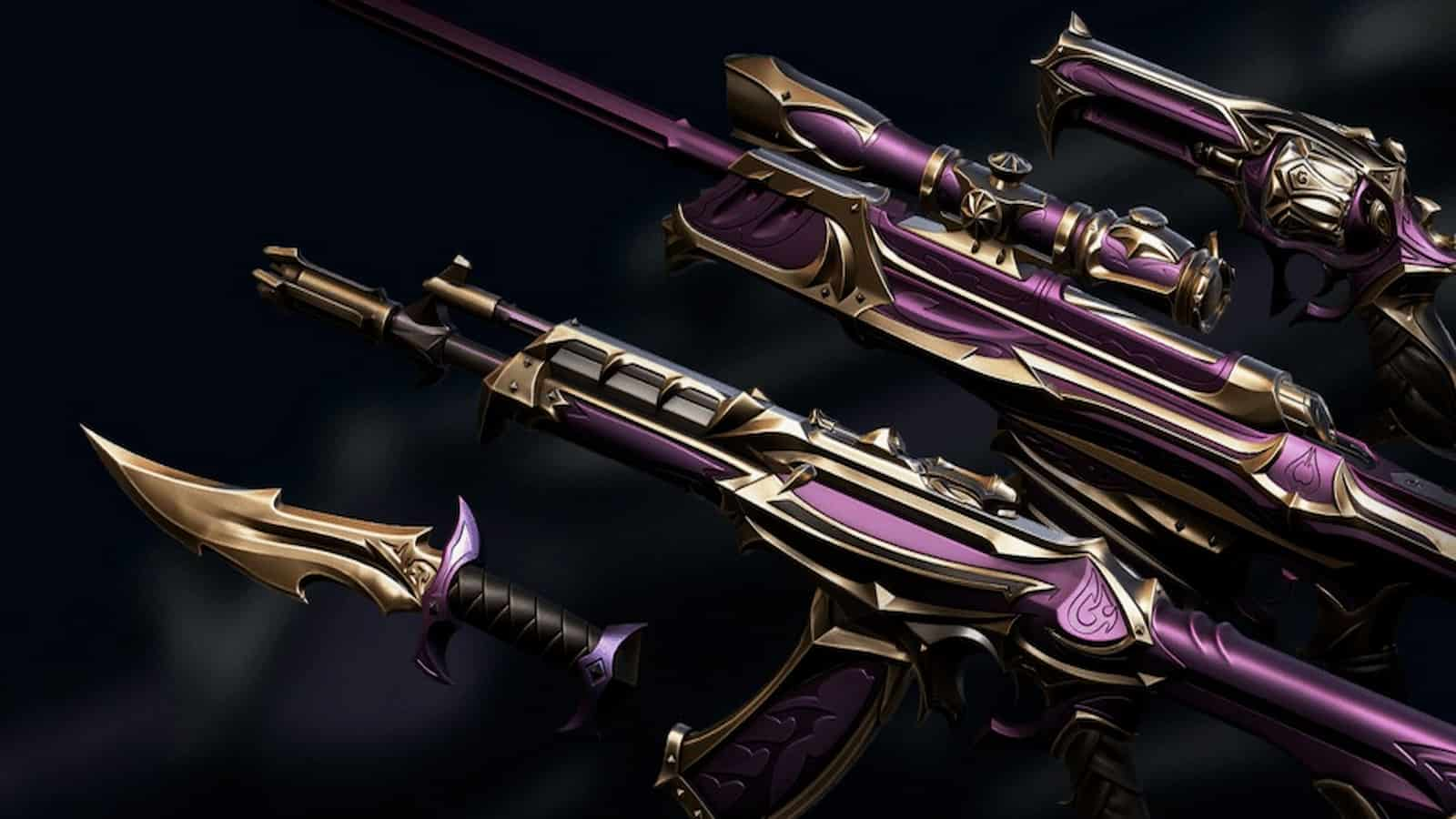 Coming from as past as the beta version, the Reaver collection, although with a few moderations in finisher and textures, has owned back its place. A popular bundle since the beta was released, Reaver dates back pretty much in the game but the latest introduction of it to the game could not have been better. The secondary upgrades of the skin are more incredible due to the customization options.
The Reaver skin is dark, moody, and will send enemies to the underworld, the finisher has changed since the beta version, but still, a hollow underworld spiral can't get any better! Priced at 7100 VP Valorant Points, the bundle features 5 weapons, listed below:
Sheriff
Operator
Vandal
Guardian
Melee
#5 Glitchpop 1.0 Bundle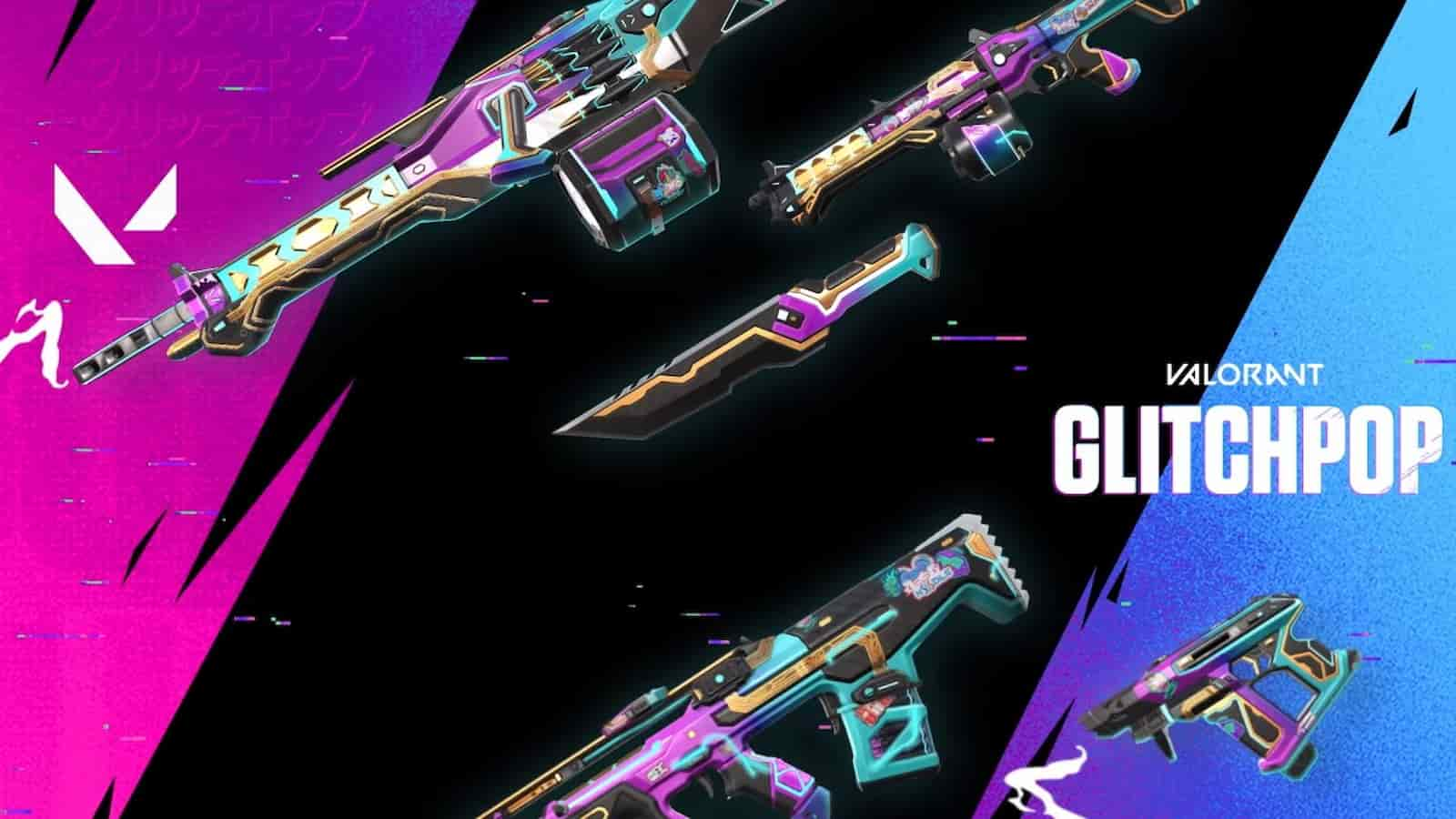 The GlitchPop bundle costs 8700VP, placing it somewhere in between Ultra and Premium tier. This Neo-Toyko set is all fluorescent lights and neon colors and fits in with the vibes of the game. Individual weapon skins will cost 2175 VP, with the melee weapon costing 4350 VP. The bundle, a sensation among the players to date, making it one of the Best Skin Bundles, features 5 weapons, listed below:
Bulldog
Frenzy
Judge
Odin
Melee
#6 Glitchpop 2.0 Bundle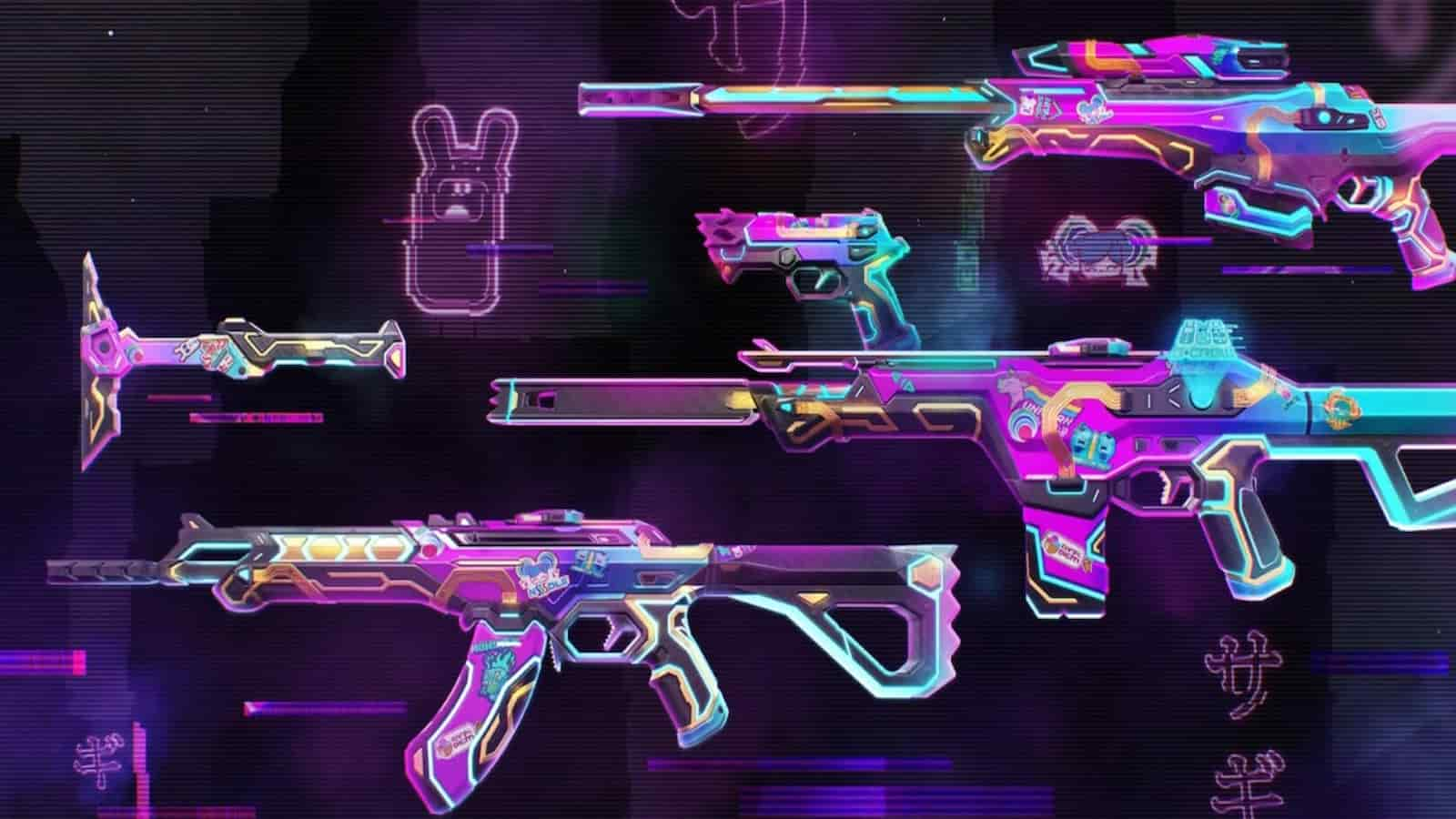 The GlitchPop 2.0 bundle costs 8700VP as well, placing it between Ultra and Premium tier. As flashy and sensational as the 1.0 bundle, it offered more meta guns and was an instant hit among the players. The bundle features 5 weapons:
Classic
Operator
Phantom
Vandal
Melee
#7 Ion Bundle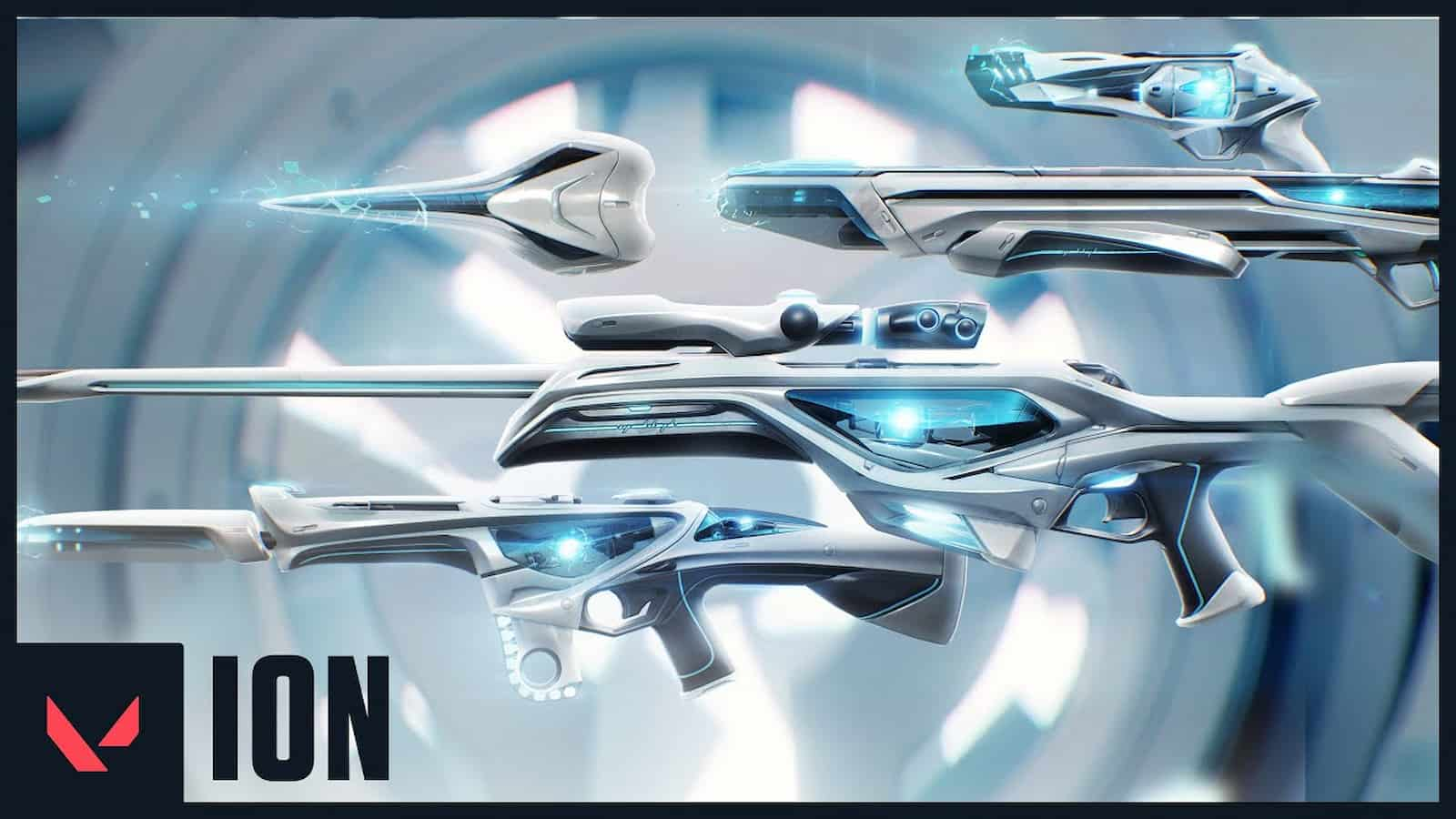 "Forged at the edge of darkness and revered for its power, humanity's last hope is in your hands with Ion." is as RIOT describes Ion. The new skin bundle contains skins for the Phantom, Sheriff, Bucky, Operator, and Melee featuring a white and blue futuristic theme that sci-fi fans would adore. The Ion bundle will cost 7,100 Valorant Points (VP) to get the whole package.
#8 Gravitational Uranium Neuroblaster Bundle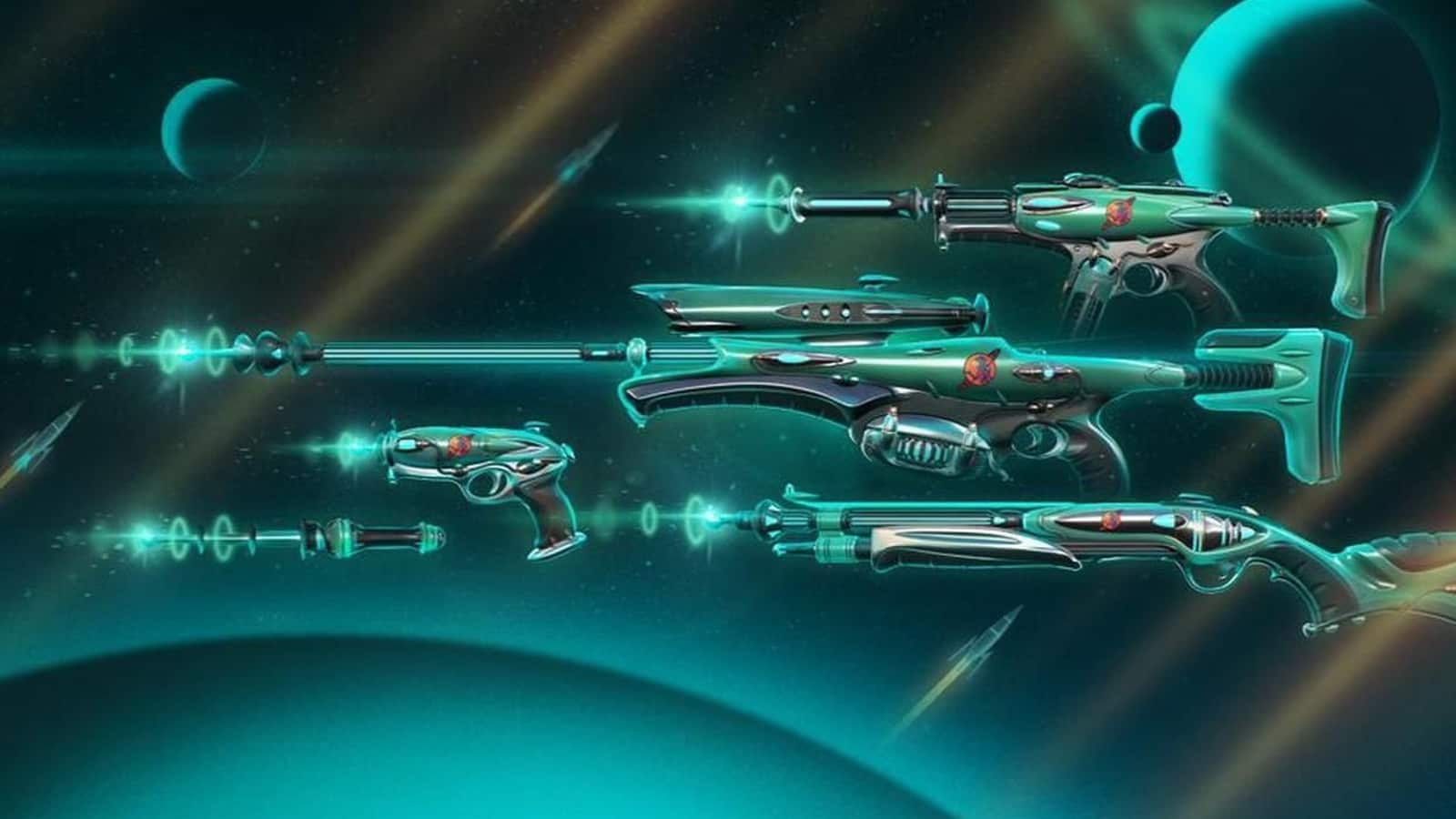 One of the most underrated gun skins in Valorant, G.N.U, aka the Gravitational Uranium Neuroblaster Collection, is literally from another world. The new skin designs for Valorant weapons were reportedly inspired by works of several authors like Frank Herbert, Isaac Asimov, Arthur Charles Clarke, and the Strugatsky brothers.Valorant has a unique way of creating skins which not only look cool but they also appear classy and dangerous. These new Valorant Gravitational Uranium Neuroblaster skins consist of three separate colour variants. The bundle consists of:
Bucky
Classic
Operator
Spectre
Melee
#9 Singularity Bundle
This out-of-world astronomical themed gun skin bundle used to be considered the best at its release. This skin sucks enemies in a black hole, with an awesome finishing animation. "Singularity exists in a far future, vast in its journey from the beyond. Powerful, abstract, and mysterious. None know where it came from or how it came to be," explained Riot Games in a press release.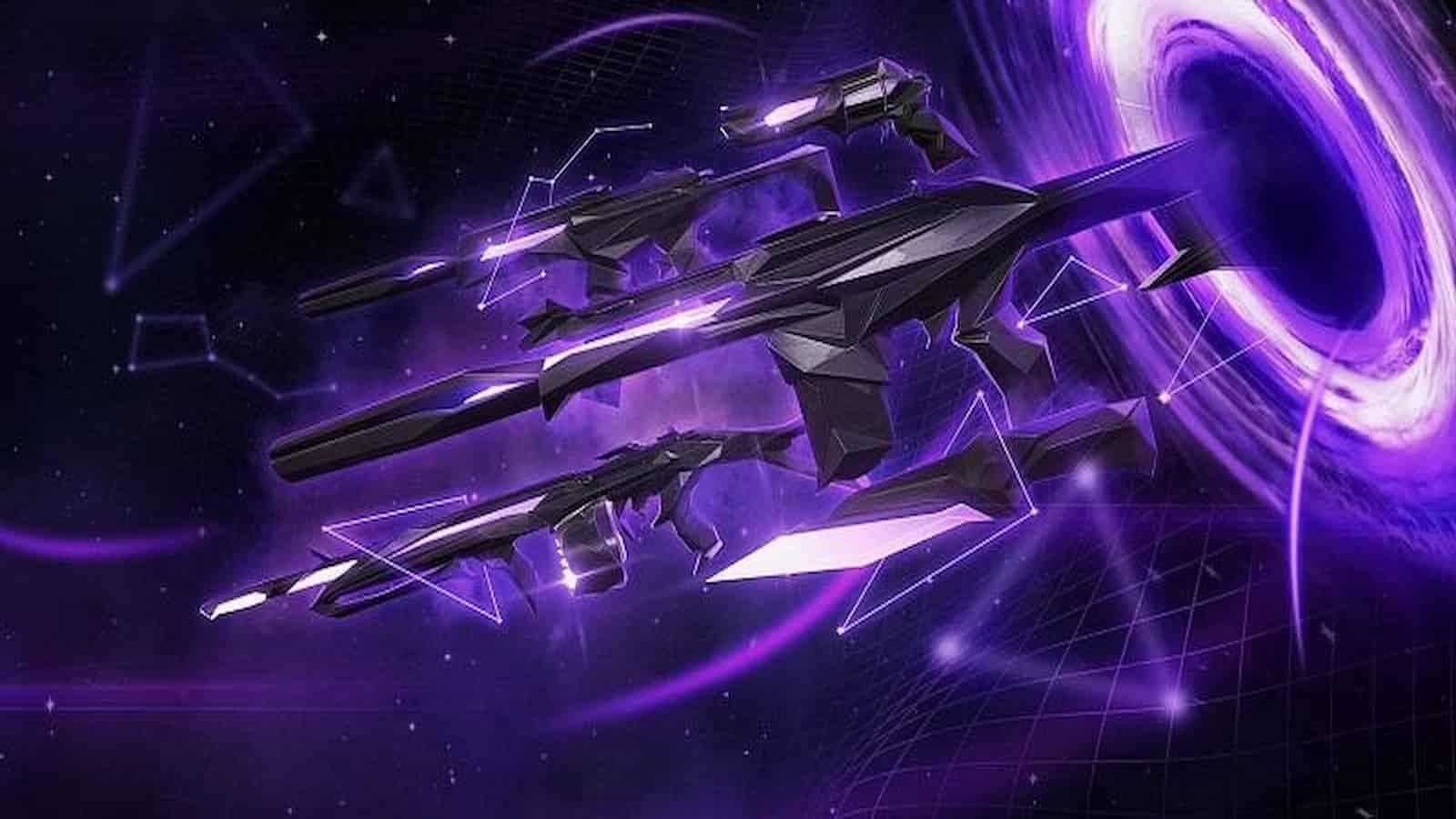 The bundle will set you back 8,700 Valorant Points. 
Ares
Phantom
Sheriff
Spectre
Melee
#10 Sovereign Bundle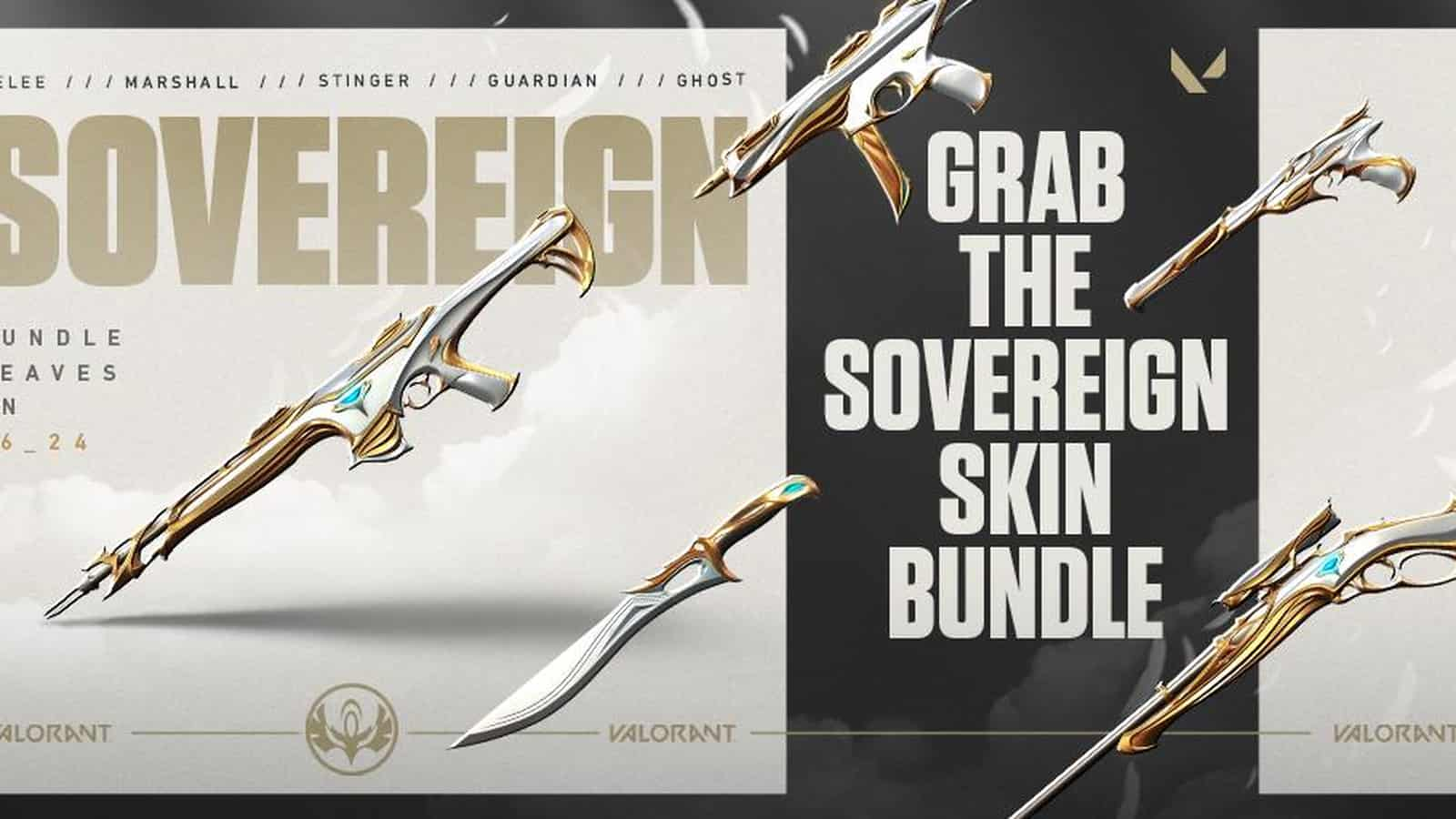 With a pristine finish, it is one the classiest and best Skin Bundles Valorant has to offer. With numerous skin lines later to be inspired by this bundle, Sovereign is one of the go-to classics in Valorant. Users can buy Sovereign Bundle for 7,100 Valorant Points and the bundle features:
Ghost
Guardian
Marshal
Stinger
Melee
---
Also Read: Top 5 Vandal Skins You Should Get | Valorant