Virat Kohli who has been under-fire for his amount of dropped catches in recent times came up with a gravity-defying effort to dismiss Adil Rashid and bring the roof down in the third ODI in Pune. Sam Curran and Adil Rashid were looking threatening with their partnership as they inched England's score close to the target although they were 7 down. The partnership had crossed 50 and going strong.
Earlier, England were pegged back by Bhuvneshwar Kumar and Shardul Thakur who both picked up crucial wickets of the top as well as the middle order. The former removed the in-form openers Jason Roy and Jonny Bairstow before Thakur accounted for a majority of the middle order getting four wickets in total.
Watch Virat Kohli's stunning catch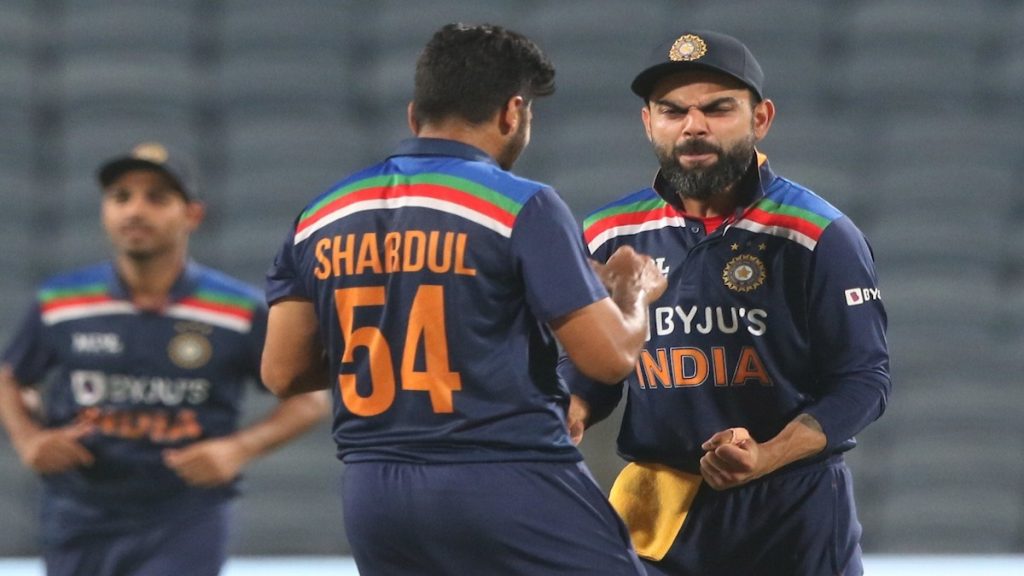 In the 40th over bowled by Shardul Thakur, Adil Rashid hit a ball loosely towards cover. Virat Kohli was the fielder nearby and it looked like the ball was moving away from him. However, the Indian skipper dived full stretch to his left and caught it one-handed and with his weaker left-hand at that. It was a moment of pure brilliance from Kohli and the Indian fielders flocked to their captain and rightly so.
The catch proved to be crucial as it broke what was looking like a threatening partnership. It was then left solely for Sam Curran to get the remaining runs.
Also Read: India vs England 2021: WATCH – Ben Stokes checks out Shardul Thakur's bat after the latter's six off his bowling
Also Read: India vs England 2021: WATCH – Hardik Pandya reacts to Ben Stokes' wicket after he dropped a dolly