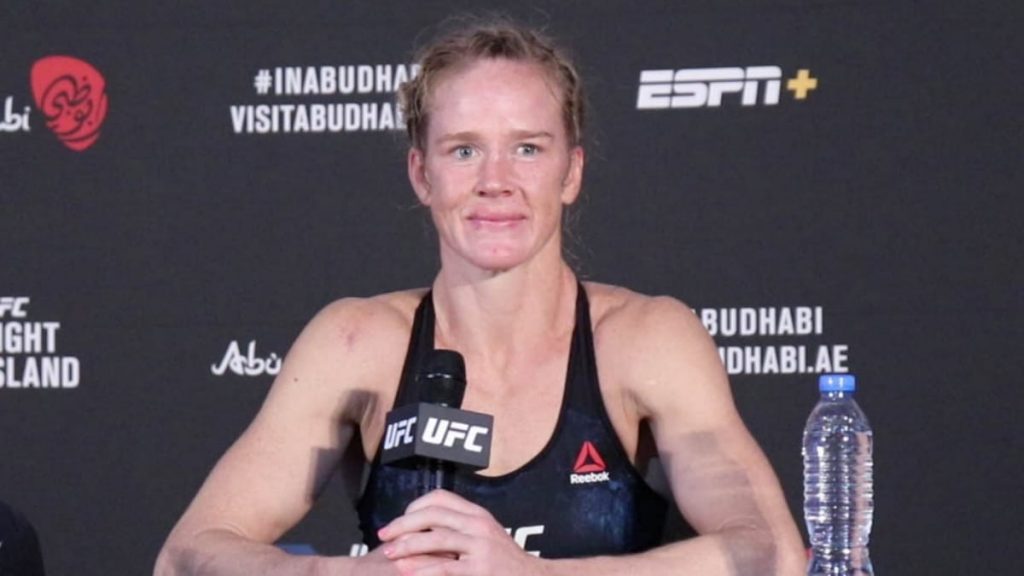 The much awaited Holly Holm vs Irene Aldana fight is over and Holly 'The Preachers Daughter' emerged victorious after putting up a dominant performance. Despite winning by unanimous decision, Holly Holm dominated the entire fight and it has left everyone wondering if it will go a long way in Holly getting a title shot.
Holly's career seemed to have hit the crossroads after experiencing a downward spiral in her career since beating Ronda Rousey. But, Holly after beating Aldana has showed that she has plenty to prove and has enough gas left in her tank.
Holly vs Amanda Nunes next?
The former women's bantamweight champion was asked about a possible title shot with Amanda Nunes, given that Amanda's next fight is at 145 lbs (Featherweight division), to which a calm Holly replied saying that she's open to anything and she is going to keep working hard. She also acknowledged the fact Amanda Nunes has a lot going on, going on to say that the women's bantamweight division is stacked with a lot of talent.
"You know, I'm gonna keep working hard. That's all I'm gonna do. I know she's got a lot going on right now. Another fight already scheduled and there's still some other tough girls in there. I mean, I feel the 135-lb division is always pretty stacked, so I don't ever get my sight set on too hard. I just wait until the opportunity comes, the next fight is the next fight, and whatever that will be, I'm gonna put my heart and soul into that and do it again."
Holly was also questioned about fellow UFC fighter Germaine de Randamie who had also beaten Julianna Pena via submission in the third round in a match prior to Holly vs Aldana. She was asked if she was aware of Germaine's performance earlier that day and if a rematch against Germaine interests her. An assured Holly replied, " That's definitely an option! I think everybody probably felt her and I might meet up again in there. So…You know.. We'll see what happens! We'll see where it goes from here!"
Also Read: Holly Holm vs Irene Aldana – As it happened