Kurt Angle has been one of the most iconic names in pro wrestling. He has given innumerable moments to the fans in this industry. The Olympic gold medalist wrestled his last match in April 2019. Moreover, the fans get to witness him on many occasions in WWE. However, there have been many WWE superstars who dreamt of sharing the ring with the Hall of Famer. One such name is former NXT star Keith Lee.
Kurt Angle not only left an impact on this industry, but he also left a lasting impression on the lives of many WWE superstars. Many young talents grew up watching and idolising the American Hero. During an interview with The Masked Man Show, AEW superstar Keith Lee expressed his desire to face Kurt Angle in a wrestling ring before he retired. However, that never happened as Kurt Angle wrestled his retirement match in 2019 against Baron Corbin.
While speaking on the show, Keith Lee said that Kurt Angle has always been at the top of his list of dream matches. He added that he wanted only 20–30 minutes in the ring with the Hall of Famer to deliver an incredible match. "For as long as I could remember, my number one dream match was against Kurt Angle. When I tell you I had an entire match in my head of things I wanted to happen. I wanted 20, 30 minutes," Keith Lee said.
However, his wish never came true, as the Olympic Gold Medalist retired long before Keith Lee reached his zenith on the WWE roster. However, in a turn of events, WWE fired The Limitless from their company under Vince McMahon's regime. Mr. McMahon failed to see the potential within the former NXT superstar. However, Keith Lee shined in the yellow brand during his NXT days under Triple H's vision.
Keith Lee is signed to All Elite Wrestling and has been performing for the company since February last year. Therefore, the WWE Universe believes that they will get a glimpse of him in the company in the future since Hunter is in charge of the Creative.
Related : "I'm really excited about it," Kurt Angle comments on his travel plans for WrestleMania 39
Kurt Angle's last match at WrestleMania 35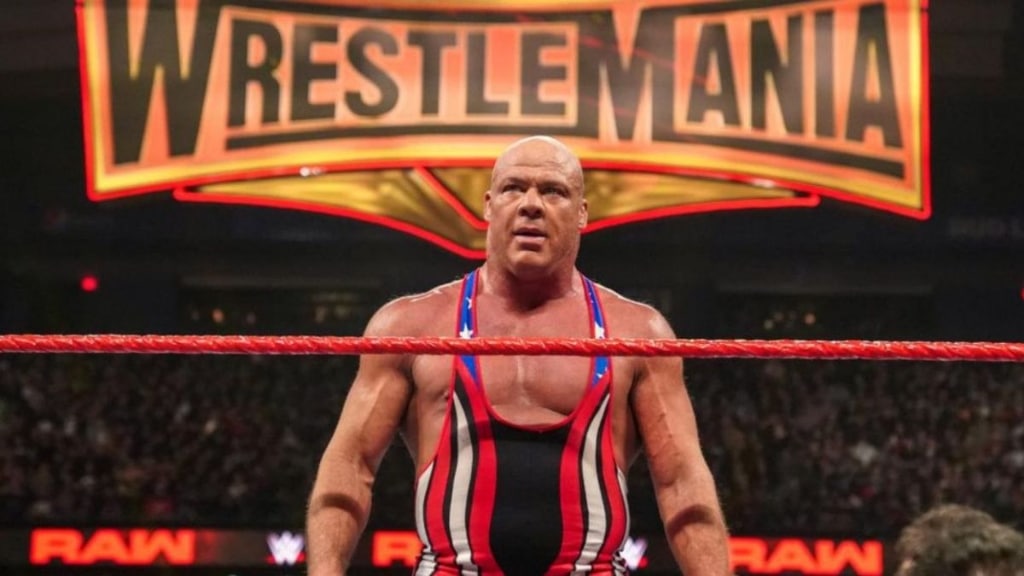 The Olympic Gold Medalist has had an illustrious career in WWE, winning multiple championships. Kurt Angle wrestled his final match against Baron Corbin at WrestleMania 35. However, the WWE Universe has shown quite a disappointment with the company regarding his farewell opponent. Baron Corbin was not as big a name as Angle hoped to face in his retirement match.
Kurt Angle revealed in an interview that he wanted to face John Cena before ending his 20-year wrestling career. It would have made complete sense as the Cenation Leader debuted in WWE against the Olympic Gold Medalist. To wrestle John Cena in his retirement match would complete the circle of his journey.
However, the former WWE Chairman Vince McMahon was against this decision and wanted Kurt Angle to face Baron Corbin. As a result, the Hall of Famer ended his wrestling career against Corbin at WrestleMania 35.
In case you missed it :