John Cena has been a fan favorite throughout his meteoric rise as the face of the WWE for almost 15 years. Mr. Hustle, Loyalty, and Respect has always been loved by kids all over the world who watch WWE. Furthermore, it is fair to say that John Cena is one of, if not the greatest of all time, when it comes to connecting with the audience, even on Twitter. In fact, he is so lovable as a babyface that it is almost impossible to imagine him as a heel.
Throughout his career and life, John Cena has conveyed the message, "Never Give Up" to motivate his fans. This might just sound like a three-word message to some. But it has changed the lives of many all around the world. In a viral video on Twitter, a kid named Tyler, who has been a John Cena fan for life, shared his story about how the "Never Give Up" slogan changed his life.
Tyler disclosed that his mom was diagnosed with breast cancer, and he lost all hope when the results came positive. In a viral video, the Leader of Cenation broke down in tears while listening to the kid's story. Nonetheless, Tyler later recalled how Cena gave him his wristband while he was on a WWE show that said Never Give Up.
Tyler eventually gave the wristband to her mom prior to her six-hour surgery. The message of never giving up helped his mother in a miraculous way, as she is now cancer free. After listening to the story, Cena commended the child for having such a great perspective, that too at a very young age, while wiping his tears.
Related: WATCH: John Cena gets emotional following a warm reception at WrestleMania
Twitter in tears after hearing John Cena's heartfelt story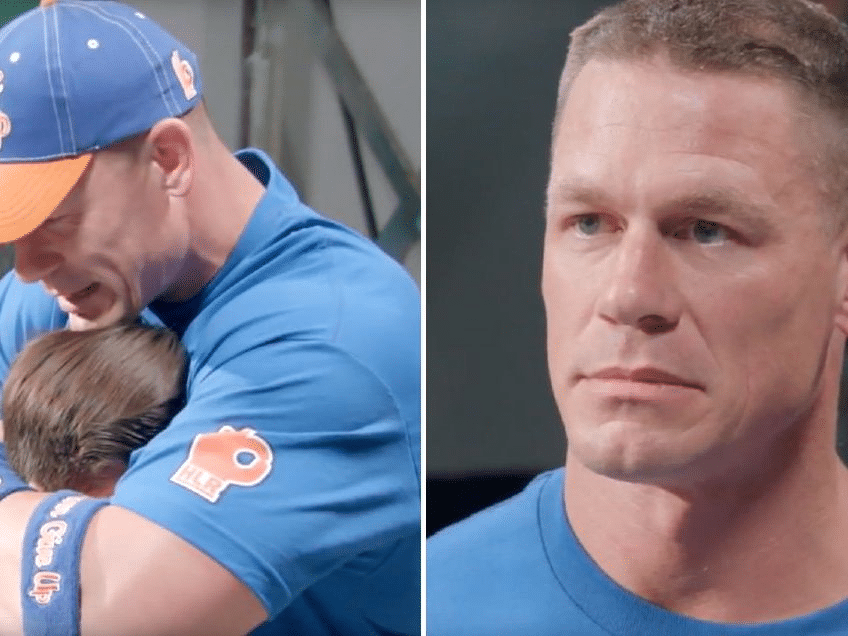 A Twitter user recently tweeted out a video of John Cena getting emotional listening to Tyler's story. In the video later, Tyler surprised Cena by coming to thank him face-to-face for everything he did for his mom. The 16-time WWE champion also gave an emotional hug to the child with tears pouring from his eyes.
Cena also met his mom to congratulate her, who brought the wristband with her. After watching the video, fans gave emotional reactions and appreciated the legacy Cena has built. Take a look at some of the best tweets from the video.
In case you missed it: