Ronda Rousey is set to fight Liv Morgan at the Extreme Rules as she won the No 1 contender's match at this past week's edition of SmackDown. She defeated Sonya Deville, Natalya, Xia Li and Lacey Evans to win the match. Ronda Rousey last pinned Sonya Deville to win the match. Ronda Rousey met with Shayna Baszler backstage, to whom she encouraged to take revenge against Liv Morgan, thereby we might see Baszler siding with Ronda Rousey or accompanying her during her matches.
Ronda Rousey had been on a hiatus since 2019 and returned to the WWE in 2022 at the Royal Rumble. She won the event and went on to challenge Charlotte Flair for the SmackDown Women's Championship but lost the match. She won the championship at WrestleMania Backlash by defeating Charlotte and recently on a stream had stated that it was her favorite match since her return to WWE. On the same gaming stream Ronda Rousey had spoken about Brock Lesnar.
Ronda Rousey claimed that Brock Lesnar is a wonderful athlete and that their paths in MMA did not intersect since he competed in the sport before she did. She claimed that she hadn't anticipated Brock Lesnar to be the coolest and most intelligent fighter because, for the most part, MMA athletes are not the academic kinds.
"I think he's fantastic, I think he's awesome … We kind of didn't cross paths in MMA, he was kind of before my time a little bit but since coming to WWE, he's been the absolute coolest. He's super smart, I never would've guessed. In MMA I always just kind of assume, you know, fighters are all of a certain … They're not the scholarly types, the most of them."
Brock Lesnar is known for a successful MMA career and has been a one-time UFC heavyweight Champion. He was also awarded the breakthrough fighter of the year in 2009 by World MMA awards.
RELATED: "It's done. It's over" Hollywood Actor Jake Gyllenhaal on how long he could last with Ronda Rousey
Ronda Rousey had spoken about women's representation in sports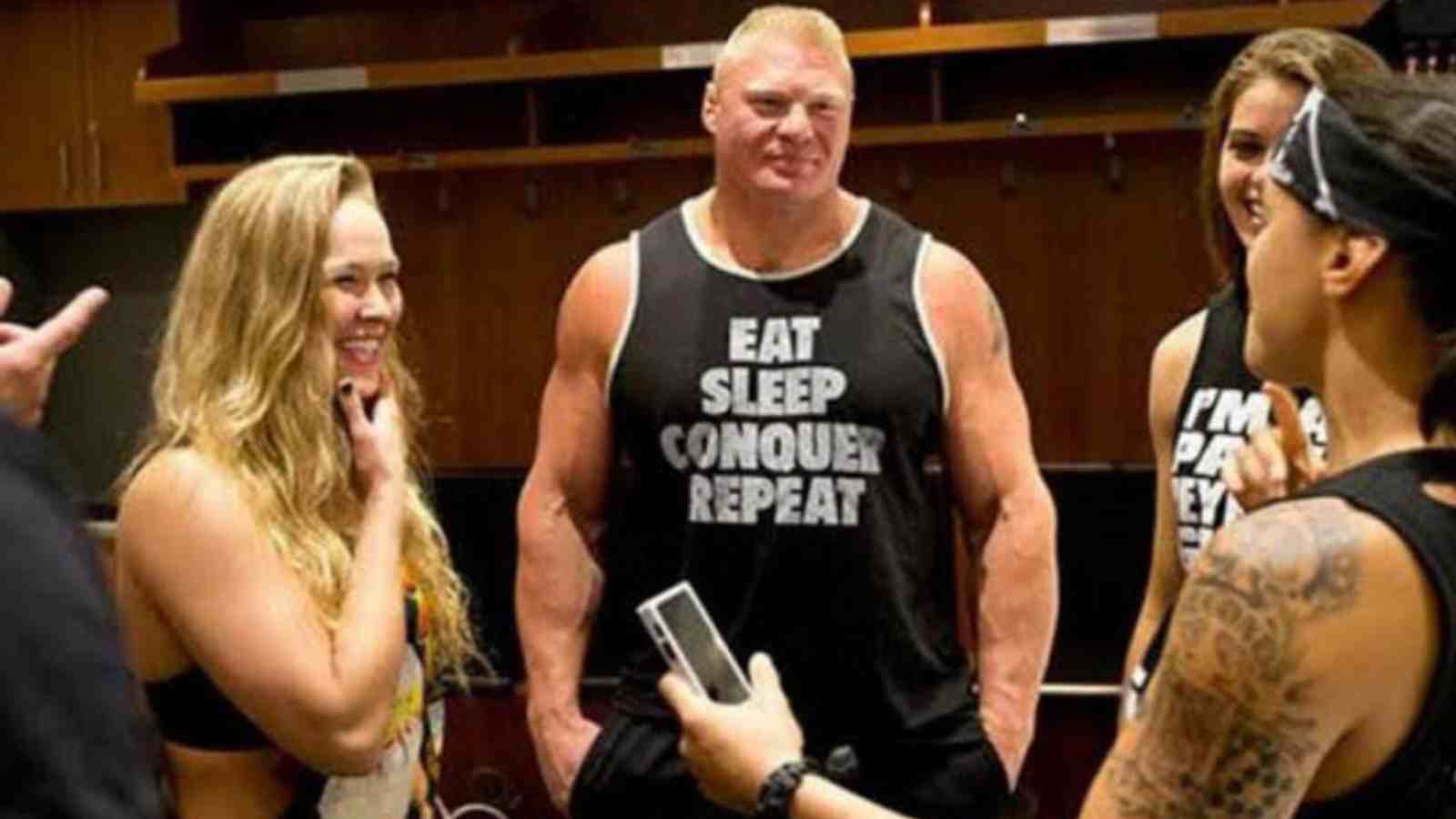 In a recent interview, Ronda Rousey had spoken about women's representation in sports. She said that in today's world there has been no distinction between Men and Women in sports. Ronda said that there is WNBA, women's tennis and the "W" has been in every sports at present and that just a moths ago Women have been introduced into the Octagon for the first time as Bantamweights. Rousey stated that MMA is the first sport in the world to eradicate separation between men and women.
ALSO READ: Former WWE Champion Seth Rollins once tried to impress the WWE legend during his teenage days