The Undertaker remains one of the most immortal characters ever made in WWE. The persona, the commitment, the character work everything has been impeccable from The Deadman. The Phenom is perhaps the only guy in the industry to carry one character for such a long period. The Undertaker has accomplished it all in his more than 30 yr long career. Established himself, became champion, built a WrestleMania Streak, (which was broken by Brock Lesnar eventually), made a legacy, and got inducted into the Hall of Fame.
The Undertaker has had a fair share of issues in his personal life as he has married three times but has been happily living with her spouse Michelle McCool for more than 10 years now, and two share a great chemistry together. Michelle has herself been one of the top-rated divas in the company. The former two-time Divas Champion began her career in 2006 and enjoyed a decent run in the company as she fetched the Divas and Women's title twice respectively.
ALSO READ: "It's just hard to be that guy on the road and then come home and try to be a dad." The Undertaker says that he had missed out on his children's childhood
Undertaker's Wife Michelle McCool Recalls An Hilarious Incident From Their Wedding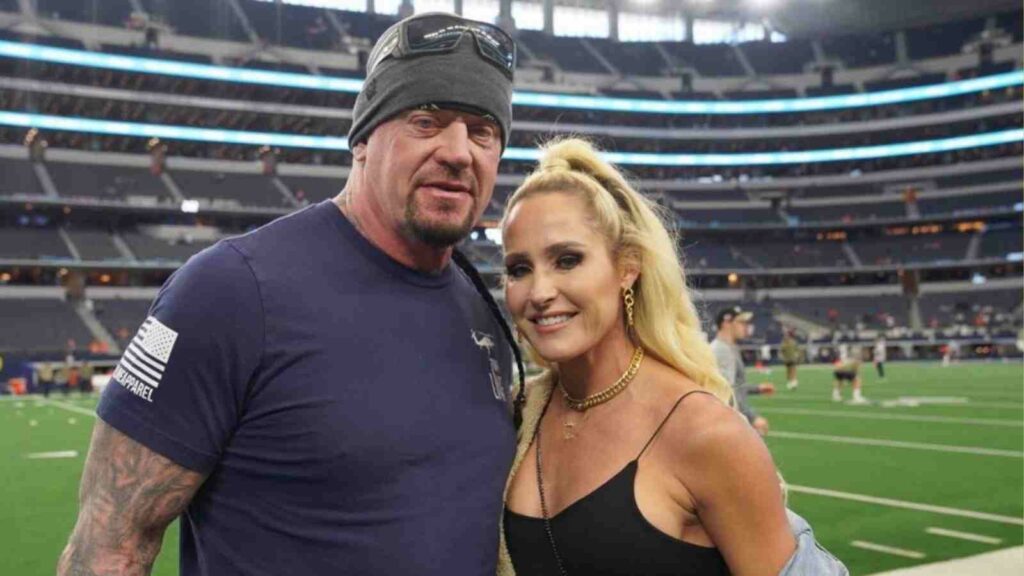 The Phenom's and McCool's story isn't a conventional love story as many might expect. It all began when Undertaker saw McCool throw a football on live TV and what really impressed Taker was her throw of a 35-yard spiral. The two dated for a brief period before tying the knot on June 26, 2010. The two have been together since and have a beautiful daughter named Kaia.
While speaking on the first episode of WWE Rivals: Undertaker Vs Kane, The former Divas champion recalled an hilarious incident that happened during their wedding, involving the two Hall of Famers. McCool said- "When you are with anybody, 300+ days a year, you become family whether you like it or not. They are legitimately are like brothers, they are that close. It's actually funny because so many people in our extended family felt they are brothers".
She then recalled the exact incident and told that members in her family asked where was Kane, as they thought he was The Phenom's legitimate brother. Michelle said- "At our wedding, they are like, 'Your other four brothers are here. Where is Kane?' Ehh he is not really a real brother, but they are super close, they're great friends." It is not a secret that The Brothers of Destruction share a great bond at both in and out of the ring and are great friends. But, it is also a fact that their rivalry has also been described as one of the best rivalries in WWE History as well.
ALSO READ:"Thanks for being here, Charles"- Vince McMahon was thankful towards The Godfather for attending The Undertaker's Hall of Fame Induction
ALSO READ: "You just never say never"- WWE Hall of Famer The Undertaker throws light on the possibility of him stepping in the ring again