This was the first night of NXT TakeOver: Stand & Deliver in the Wrestlemania week. Three Championship matches were on the card. NXT's newest signee, Sarray, attended the show with Stephanie McMahon.
Pete Dunne def. Kushida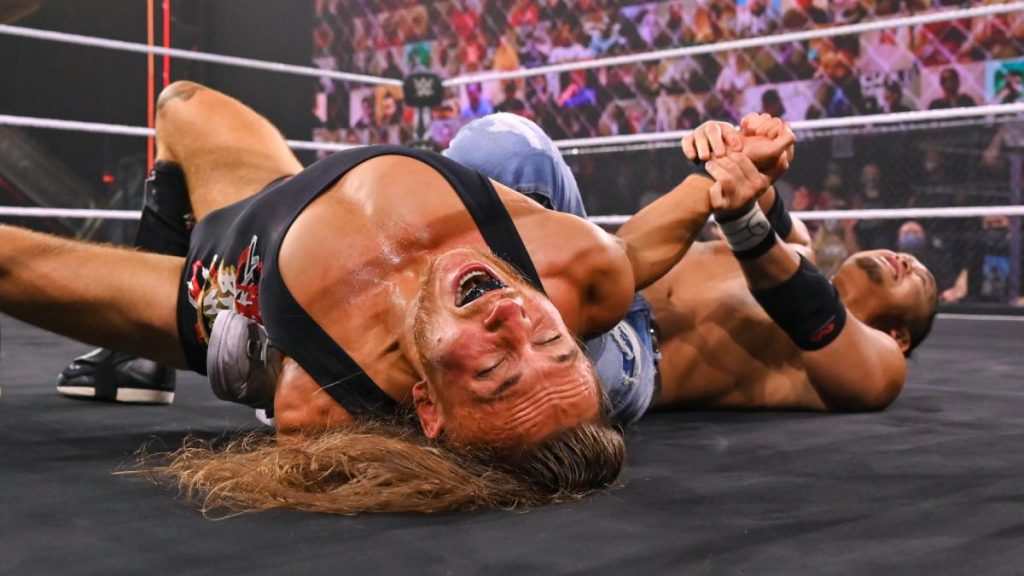 The match was to prove that who is the greatest technician on the NXT roster. Kushida and Pete Dunne looked for quick submissions as soon as the match began. Dunne avoided a cross armbreaker and narrowly escaped a sliding leg trip. Kushida countered a heel hook.
Dunne slid to the floor as Kushida went for his handspring back elbow and dropped him on the apron with an X-Plex. Dunne snapped Kushida's arm in between the ropes, adding pressure to the fingers.
Dunne avoided a dive to the elevated entrance ramp, but Kushida hit the handspring back elbow, followed by a running kick to the exposed arm that sent Dunne inside the ropes. Dunne went for a leaping guillotine but Kushida blocked and rocked Pete with an enzuigiri.
Kushida blocked Dunne's attempts and hit the wind-up punch. He took Dunne to the top rope, and managed to hit a top-rope hoverboard lock. Kushida tried a lot but couldn't keep Dunne away from the ropes.
Dunne snapped Kushida's fingers. He hit the double-handed stomp and a roundhouse followed by The Bitter End for the win.
Bronson Reed wins the Eliminator Gauntlet match (No.1 Contender for the NXT North American Title)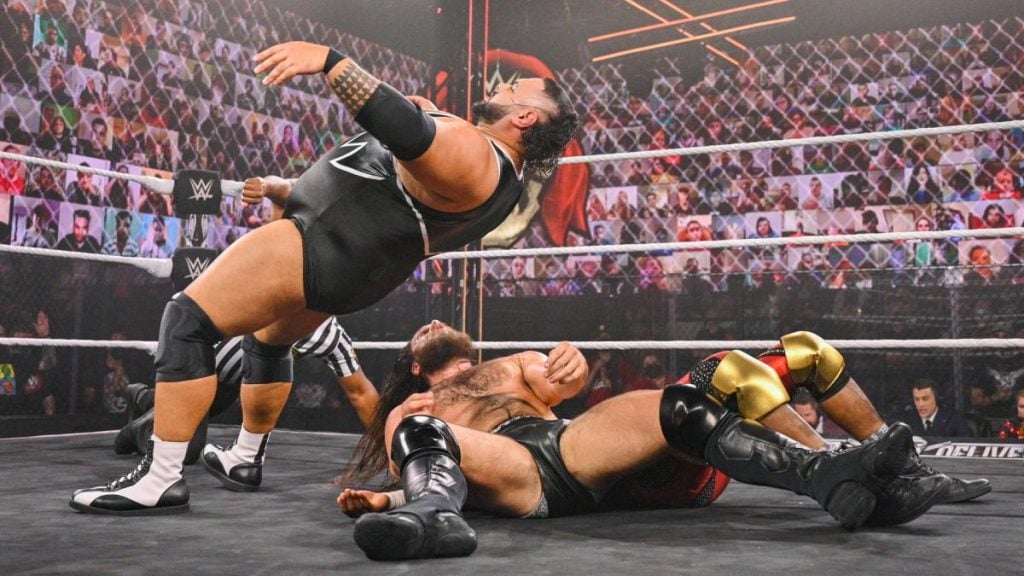 Leon Ruff and Isaiah "Swerve" Scott kicked off the match. Ruff sent Scott to the floor but was dropped over the barricade for a running dropkick. Leon hit a diving cutter from the announcer's desk.
The former NXT North American Champion managed to counter a powerbomb with a hurricanrana. Bronson Reed made his entrance, as Ruff attempted to go after him before he made it to the ring. Reed caught a diving Ruff and launched him inside.
The crowd began to chant "Big Boi Season" as a body splash by Reed crushed Swerve. Reed dumped both of his opponents on their heads with a German suplex.
Cameron Grimes entered the match. He paid off Swerve for some assistance to go against Ruff. Grimes couldn't catch Ruff, but Swerve managed to send him into the corner with a death valley driver.
Dexter Lumis was making his entrance, while Ruff was hit by a Cave In and eliminated by Swerve.
Lumis ran wild on Swerve and Grimes before coming face to face with Bronson Reed. Everyone brawled on the floor as LA Knight made his way out. Bronson Reed went after him and built a lot of momentum.
Dexter Lumis locked in The Silence on Grimes, but Knight rolled him up with a jackknife. LA Knight eliminated Dexter Lumis.
Bronson Reed crushed Knight immediately after the pinfall with a running senton. Bronson Reed eliminated LA Knight.
Lumis locked Knight in The Silence on the floor as the last three competitors traded blows in the ring. Swerve rocked Grimes with House Call, and eliminated him with a roll-up. Isaiah "Swerve" Scott eliminated Cameron Grimes.
Reed was hit with two House Calls but refused to fall. Reed hit a powerbomb and a sunset driver, followed by the Tsunami for the win. Reed will face Gargano on Night Two of Stand & Deliver for the WWE NXT North American Championship.
WALTER def. Tommaso Ciampa (retains WWE NXT UK Championship)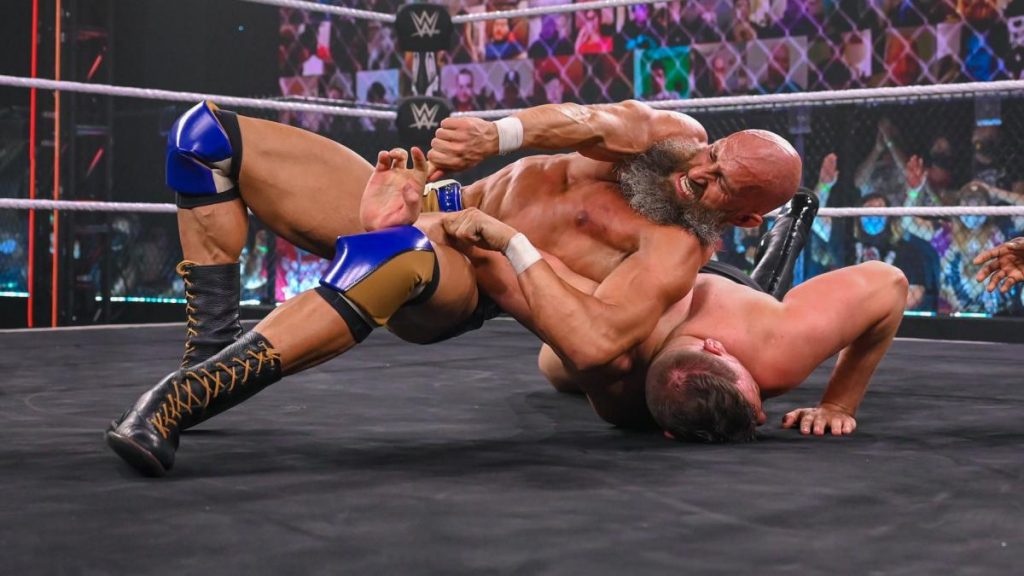 The NXT UK Champion tried to bully his challenger early, but Tommaso Ciampa wasn't taking it. Ciampa pushed WALTER into the corner, but WALTER countered with a big running chop. He thrashed Ciampa on top of the turnbuckle before throwing him to the floor.
Ciampa hit WALTER with strikes and almost hit Willow's Bell. He blocked a chop with his elbow and again battered WALTER with a series of blows. Ciampa kept bouncing off WALTER, hitting clotheslines to the front and back of the head.
Ciampa got a near fall with the Air Raid Crash. WALTER even managed to kick out through a butterfly suplex and the Fairy Tale Ending. WALTER finally managed to get back on top, locking in a sleeper hold, which Ciampa countered with a German suplex.
Ciampa quickly regained control, and bent the injured hand looking for a submission. He slammed his hand into the ring post, but a headbutt sent Ciampa down to the mat. WALTER climbed to the top, Ciampa chased with chops and punches.
WALTER's powerbomb was blocked and countered into an Air Raid Crash. They traded chops again. WALTER hit a double powerbomb, followed by a clothesline and a chop for the win.
MSK def. The Grizzled Young Veterans and Legado del Fantasma (New WWE NXT Tag Team Champions)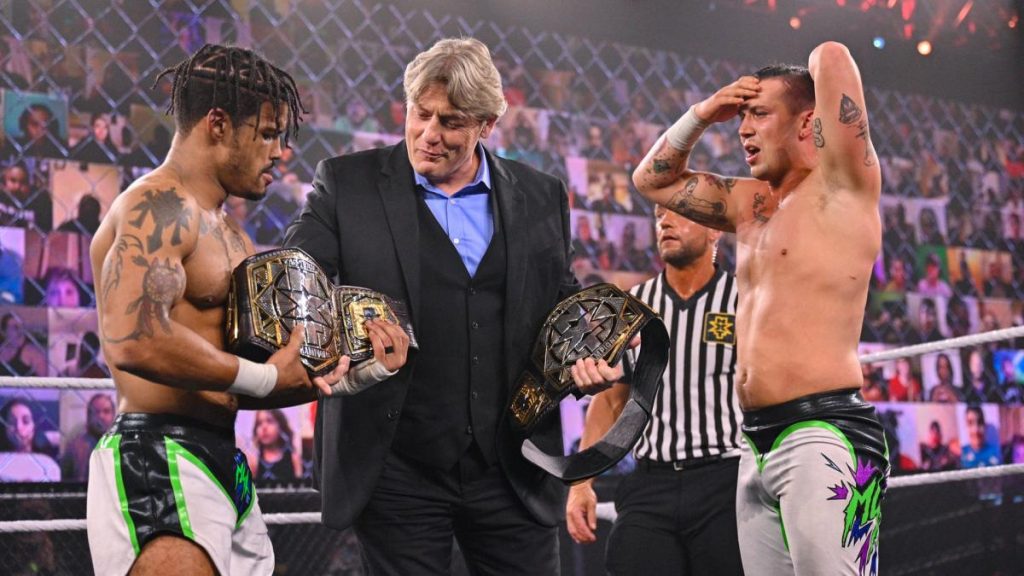 Legado Del Fantasma dominated the match early, but a furious Zack Gibson dropped Raul Mendoza with a back suplex. Gibson went after the arm of Wes Lee, but he tagged out to Nash Carter. MSK worked over Gibson until Mendoza blindsided Carter.
The GYV ran through all four opponents. Drake beat down Carter continuously while Legado Del Fantasma was down on the floor recovering. Wes Lee tagged back in, and MSK went after GYV. But Lee and Carter were attacked by Legado Del Fantasma.
Legado Del Fantasma continued to work over MSK's Nash Carter. Mendoza and Wilde tagged in and out to demolish Carter. Mendoza hit a springboard moonsault, when James Drake finally re-entered the fray. Lee tagged in, rocking Drake and Mendoza with a series of kicks.
Zack Gibson pulled Lee off the apron, but he dropped them with a springboard double DDT. As Lee focused on Drake, Gibson held his hand against the ring post, allowing his teammate to hit a dropkick and crush the hand.
The Doomsday Device from GYV took Wilde out. MSK went after Mendoza with a double stomp/burning hammer. Carter countered Ticket to Mayhem with the springboard double cutter.
MSK took Gibson down with the spinebuster/springboard blockbuster to become the new WEE NXT Tag Team Champions.
Raquel Gonzalez def. Io Shirai (New WWE NXT Women's Champion)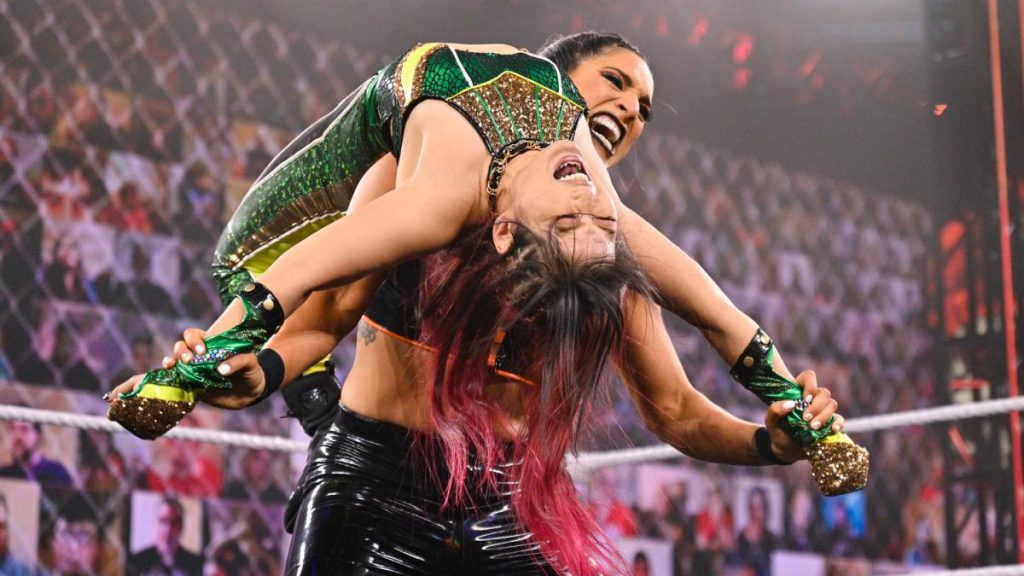 Raquel Gonzalez ran right into Shirai, driving her into the corner. Shirai countered a powerbomb with a heel to the face. Gonzalez was crushed with a running crossbody. Shirai sent her to the floor with a schoolboy. Io was attacked by Dakota Kai.
The referee saw what happened, and sent Kai to the back. Gonzalez dropped Shirai across the top rope injuring her ribs. Gonzalez focused a series of elbow drops on her mid-section. Shirai escaped a suplex attempt by landing on her feet.
Shirai was able to roll over Gonzalez's back and follow up with a hurricanrana into a leaping double stomp. She connected the 619, followed by a springboard missile dropkick.
Raquel walked up the ramp,and was hit by a moonsault followed by a running double knee to the jaw. Gonzalez stood up, unsure of where Shirai was. Shirai climbed the set, appearing on the giant skull on the stage, and landed a huge flying crossbody.
Shirai chased Gonzalez and was hit with the big boot. The Single Arm Powerbomb drove Shirai into the floor.Gonzalez told Shirai that it was time to learn to stay down. A One-Armed Powerbomb onto the mat earned Raquel Gonzalez the Championship.
Raquel Gonzalez becomes the first wrestler to hold the NXT Women's Championship as well as the NXT Women's Tag Team Championship. A huge display of smoke, steam and pyro went off, as Gonzalez celebrated and the show came to an end.