Paul Heyman is currently in one of the most interesting phases of his on-screen career. He regularly appears on WWE's Blue brand – Smackdown, as the Special Counsel to the Universal Champion Roman Reigns. The two have had a great year, since their association began. In fact, Heyman, who is one of the most legendary performers on the mic has also helped Reigns in elevating his performance.
Their association has reached a new level, with "The Beast Incarnate" Brock Lesnar emerging as the new challenger for Reigns' title. Heyman, who is currently the Special Counsel to Reigns was formerly the advocate to Lesnar. On the latest episode of Smackdown, when Lesnar emerged to confront Reigns, Heyman made it clear that he hasn't decided that whose side is he is on!
Initially, Paul Heyman stood by the side of Reigns. But as soon as The Bloodline members left the ring, Heyman quickly sided with Lesnar and even introduced him in his iconic manner. Lesnar himself tried to create a rift between Heyman and Reigns when he asked that why didn't Heyman inform the Tribal Chief that Lesnar was going to show up at WWE Summerslam 2021.
Despite the lack of clarity on Heyman's stand, it seems like as of now Heyman has full faith on The Bloodline. He appeared for an interview with Z100, where he mentioned his dream team for WWE Survivor Series – which surprisingly included himself too!
"Roman Reigns, The Usos, and I will even throw myself in there because I will never need to tag in. The three of them can handle any four beings on the face of the planet," mentioned Heyman.
Paul Heyman almost received an F5 from Brock Lesnar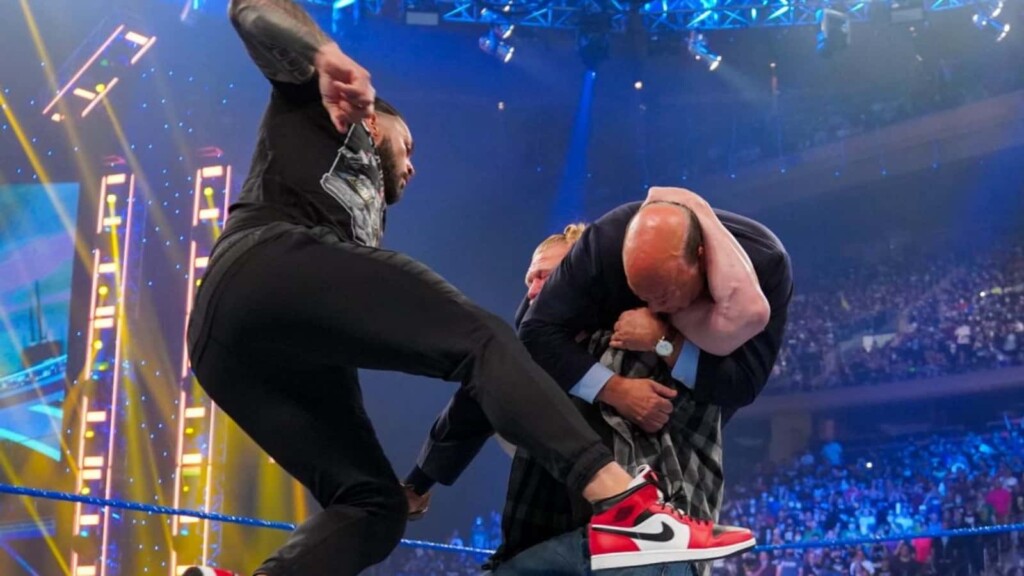 After The Bloodline left the ring, Brock Lesnar gave Paul Heyman 5 seconds to accept his challenge, on behalf of the Universal Champion. As soon as he finished the countdown, he picked Heyman up to deliver an F5.
Thankfully for him, Reigns ran in and delivered a Superman Punch. The Usos ran in too and superkicked The Beast. Reigns and Heyman left the ring, while the Smackdown Tag Team Champions were sent to the Suplex City.
Also Read: Former WWE Champion Drew McIntyre picks his favorite for the upcoming WWE Championship match