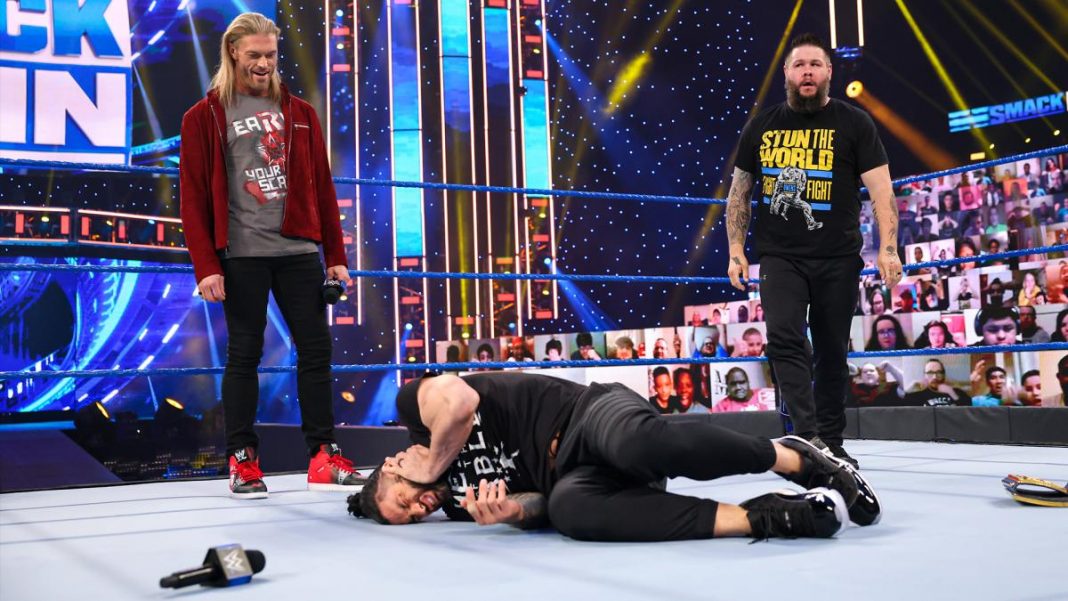 The show kicked off with a graphic paying tribute to the late great "The Natural" Butch Reed. A highlight of WWE Royal Rumble matches were shown. Edge and Bianca Belair emerged victorious in their respective matches.
Roman Reigns' segment
The Universal Champion walked out with Paul Heyman and Jey Uso. Reigns said he doesn't like to look into the past but at Royal Rumble he did exactly what he had promised to do. But now his focus is on the future. The future is Edge.
A win in the Roya; Rumble match gives you a first-class ticket to Wrestlemania. Reigns is the main event around here. Edge is just wasting everyone's time by teasing to challenge Drew McIntyre and Finn Balor. In fact, Edge should be begging him for a match for the Universal Championship.
Reigns calls out Edge. But Edge is not there yet. Reigns is angry and shputed to quit playing games. He demands Edge's decision by the end of the night.
Dominik Mysterio def. King Corbin
Corbin attacked Dominik and Rey while they were making their entrance. He threw Rey off the stage. As the match began, Corbin started attacking Dominik's leg. Rey Mysterio was being treated by the officials near the stage.
Corbin went for a vertical suplex, but Dominik countered it with knee to the face. Rey slowly made his way to the ringside. The action continued outside the ring. Dominik hit a suicide dive onto the outside. Rey grabbed Corbin's leg, but the referee could not see that. Dominik hit a 619 followed by a splash off the top rope to pick up the win.
Cesaro def. Daniel Bryan
Bryan began with kicks, as Cesaro countered with right hands. Both men exchanged uppercuts. A drop kick by Bryan took Cesaro down. Bryan hit the yes kicks in the middle of the ring.
Cesaro countered with uppercuts. He went for more but Bryan countered into a Yes Lock. Cesaro countered with knee slam to Bryan's back. Cesaro was busted open in the head.
Bryan couldn't get out of Cesaro's swing and tapped out to the sharpshooter. They fistbump after the match.
Bayley def. Ruby Riott
Billie Kay is on the commentary team for this match. Bayley threw Riott into the turnbuckle. She countered with a kick to the head, followed by a cover, but Bayley kicked out. Riott jumped off the top rope. Bayley caught her and sent her face first into the top turnbuckle.
The action continued outside the ring as Billie tried to get involved in the action. She distracted Bayley and the referee. Liv Morgan and Kay started arguing. Bayley slammed her knee to the neck to pick up a win via pinfall. Kay gives her resume to Bayley.
Bianca Belair's segment
Belair walked down to the ring. She said her life changed overnight after she win the Royal Rumble. Everyone has been calling and congratulating her. Reginald interrupted her.
He said that if Belair challenged Asuka it is fair enough. But if she challenged Sasha Banks, she won't be able to beat her. Reginald said she could also not beat Carmella. Carmella walked out.
Carmella reminded Belair that she had defeated Banks in their first match. Sasha Banks came out. Banks said that she has stopped focusing on Carmella and is focusing on the road ahead. She hypes up Belair's Royal Rumble win. Belair whipped Reginald with her hair.
Dolph Ziggler and Robert Roode def. Otis and Chad Gable
The Street Profits were watching the match backstage. Gable and Ziggler started off the match. As soon as Otis tagged in he clears the ring. Roode was thrown across the ring. Ziggler was pancaked. Splash to Roode and a clothesline to Ziggler followed by a caterpillar.
Gable was tagged in. But Roode hit a Glorious DDT to pick up the win.
Big E def. Apollo Crews and Sami Zayn (retains Intercontinental Championship)
Sami rolled to the outside as the match began. Crews went for a headlock but Big E countered with an elbow. Crews then hot three German Suplexes and went for the cover, but E kicked out.
Big E tried to run towards Zayn, but Zayn took him down with his knees. He went for the cover, but Crews pulled him out of the ring. He argued with the referee. Big E hit the Big Ending onto Crews to retain the Championship.
Edge's segment
The Rated-R Superstar mentioned that while he was in rehab, he was dreaming. He dreamt of winning the Royal Rumble and main-eventing Wrestlemania. He outlasted 29 opponents to win the Rumble. Now he has to select between Roman Reigns, Drew McIntyre and Finn Balor.
Roman Reigns came out with Heyman and Uso. Heyman and Jey leave the ring. Kevin Owens attacked Reigns from and gave him a Stunner.