Hail Super Sable. In what turned out be one of the most memorable races an Indian has ever run in the international arena, Armyman Avinash Sable spilt his guts on the track (8.11.20) in the 3000m steeple-chase event to win a historic silver at the Commonwealth Games in Birmingham.
This is an event meant to be a preserve of the Kenyans. Given the history and geography (natural hilly terrain) of Kenya, for the middle distance runners to win is made to look so easy. The Kenyans have a great gene pool, and zero body fat, which, perhaps, needs to be measured by a vernier calliper. Once they hit the track, they churn it with such ease, running looks so easy.
How was Sable, a man who has broken the national record at will, going to breach the bastion, Having tried his best in the past (no cliche this), the 28-year-old from Beed, Maharashtra, came up with a new game-plan after he failed to win a medal at the World Championship in Eugene, Oregon, USA, last month.
By his own admission, Sable has spent sleepless nights between the World Championships and the Commonwealth Games. Sport does not teach you to brood over defeats and losses. It also does not help for an athlete to keep rewinding to negative moments of the past.
It calls for clarity and composure to step out and give it the best shot, once again. The Sable we saw on Saturday was a new version. This was like the refurbished cars, which produce more horsepower and speed. The 3000m event is also about tactics, not making any error at the hurdles.
The big difference one saw on television, over and over again, was how Sable made tactical changes. For sure, he did not want to be caught at the back in traffic. His strategy of staying ahead and challenging the field and himself was as refreshing as cool breeze in a mid-summer afternoon.
Also Read | Murali Sreeshankar clinches silver in long jump at the Commonwealth Games in Birmingham, exorcises ghosts of the past that have been haunting him from the Tokyo Olympics
Avinash Sable – First non-Kenyan to win a CWG medal in 3000m steeplechase in the 21st century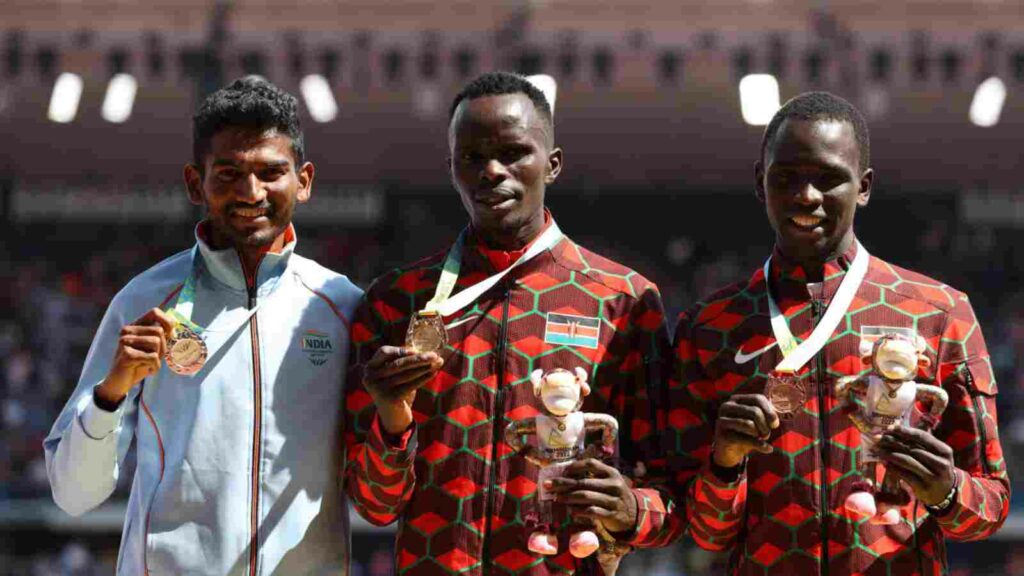 Well, for a man who has by mistake in the past has used pain killer ointments instead of skin heat protection ointments and run races in pain, the British Midlands weather was much better. He needed no protection, to be precise. On this day, he was in his own world, the focus and rhythm in sync. Watching the movements of his legs and arms, it resembled the good old locomotives. After all, steam engines take time to first chug and then pick pace. Sable was the steam engine at first and then produced a different class of running in a world class field which had the best men in it.
To have worried about the field would have been meaningless. What was needed was generating his own pace and staying in front. It made things look so much easier, at least, while viewing on TV miles from beyond the track.
Over the last for years, Sable has been rewriting his own records. For the Armyman who has done duty in tough terrains in the border area and then slipped into running in Bengaluru and Ooty, Birmingham would have been a breeze. Yet, if the hero of Indian athletics on the track has made rapid strikes and adjustments, it is thanks to the stint under coaching guru Scott Simmons in Colorado Springs, US. Maybe, Sable had been loath to train abroad. He has been comfortable at home but the transition from good to better has already been made. To become the best, he needs more perfection and more competitions. That can wait, as he can go full tilt at the Asian Games in 2023 and the Paris Olympics in 2024.
Later at night, Sable did the unthinkable by also competing in the 5000 metres race. He dropped off after the 4000m mark, which was the right thing to do. There was no point getting burnt out after beating the Kenyan legends in their own game.
Sable later spoke about how he had been sent to the US for training. "People who sent me told me not to worry even after I failed at the Worlds. They told me it was not a big deal. But I was angry with myself," he said.
"I thought if hard work doesn't give me medals, nothing will. Thankfully, people trusted me," said Sable.
Can he get better. Surely, he can. His mentors feel he can clip more time in coming months. Once you have won a huge medal, it acts as a catalyst. Sable will agree with that.
AVINASH SABLE PROGRESSION IN 3000M STEEPLECHASE:
28 SEP 2018: Bhubaneswar. 8:29.80
18 MAR 2019: Patiala 8:28.94
01 OCT 2019: Doha 8:25.23
04 OCT 2019: Doha 8:21.37
17 MAR 2021: Patiala 8:20.20
30 JUL 2021: Tokyo 8:18.12
23 MAR 2022: Trivandrum. 8:16.21
05 JUN 2022: Rabat 8:12.48
06 AUG 2022: Birmingham. 8.11.20
Also Read | Bajrang, Deepak and Sakshi provide golden touch on wrestling mat at Commonwealth Games. Anshu, Divya and Mohit boost tally further in Birmingham
Also Read | Indian men's hockey team pips sturdy South African to make final with a 3-2 margin. Defenders steal the show as well for India. Men in Blue will take on hardy Aussies in the Commonwealth Games final
Do follow us on: Google News | Facebook | Instagram | Twitter