Floyd Money Mayweather is arguably one of the best and most successful boxers in the history of the sport. The 5 division world champion has managed to stay undefeated throughout his whole career, fighting the greatest and amassing a record of 50 wins and no losses.
Mayweather is also a shrewd businessman and has invested in several ventures. He owns several real estate properties and is always on the lookout for the next best investment. Despite achieving everything, Mayweather still partakes in exhibition bouts, that pumps some more millions into his billion-dollar fortune.
The former five-division world champion also stays true to his moniker 'Money' and lives an affluent lifestyle. He enjoys five-star living experiences, goes on rampant shopping sprees, and indulges himself in some really lavish parties. With his fortune, Mayweather can be seen buying the fastest cars, private jets, designer clothes, and the rarest sneakers.
Mayweather is a big sneakerhead and has a huge space dedicated to his sneaker collection. His collection features some of the biggest brands and includes footwear that easily cost a couple of thousand dollars.
Related : Floyd Mayweather watch collection: How much are 'Money' Mayweather's watches worth?
Which is the most expensive shoe in Money Mayweather's collection
Floyd Mayweather's sneaker collection features several brands from the likes of Nike, Adidas, Givenchy, Giuseppe Zanotti, and more. Almost all the shoes in his collection cost a couple of hundred dollars, which is quite less when compared to the price range of other collections owned by Mayweather. However, it is the sheer quantity of sneakers owned by Mayweather that makes his collection costly. Mayweather owns tons of Nike Air Force 1's that cost around $110 a piece.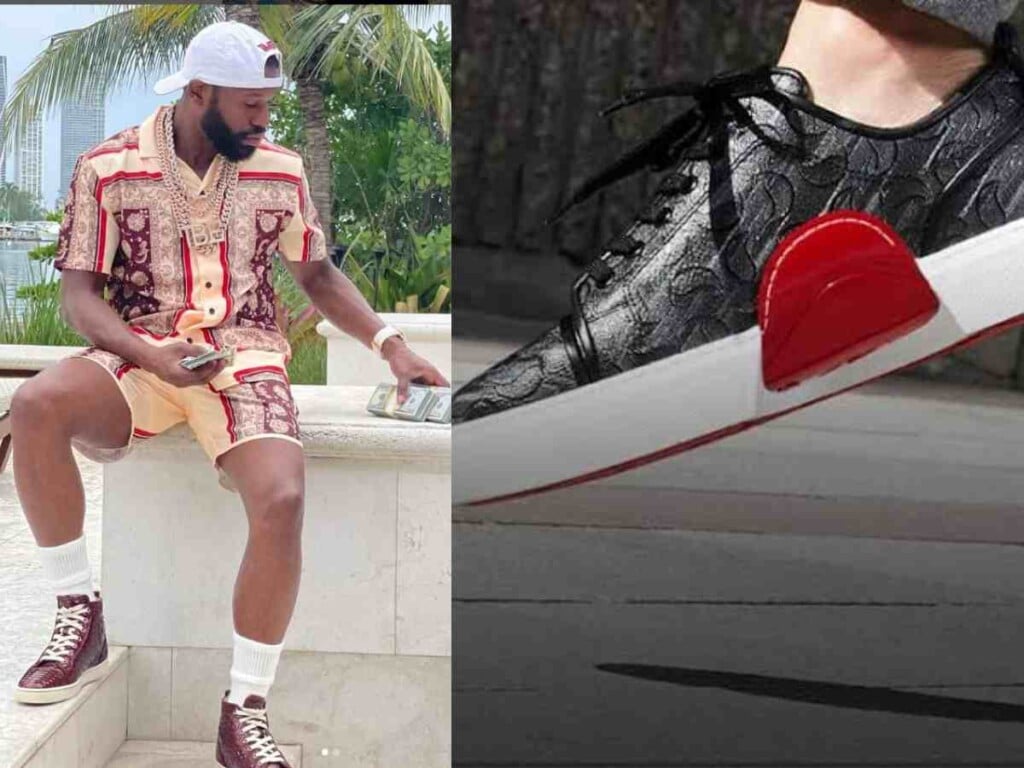 Apart from his inherent love for Nike, his most expensive shoes seem to be among his designer collection. His Givenchy Basketball high top, Christian Louboutin, and Alexander Mac Queen Low Top retail anywhere near 800- 2000 dollars a piece. He also uploaded a photo displaying 80 Christian Louboutin shoes. So the total cost of the Louboutin collection goes over $80,000.
Apart from that, Mayweather can also be spotted wearing the Adidas superstar and Nike Air Max 1 Flyknit, which cost around 100 dollars a piece. Mayweather has also stated that he does not like to wear a pair of shoes more than once while displaying his Air Force 1 collection.
Floyd Mayweather and his own brand of TMT shoes
Apart from owning a couple of designer brands and a whole lot of Nike, Floyd Mayweather also has his own line of shoes. While Mayweather is arguably the most successful boxer, his brash personality, and outspoken behavior, do not leave him with many endorsement deals from sneaker companies. This only explains why Mayweather does not have his line of Nike or Adidas collections, like many athletes and celebrities.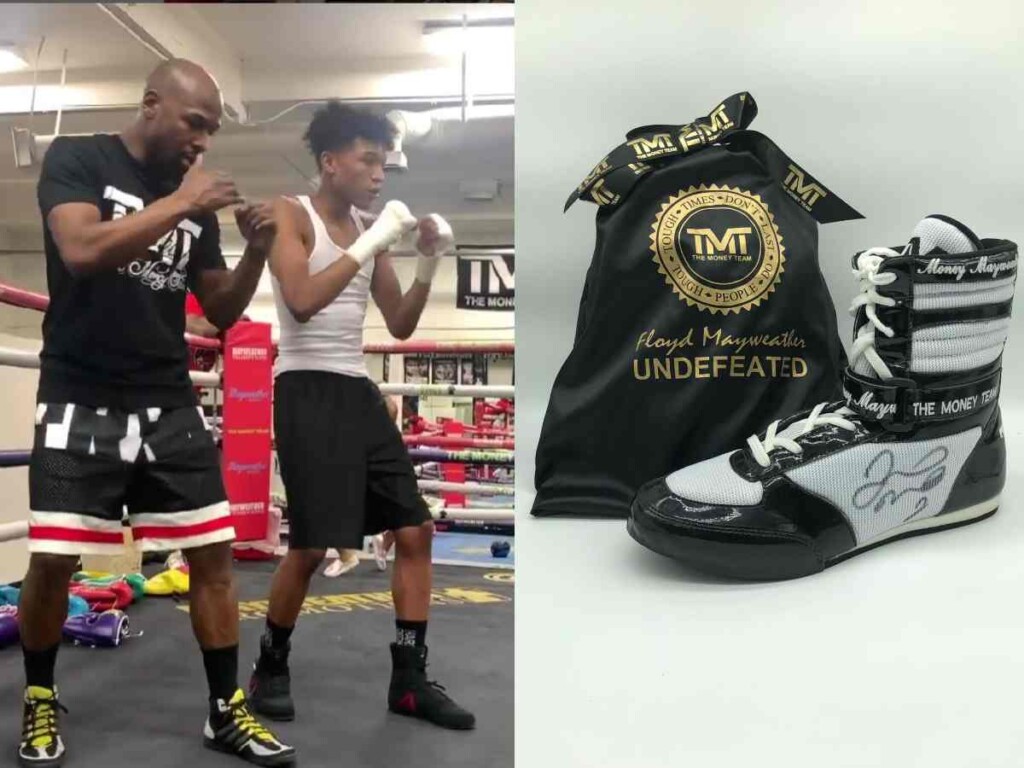 However, no endorsement deal no issue, Mayweather came up with his line of shoes and clothing. He introduced his brand TMT (The Money Team) in 2012 with a range of training apparel, hoodies, and sneakers. In 2015, Money Mayweather launched his own TMT sneaker boot with 'Money, Power, Respect' written on its heel. A signed Floyd Mayweather TMT training shoes cost anywhere around 400 to 500 US dollars.
Why does Floyd Mayweather not like wearing Air Jordans?
The Nike Air Jordans are possibly the most famous and sorted-after sneakers among hardcore sneakerheads. However, Floyd Mayweather seems to think otherwise. The undefeated boxer does not like wearing any Nike Jordans even though he's been spotted wearing Nike several times.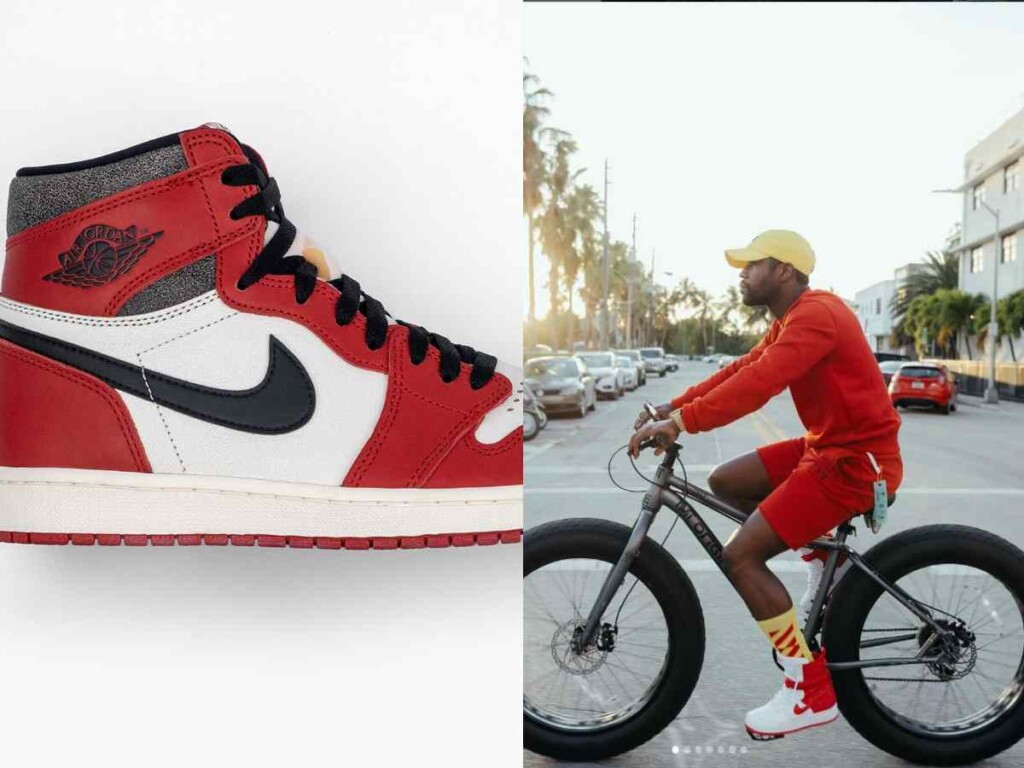 During an interview with Hollywood Unlocked, Mayweather opened up about his choice of shoes. According to him, his shoes come from luxurious brands like Christian Louboutin, Givenchy, and Balmain. When asked if he wears Air Jordan, Mayweather had a look of disapproval.
Money Mayweather stated that he does not wish to look like everyone else. "I got a different type of money, so I'm gonna look different," said Mayweather. So even though the undefeated boxer can have more than a pair of the most exclusive Jordans at a moment's notice, he simply does not think they're worth it.
In case you missed: