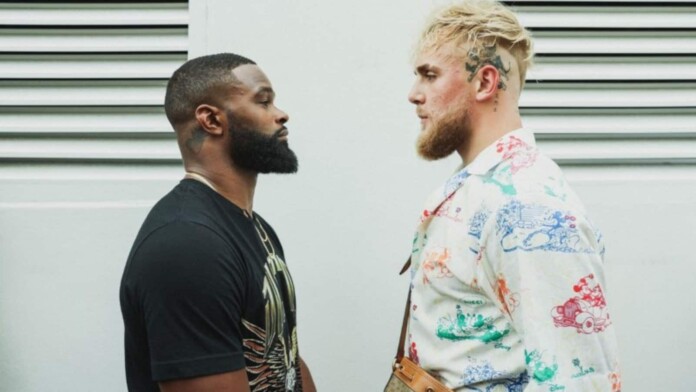 Jake Paul is one of the most hated people in the MMA community, the YouTuber turned boxer was supposed to face Tommy Fury in a boxing match, but his opponent pulled out from the fight because of a broken rib and chest infection.
Jake's former opponent, and former UFC welterweight champion, Tyron Woodley has been called in as a last-minute replacement to fight Paul. People have long accused Paul of being scared of fighting real fighters, but agreeing to fight Woodley on short notice is something only brave men can do.
Jake came out victorious in his last fight against Woodley, and he is looking to seal the deal with a vicious knockout this time around, many people claim that Jake includes a "no-knockout" clause in his fights, and Jake states that they couldn't be more wrong.
"I'd be in jail for rigging fights," Jake Paul completely dismissed the rumors of setting up his fights
Jake announced via Instagram, that he will face Tyron Woodley next, and he will give him $500,000 if he can knockout it out, further talking about this, he said, "There's been this rumor going around about a 'no knockout' clause in my contracts. Someone started it and everyone else ran with it. People are like sheep. They believe everything they read or see and they go which way the crowd is going."
He added, "That's been a rumor that's completely untrue. I'd be in jail for rigging fights. That's illegal. We just wanted to squash that rumor right away and from now on we'll be giving bonuses to my opponents if they can knock me out. We want to incentivize them and prove to the media and the world that all of these rumors aren't true."
Paul's advisor Nakisa Bidarian clearly states that Woodley's agreement contains a clause where he would get $500,000 in event of a stoppage victory, he claimed, "And to be clear, that's contractual in Tyron's agreement. There's a contractual agreement that if he knocks out or TKOs Jake, he'll get a $500,000 bonus payment." (H/T MMAJunkie.com)
Also read – Breaking: Tyron Woodley steps in as a last-minute replacement to fight Jake Paul