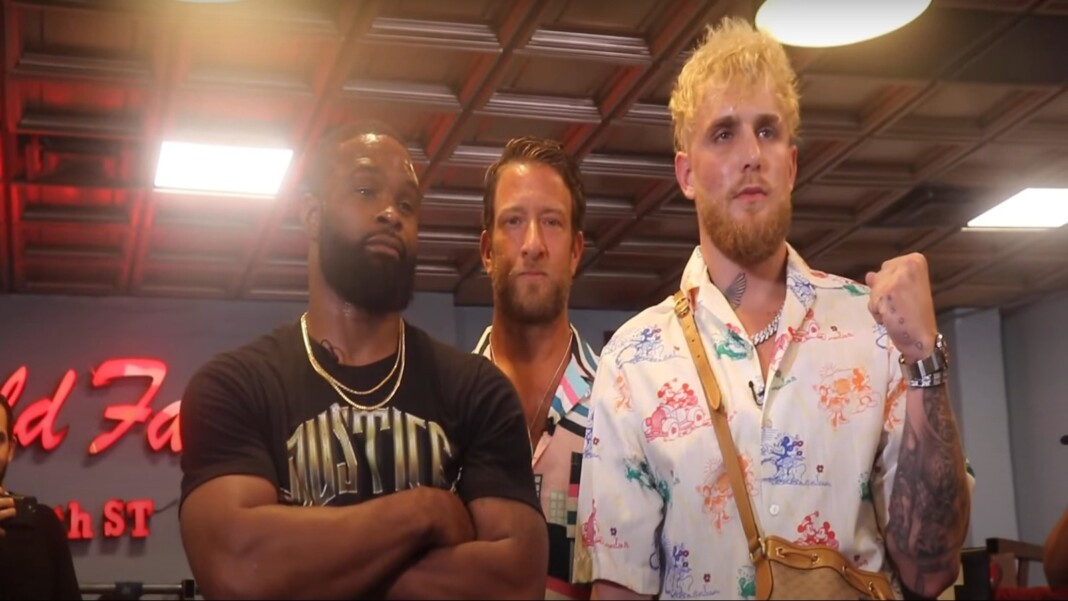 With Jake Paul vs Tyron Woodley confirmed for the 28th of August, the pair had their first faceoff with Barstool Sports CEO Dave Portnoy in the ring. The fight will be taking place at 190lbs with 10-ounce gloves. The contest also marks the professional boxing debut of Tyron Woodley.
The faceoff was quite intense and funny at the same time, as Paul came in wearing a Disney bag around his neck, even as Woodley kept shouting repeatedly, "I'll beat yo a**", alluding to his song with popular rapper Wiz Khalifa, which came out in the year 2018.
'The 5x UFC champ wouldn't take the bet' – Jake Paul mocks Tyron Woodley
Jake Paul had a message for Woodley during the faceoffs. He promised that he would double Woodley's fight purse if he beat him. But at the same time made the counter offer that he(Woodley) must be donating to his charity if he loses the fight. Woodley didn't seem interested in the offer.
Following the faceoffs, Paul tweeted, "The 5x UFC champ wouldn't take the bet. @TWooodley you don't have enough confidence to put your money where your mouth is."
Jake Paul vs Tyron Woodley is already up and running!
Logan Paul reveals when his brother Jake will fight a real boxer
Jake Paul is yet to fight a professional boxer. But that is usually the case with professional boxers who start their careers, except that they fight boxers with poor records. In this case 'The Problem Child' has been going a step up with every opponent, despite not fighting a legit boxer.
Logan Paul, his brother reiterated the same in a recent interview with EsNews, following his faceoff with Floyd Mayweather. He said, "When the time is right, when he feels ready he will fight a real boxer. Or you want him to fight like a 2-7 boxer like every other boxer did at the beginning of their careers? [H/T Firstsportz]
Also Read :UFC: 6 Facts You must know about Nate Diaz
Also Read : Deontay Wilder vs Tyson Fury: Wilder's co-manager says 'The Bronze Bomber' would win it this time around