Jake Paul will be fighting UFC legend Silva in a boxing bout on October 29 in Pheonix, Arizona. Paul has had a bad stint when it comes to his opponents. Initially, when the youtuber announced his boxing comeback it was Tommy Fury who was going to face Paul. However, thay didn't happen.
Later, Paul decided to fight Hasim Rahman Jr but that fight got cancelled at the last minute. Rahman Jr failed to make the weight and it left Paul with no options. But knowing Paul, he wasn't gonna sit down and do nothing. Few weeks later, Paul finally surprised his fans with the news regarding him fighting Anderson Silva next.
Read More: Jake Paul taunts "Little Bit*h" Dana White to come out of hiding and make a $5 Million bet against him in the upcoming Anderson Silva fight
"I know you're my fan"- Anderson Silva rejects Jake Paul's proposal on getting a tattoo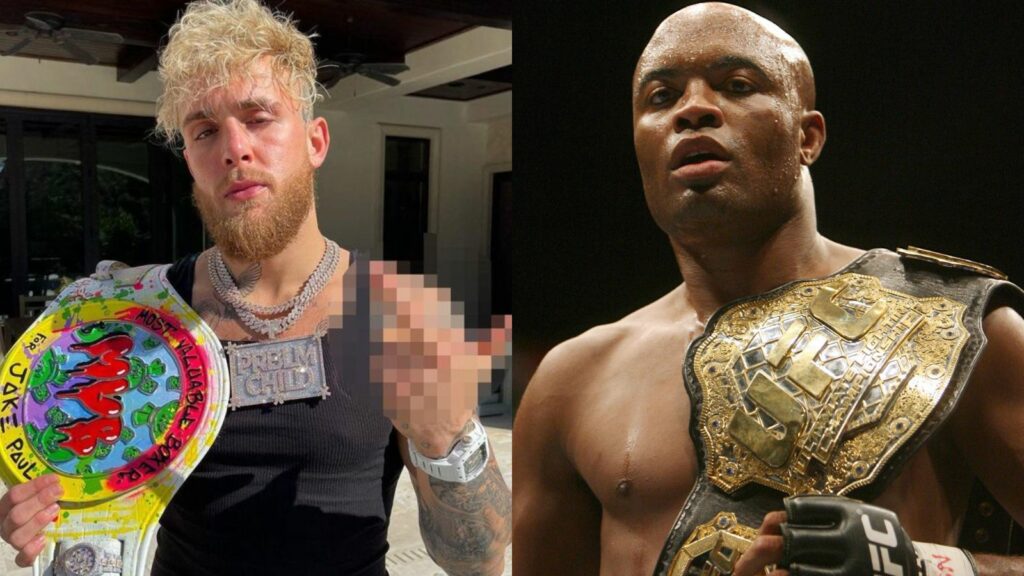 During the press conference of Anderson Silva vs Jake Paul, one reporter asked Paul if he's having any side bets with Silva about winning the bout.
While responding to the question, Paul revealed that he was thinking of getting a spider tattoo if loses to Silva. Before Paul continued his offer, Silva jumped into the conversation and suggested to Paul not to do the tattoo as it's not necessary. Silva made a subtle roast of Paul by mentioning that he knows Paul is a big fan but he doesn't need a tattoo to prove it.
"No no no stop, let me tell them. You don't need to get a spider tattoo, I know you're my fan don't worry. Stop, come on. I'm your fan too, I'm a big fan but I hate tattoos bro." Said Silva.
Also Read: "Genius matchmaking"- Belal Muhammad, KSI and Pros react to Jake Paul vs Anderson Silva's fight announcement
Silva then explained that he hates tattoos and also dislikes when his own children do it.
"I hate them, I don't have tattoos. My kids have tattoos and I say 'why do you have that' and they say 'dad you need to get one' and I say 'no no, stop'."
Paul is known for having some ridiculous side bets with his opponents who he has fought in the past. With Tyron Woodley, Paul asked the former UFC champion to do a ,'I love Jake Paul' tattoo after losing the fight. But it seems like Silva is too nice to approve such bets.
Also Read: "Hope his legacy doesn't get TARNISHED," Michael Bisping wants Anderson Silva to win against 'little sh*t' Jake Paul in their fight