Eddie Hearn has given his final verdict on the possibility of the rematch of the women's boxing super-fight. Katie Taylor and Amanda Serrano fought their way out of dire peril in the middle rounds providing one of the best female fights of all time and this year, when Amanda Serrano appeared to be on the verge of forcing a stoppage, to maintain her uncontested world lightweight belts at MSG Arena on a historic night for women's boxing.
Taylor received a split decision from two of the three judges in front of a fevered crowd, proving that the finest female fighters can hold the attention of a sold-out crowd with compelling intensity. Serrano, 33, successfully defended her WBO and WBC featherweight titles last year. She has managed to win seven world titles in weight classes ranging from 115 to 140 pounds. Serrano now has a 42-2-1 record with 30 knockouts, receiving her first loss handed to her by Katie Taylor. 
Related:- 'Unlikely without Dana having control'- Eddie Hearn doubts the feasibility of the Tyson Fury fight despite Francis Ngannou's refusal to re-sign
"Regardless of the Offer"- Eddie Hearn states that Jake Paul and his teams disregarded the possibility of Amanda Serrano vs Katie Taylor 2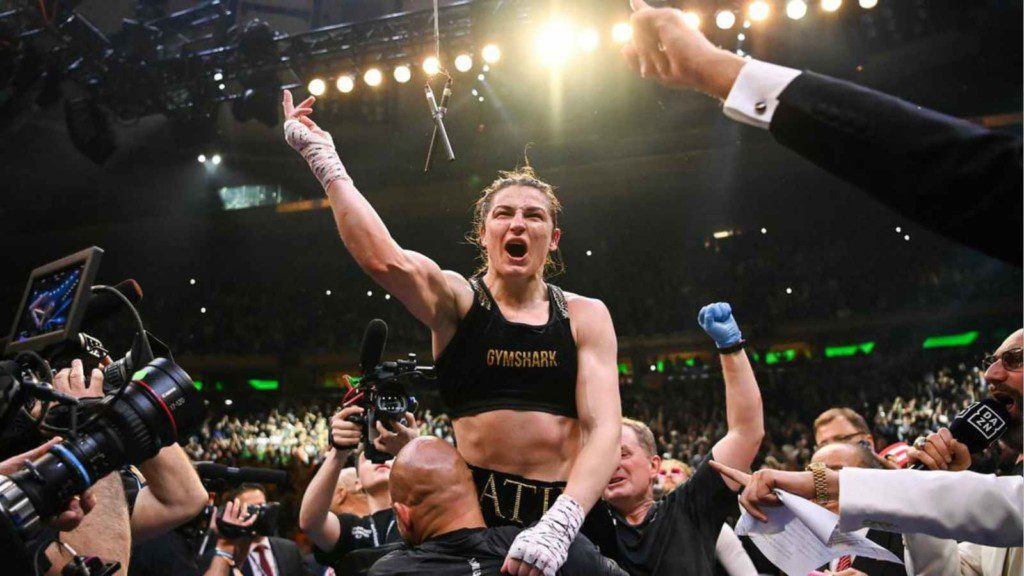 After a gruelling 10-round fight, Taylor was declared the winner on a split decision. She is still undefeated after 21 professional fights, keeping her major boxing titles and capping a night that matched her Olympic gold medal performance in London in 2012.
Taylor has expressed interest in competing in front of a sold-out home crowd. She also focused on the battle taking place in Ireland rather than the opponent. She stated, "Imagine filling 80,000 seats that would be very, very special. It would be easy to sell as well I think."
However, recently Eddie in an interview with Pro boxing Fans revealed that the Jake Paul team is not interested in the rematch "Regardless of the offer"
When asked about the same, he stated, "They don't want a rematch" The rationale given by Eddie is that he thinks they might want to get some confidence back after the defeat. He added, "I am very disappointed, it's very unfortunate."
Taylor is the top active female lightweight in the world, and the best active female pound-for-pound, according to The Ring and BoxRec. Her fast-paced, aggressive boxing technique is well-known.
Also read:- "On the brink of confirmation"- Eddie Hearn on Anthony Joshua rematch with Oleksandr Usyk
Also read:- Jake Paul hails Canelo Alvarez for his recognition, goes off on Eddie Hearn for his recent comments