Floyd Mayweather Jr has that attitude that automatically backs itself up due to his legacy no matter how merciless the boxer is with his words. Mayweather, the former Olympic Bronze medalist of the 1996 games and one of the only few to retire undefeated from professional boxing. From super featherweight to light-middleweight, Mayweather held 15 major world championships. Mayweather retired with a record of 50-0 with 27 knockouts.
After fighting his last professional bout against Conor McGregor back in 2017, Mayweather started off making money with his surprise participation in exhibition boxing and so far has fought names such as Japanese kickboxer Tenshin Nasukawa, Youtuber-cum-boxer Logan Paul and former professional boxer Don Moore. Mayweather is now going to fight Japanese MMA fighter Mikuru Asakura on September 25, 2022.
In a press conference for the Asakura fight, Mayweather came out and said something about his boxing style. More importantly, he said it all in front of Asakura's supporter and Mayweather's former opponent, boxing icon Manny Pacquiao. "There's no blueprint on how to beat Floyd Mayweather, he [Pacquaio] can tell you that himself. He's a Hall of Famer, but no one has the blueprint on how to beat Floyd Mayweather. Don't let them trick you into getting your ass whooped again," says the undefeated.
Also Read: "We want revenge" – Conor McGregor fans are in wait of vengeance against Floyd Mayweather in their potential rematch
"Should have humility," Manny Pacquiao fires back politely at Floyd Mayweather's claims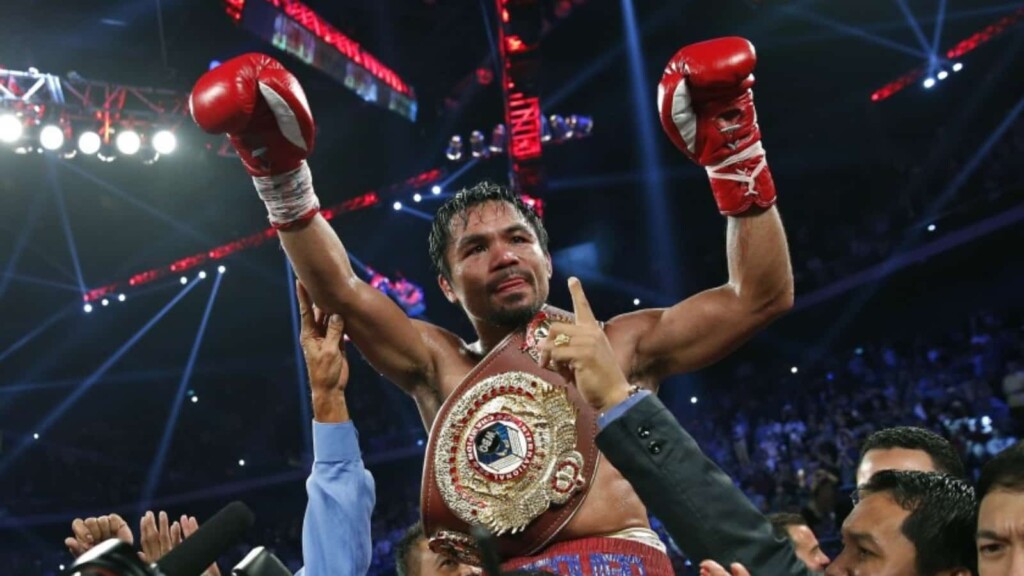 Pacquiao handled Mayweather's situation by keeping his mentally tough and serene personality intact. "He's older than me, I'm still young so… what I have done and accomplished in boxing is one of a kind. To win [world titles in] eight different weight divisions is not easy, I'm not trying to boast about what I've accomplished in life; I'm just saying this in case you forget that. The best fighter in the world has humility."
Pacquiao is one of a kind boxer for the history books despite not having an undefeated record like Mayweather. But he held major world championships across 8 weight classes, making him earn 12 major world titles. Also, Pacquaio is the only boxer to have been a world champion across 4 decades- the 1990s, 2000s, 2010s and 2020s. Pacquiao has the record for having been the oldest welterweight champion in history.
Also Read: "He is the BEST no matter what Volkanovski and Holloway did," Marlon Vera gives strong, tributary words for Jose Aldo
What do you make of Mayweather claiming the greatness of his legacy over Pacquiao? Do you think Mayweather was just doing his job as a trash talker from his side or was it awfully wrong and sounded more like a subtle disrespect over a legend like Pacquiao? Where do you put Pacquiao and Mayweather amongst the greatest boxers of all time? Do you think anyone will ever be able to figure out Mayweather and hand him a dominating beating even in his exhibition boxing stint?
Also Read: "No disrespect to the GOAT," Mike Perry OPEN to face Anderson Silva in case the latter wins Jake Paul fight