Floyd Mayweather mentored Gervonta Davis into the fighter that he is today. Gervonta Davis recently defeated Ryan Garcia via TKO in the seventh round. A video of Gervonta Davis and Mayweather surfaced on the internet. Mayweather predicted that Davis would have an everlasting legacy in boxing. It appears, Davis intends to fulfill the prediction of his mentor.
Gervonta Davis is a multi-division title holder with an undefeated pro boxing record. He is definitely one of the best boxers in the world after his victory over Ryan Garcia. However, Floyd Mayweather had predicted this a long time ago. The viral video shows Floyd Mayweather declaring Gervonta Davis "the future of boxing." "Is this the future of boxing? Absof*ckinglutely," Floyd said. Years later, Gervonta recreated that moment. When the same reporter asked whether he now considers him as the face of boxing, he replied, "I'm definitely the face of boxing. Absof*ckinglutely."
Prior to his fight with Hector Luis Garcia, Davis cut ties with the Mayweather Promotions. Tank said it was time for him to be left alone and explore the other side of the boxing world. "This just a test run right now, just on my own type of joint. But much love to Mayweather Promotions… I'm not saying in the future we can't work together or anything like that," he said.
Floyd Mayweather handled the situation with Davis professionally. The two have a tremendous amount of admiration for each other. Floyd was present ringside in the fight against Garcia."He was telling me to just stay calm. I always like to listen to Floyd when it comes to big stages like this cause he's the only one that's been in my shoes…," Davis said in the post-fight press conference.
Related: "It was too dangerous," Oscar De La Hoya fled Gervonta Davis vs Ryan Garcia event after receiving death threats
Gervonta Davis had an insider in Ryan Garcia's training camp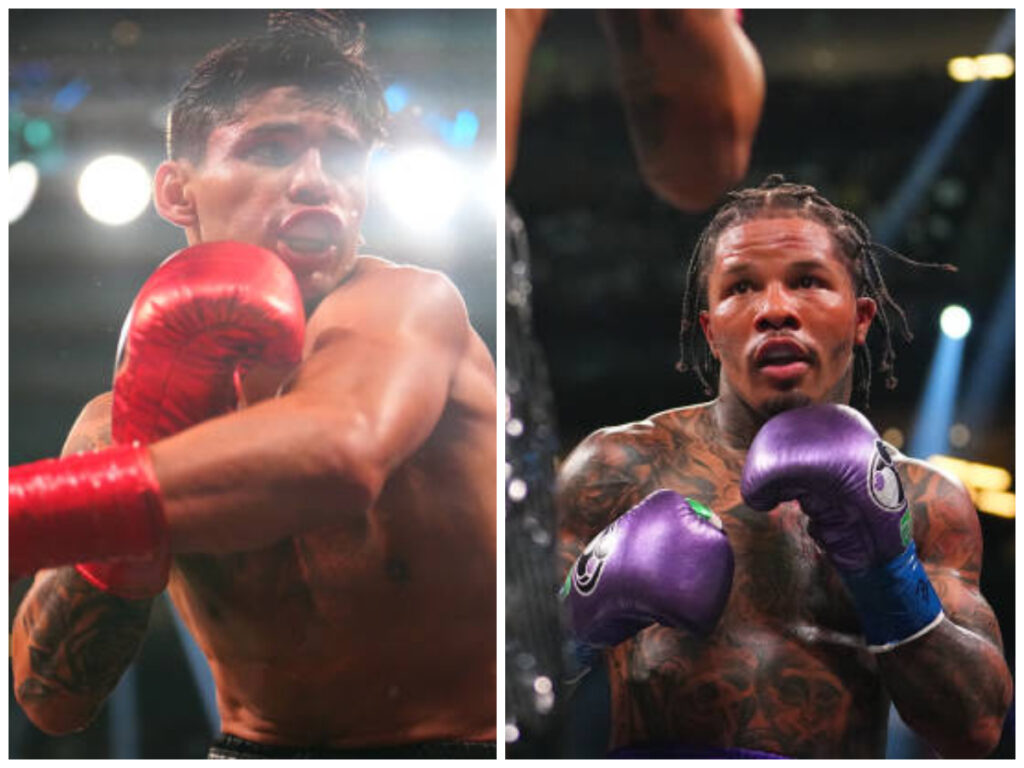 The fight between Ryan Garcia and Gervonta Davis started to heat up in 2020. The two fighters exchanged insults on social media and finally fought in April 2023. Davis defeated Garcia with a shot to the body. An interview before the fight reveals that Gervonta knew that Ryan Garcia had suffered an injury in training. "He got hurt to the body before. He thinks I don't know that," Davis said.
Gervonta Davis ended the fight with a powerful shot to the body, the same spot as Ryan's injury. Ryan took a few steps back and sank on one knee while the referee started the count. When Garcia couldn't get up before the mandatory ten counts, the referee declared Davis as winner.
Ryan knew about the existence of a mole in his team prior to the fight. He admitted that it did affect him, but did not want to make excuses. "Actually sad I had a mole in my camp," said Garcia, confirming the rumors. He continued, "I lost, period. I'll come back, but I'm just shocked that part of my team crossed me, someone, close to me. Unbelievable. But it's a testimony that you must be aware of anyone." He is already back at the gym and has declared that he wants a rematch.
In case you missed it!