Jake Paul seems to just have had enough of his former co-promoter Eddie Hearn, though he has to do business with Hearn again sometime soon in the near future. Paul is a 5-0 professional boxer with 4 KO wins and has knocked out every person he fought professionally. Paul is going to fight again next month when he will face Hasim Rehman Jr, in an event at Madison Square Garden, New York, where Paul was originally scheduled to fight Tommy Fury but that fight got cancelled due to Fury's transportation issues.
Besides being a boxer, Paul is also a boxing promoter and in that business, that's when he met renowned boxing promoter and chairman of Matchroom Boxing, Eddie Hearn and that's how the first-ever female boxing main event at MSG was possible. The event was headlined by a fight between seven-division women's boxing champion, Amanda Serrano, a fighter from Paul's stable and undefeated boxing professional and Olympic gold medalist Katie Taylor, from Hearn's stable.
Also Read: "He wants to renegotiate," Jake Paul reveals Hasim Rehman Jr fight might be called off
Jake Paul explains Amanda Serrano has to defend her titles at 126 lbs in order to prevent getting stripped over belts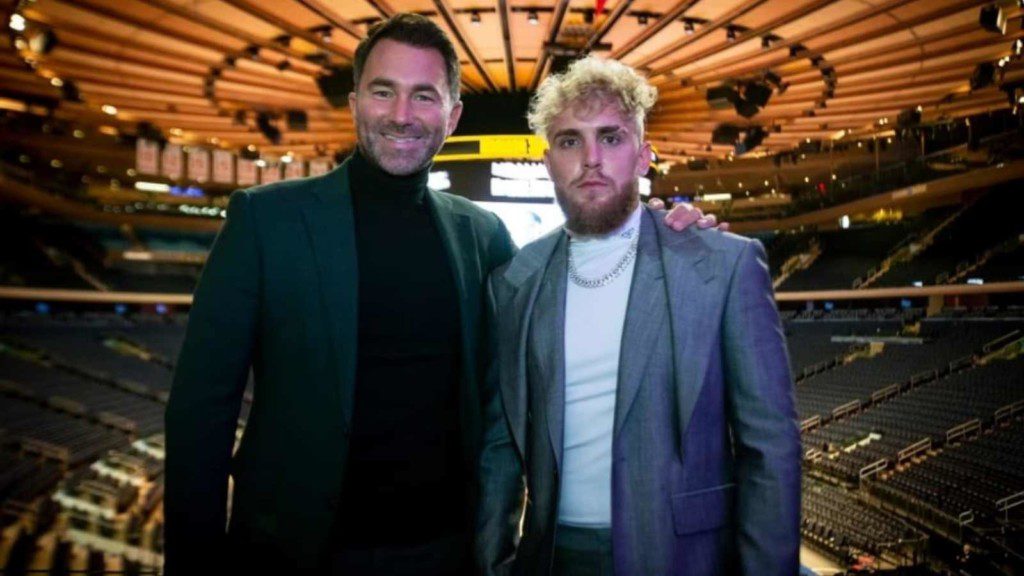 In an interview for MMA Fighting's THE MMA HOUR with Ariel Helwani, Paul talks about any chances to go in WWE, details on his fight with Rehman Jr being in jeopardy, his aspirations for a fight with Conor McGregor and Canelo Alvarez and how close he is, and much more. Paul also talked about the actual reason why a rematch between Serrano and Taylor is not possible in the current time period and simultaneously spit venom of insults at Hearn.
"The truth and the only truth is the fact that Amanda Serrano has to go back down to 126 lbs to defend her belts and to stay unified as a champion because otherwise they were gonna strip her over belts if she didn't do this fight right now," says Paul "So she don't wanna lose all of her belts at 126 waiting for the Katie Taylor rematch…
So she's gonna unify her belt again, beat this Brendan girl, on August 6 and then go and do the rematch with Katie Taylor. That's the bottom line… Eddie Hearn's snake, he's a typical promoter, grown up in the business, he's a liar as far as I'm concerned. So you get the truth from me, everyone knows that…" continues Paul.
What do you make of Paul's reason for the delay of the Amanda Serrano versus Katie Taylor rematch? Do you think he has put on a legit reason on the behalf of Serrano? Who do you think wins the rematch? What are your thoughts about Paul calling Hearn a 'liar' and a 'snake'? Do you feel Hearn has something seething about the way he carries himself? Who do you think wins between Paul and his next opponent Hasim Rehman Jr?
Also Read: "I love the technician that he is," comedian Andrew Schulz defends friend Israel Adesanya's performance at UFC 276
Also Read: MMA Lawyer Erik Magraken slams Dana White for his "generous" gift