Nearly 10 months since their country was invaded Oleksandr Usyk and Volodymyr Zelenskyy still stand strong and are symbols of Ukrainian resolve. Recently the two met via video call to unveil Usyk's new responsibilities after his latest victory against Anthony Joshua.
While the call was not made public, Zelenskyy announced on his Instagram account that Usyk would officially be joining in the rebuilding of Ukraine. Usyk has previously held the role of the ambassador for the U24 campaign, a fundraising platform for the rebuilding of the war-torn nation.
Describing the heavyweight champion's responsibilities, Zelenskyy wrote on his Instagram, "Oleksandr has been supporting Ukraine since the beginning of the full-scale invasion. From now on, he will help support the 'Reconstruction of Ukraine' direction." Usyk's primary focus would be implementing infrastructure projects across the Capital Region of Kyiv.
Praising the boxer for being a shining example of Ukrainian resolve, the president wrote, "[Usyk] is the victorious symbol of Ukraine! Thank you for your support and for joining the global initiative!" The country has started its own counter-offenses in the ongoing conflict and managed to retake huge swaths of land from the invading forces in the past month. Hence the emphasis on reconstruction.
Related: "Will go to his camp" – Former rival Oleksandr Usyk offers help to Anthony Joshua for his potential fight against Tyson Fury
Has Oleksandr Usyk fought in the ongoing war?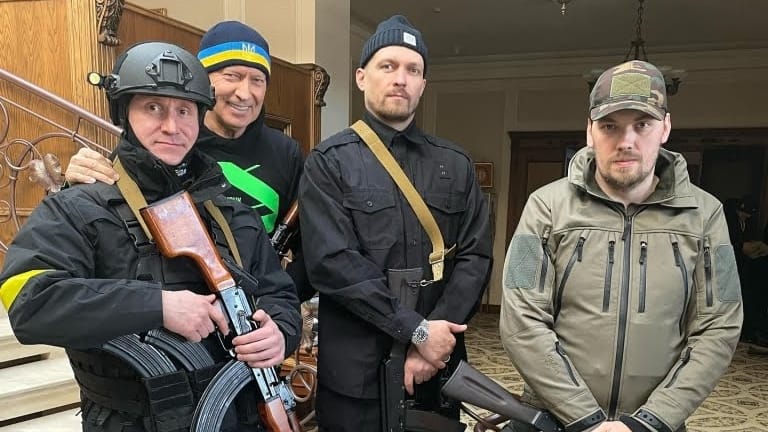 Usyk was originally in London, preparing for his mandatory rematch against Anthony Joshua when his country was first invaded. He immediately moved back to Ukraine in order to gather support for his country's cause.
Usyk was also involved in front-line duties as a voluntary conscript in the Ukrainian Defense forces. In this regard he was joined by former heavyweights, Wladimir and Vitali Klitschko, the latter being the mayor of the capital Region of Kyiv. Even former Lightweight Champion, Vasyl Lomachenko would join him in the country shortly after.
Also Read: NASCAR legend and team owner Richard Childress to provide ammunition to Ukraine in their efforts to hold back Russian invasion
In fact, it was Vitali Klitschko that convinced Usyk that he had done enough in the initial months of the war and his biggest contribution now would be defending his championship against Joshua as a symbol for his people. Throughout his fight week, Usyk's outfits carried heavy symbolism about his country, prominently donning, "The Colors Of Freedom" on his shirt.
He would often break out into patriotic songs throughout the fight week during his media obligations. As of now he's back in Ukraine and plans to stay there until his next challenge comes up.
Also Read: "Big Things were at Stake" Oleksandr Usyk felt Anthony Joshua's confidence rising in rounds 8 and 9 of their fight