Floyd Mayweather recently participated in an exhibition boxing event inside the Etihad Arena in Abu Dhabi. 'Money' fought his former long time training partner Don Moore and won the fight via knockout. The event also featured a boxing fight of former UFC superstar, Anderson Silva.
Mayweather, despite his retirement, has been taking part in exhibition bouts with other superstars. Last year, Mayweather also fought YouTuber Logan Paul in Miami.
The UAE event was a massive success and Mayweather bagged a lot of money from it. The event went so well that the legendary boxer wants to come back again with another fight soon.
"I just want to say thank you to everyone that's here. I want to say thank you to everyone in the whole UAE for having patience and all of the fighters up here who are unbelievable and the sponsors. I will bring another fightback to the UAE this year. [The opponent] is a secret. I don't want to let the cat out of the bag right now, but we have an opponent, and I choose the UAE." said Mayweather while talking to Boxing Scene.
It seems like Mayweather has been hooked on the hospitality and benefits he has been offered in the UAE. It only makes for the fighter to come back and earn some more money.
Related: Jake Paul trolls Floyd Mayweather and Anderson Silva, claims he can 'beat them in the same night'
Floyd Mayweather's potential opponents in the future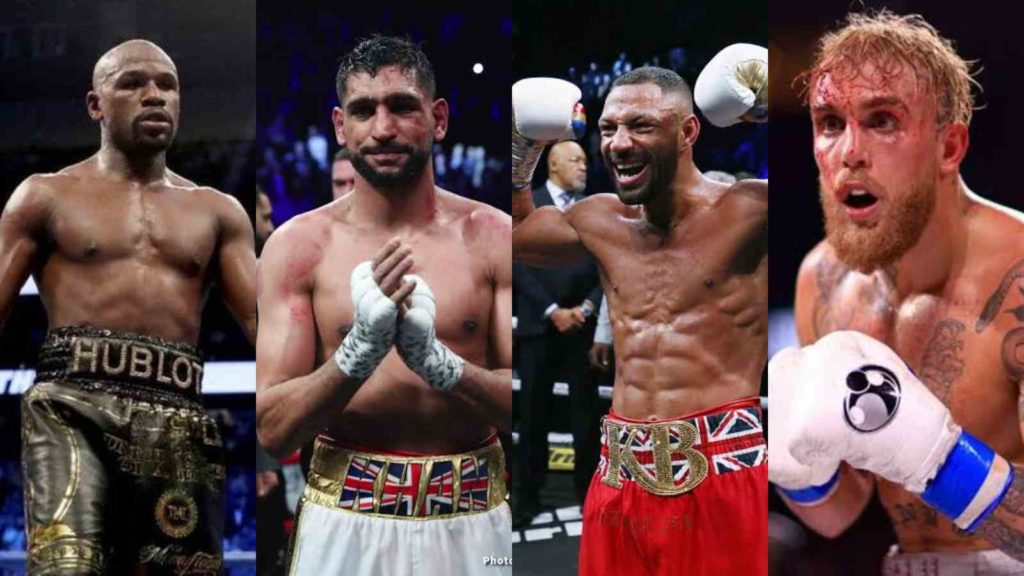 Mayweather has one of the best boxing records of all time with 50-0 and still looking great as always. In his last fight against Moore, the fighter dominated the fight and effortlessly won the fight. Now that Mayweather has promised to come back to UAE with another opponent, here's the list of the possible opponents for that contest.
Jake Paul is undeniably one of the major prospects for the fight given the ever-rising popularity of the fighter. Paul has also shown his interest in fighting ' Pretty Boy' for a long time now. Paul has the capacity to sell out large Pay-per-views and it is something that Mayweather is always interested in.
On the other hand, Mayweather can fight Britain's Amir Khan who recently announced his retirement. Kahn is a popular figure in the boxing community and fans will be excited to see the fighter again inside the ring.
Another former Professional boxer who can be a good matchup for Mayweather is Amir Khan's last opponent Kell Brook. Recently the fighter bid goodbye to professional boxing after defeating Khan. But, it is highly likely of him to grab that money fight against Mayweather for a exhibitional bout.
Also Read: "It is a secret" – Floyd Mayweather confirms a return to UAE again in 2022 against mystery opponent