Heavyweight king Tyson Fury has achieved different heights in the sport of boxing. His dominance in the heavyweight division makes him stand out as one of the best heavyweights of all time. With his upcoming fight against Francis Ngannou, the "Gypsy King" has made a list of goals he plans to achieve.
In a tweet from Michael Benson, Fury said, " I've got new goals – I want to top the Forbes list for highest paid athlete for the year, and I want to make a Hollywood movie. I've completed the game in the ring, it's done. I've done everything there is to do and won every belt there is to win."
Fury will take on former UFC heavyweight champion Francis Ngannou on October 28th in Riyadh, Saudi Arabia. After beating top heavyweights like Deontay Wilder and Vladimir Klitschko, the "Gypsy King" sets his foot in crossover boxing. A well-known striker in the UFC, Ngannou became the perfect opponent for Fury to measure his boxing caliber. This matchup aims to deliver the same hype left by a previous cross-over boxing fight between Floyd Mayweather and Conor McGregor.
Fury has faced every challenge in the heavyweight division. However, his matchup against Anthony Joshua and Oleksandr Usyk didn't succeed due to some obstacles. Many fans await Fury's next bout as they wonder how a MMA striker does against a boxing champion.
Related: WATCH: "Who knocked out Wilder?" KSI claims Tyson Fury is not powerful, as Deontay Wilder leaves the younger Fury lost for words

Tyson Fury and wife Paris announce the birth of their seventh child
Heavyweight king Tyson Fury and his wife, Paris Fury, have announced to the world about the birth of their seventh child. The couple shared this news on the OK! magazine. Fury, who is 35 years old, became a father for the seventh time.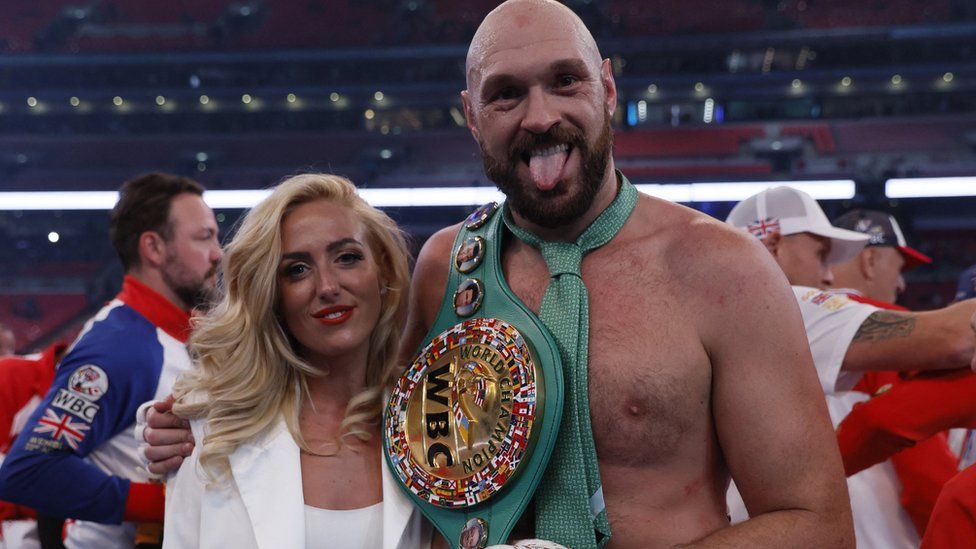 The family expressed their joy over their new member. Reportedly, Paris and Tyson have shared a bond since 14. They made it official when both of them turned 19. Ever since then, the couple has had seven children. The six of them are Prince John James(11), Prince Tyson (7), Venezuela(13), Valencia (5), Athena(2) and Prince Adonis Amaziah(4).
After creating such a big family, the couple has previously joked about adding three more members to the group. The love that they share is a sight all over their social media. The Heavyweight champ will fight Francis Ngannou on October 28th. As the Fury family has grown, a new member will support the "Gypsy King" in the fight.
In case you missed it!