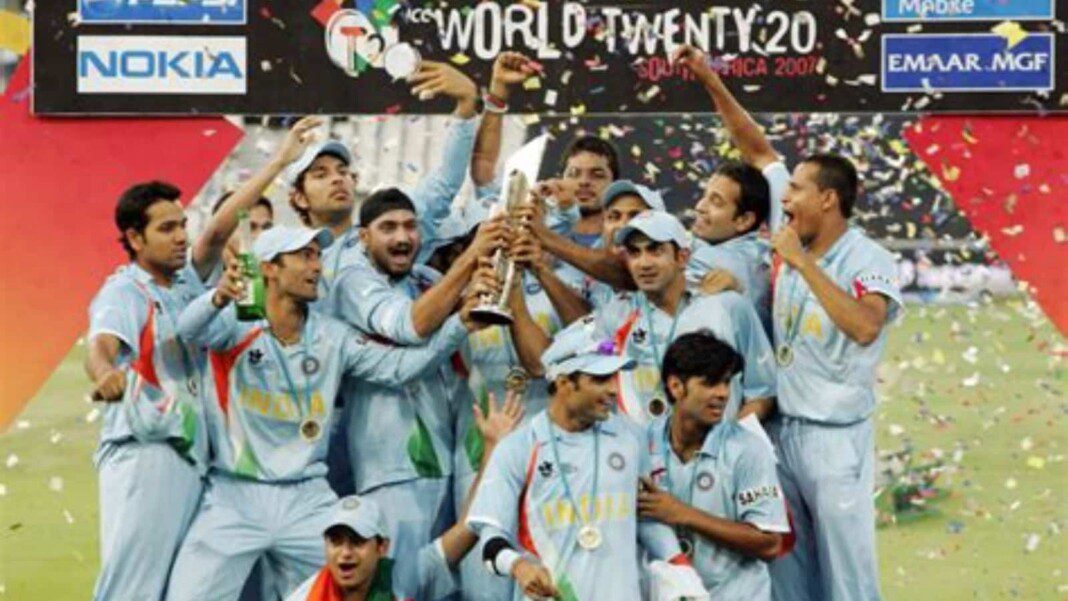 The ICC Men's World T20 returns after a gap of five long years. As Team India get ready to compete in the seventh edition of the world's biggest international T20 tournament, we look back at the competition that started it all: The inaugural ICC World T20 held in South Africa in 2007.
This was the tournament that brought about a major paradigm shift in world cricket. India's win led to the creation of the Indian Premier League, the cult of Mahendra Singh Dhoni, and the rise of the Twenty20 format as cricket's chief moneymaker.
The 2007 World T20 remains India's only triumph in the T20 World Cup till date. Neither the men's nor the women's cricket teams have been able to recreate the magic of 2007 even after nearly half a decade.
We take a nostalgic look-back at the Indian cricket team's first World Cup win after 1983.
Background
There were no expectations from the Indian team going into the tournament. The Twenty20 format was generally unknown in India and cricket's popularity in the country had taken a nose-dive after the disastrous ODI World Cup campaign of March 2007.
Additionally the three biggest stars of Indian cricket at the time namely Sachin Tendulkar, Sourav Ganguly and Rahul Dravid chose not to participate in the tournament. The captaincy was consequently given to the young wicketkeeper-batsman MS Dhoni who himself was subjected to a barrage of criticism after the ODI WC. The other known faces were Yuvraj Singh and Ajit Agarkar. Virender Sehwag, Harbhajan Singh and Irfan Pathan were making a comeback into the team.
First Match: India vs Pakistan, Durban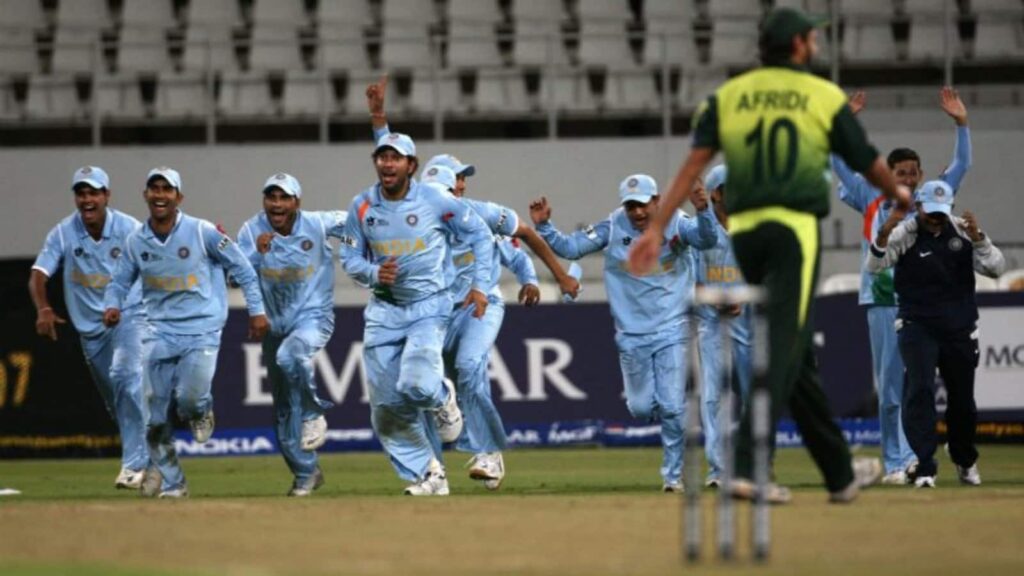 This was actually supposed to be India's second match of the tournament but their first group game against Scotland was washed out. India faced arch-rivals Pakistan for their first match in an unknown format and in a venue they had historically struggled in.
India batting first made a fighting total of 141/9 thanks to Robin Uthappa's 50 off 39 and despite Mohammad Asif's 4/18. In reply Pakistan found themselves in trouble at 103/6 but were rescued by Misbah ul Haq and Yasir Arafat's partnership. Pakistan went from requiring 29 from 12 balls to 7 off 4 and then 1 off 2. But, in a prophetic moment, Misbah got run-out in the last ball after scoring 53 and coming so close to being Pakistan's hero.
The Super Over is ubiquitous today in LOIs but back in 2007 the tie-breaking method in T20s was the bowl-out, an attempt to replicate the penalty shoot-out of football. Each team would nominate five players who would attempt to hit the stumps. The team that had the most hits would win.
The Pakistani team was not even aware of the bowl-out rule while the Indian team came fully prepared. Unsurprisingly none of the Pakistan bowlers Arafat, Umar Gul and Shahid Afridi could hit the stumps while the Indian trio which included Harbhajan and batsmen Sehwag and Uthappa scored 3 out of 3. India won the match and qualified for the Super 8s in first place.
Second Match: India vs New Zealand, Johannesburg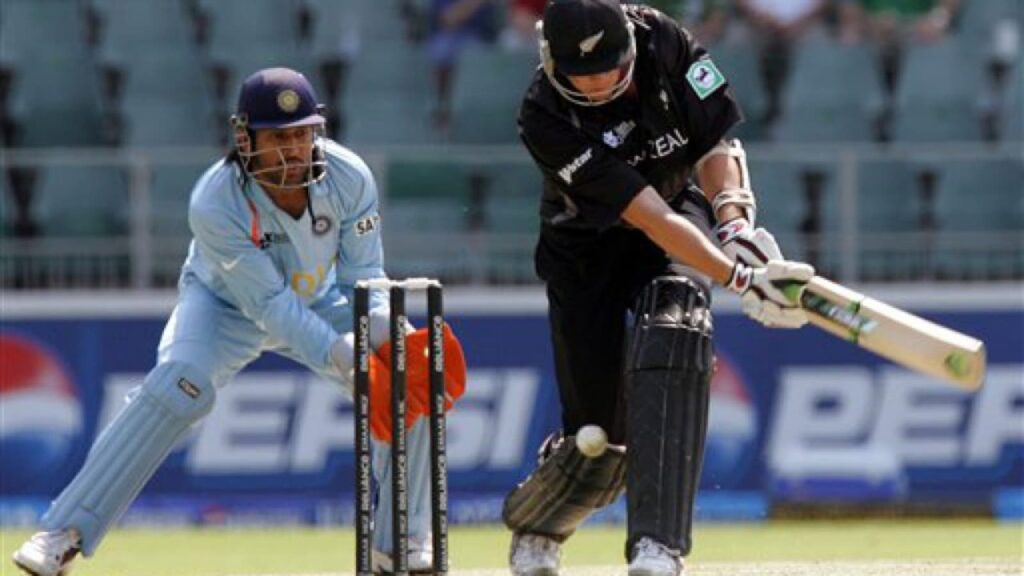 New Zealand have been a bogey team for India in ICC tournaments. This was as true in 2007 as it is today. NZ after being asked to bat first posted a formidable total of 190. Brendon McCullum and Craig McMillan smashed the Indian bowlers to all parts of the Wanderers Stadium.
The Indian openers Sehwag and Gautam Gambhir got off to a good start but the run-chase ran out of momentum after Gambhir's dismissal for 51. India ended up with 180/9 with Daniel Vettori taking 4/20. This was India's first loss and fans and the media did not expect the team to progress further.
Third Match: India vs England, Durban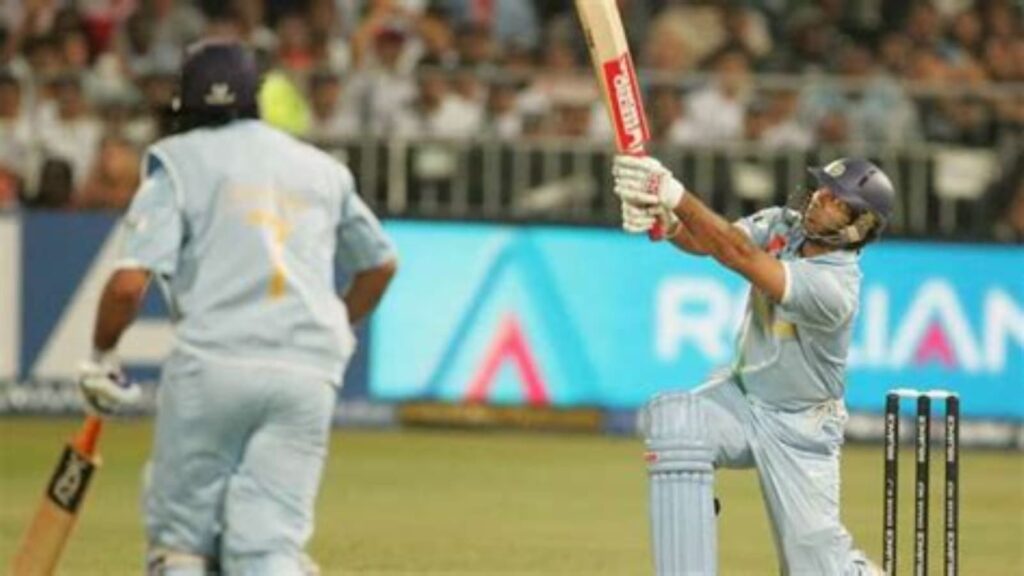 This match is best remembered today for Yuvraj Singh's six sixes off Stuart Broad but India were in a good position even before Yuvi came to the crease. Chastened after the unsuccessful run chase against New Zealand, captain Dhoni elected to bat first after winning the toss. Sehwag and Gambhir put up an opening partnership of 136 against an England attack comprised of Jimmy Anderson and Andrew Flintoff.
Yuvraj came in after Uthappa's dismissal and the score reading 155/3 after 16.4 overs. Him hitting six sixes in the 19th over, scoring the fastest 50 in T20s and even his preceding confrontation against Flintoff have now become stuff of legend.
Yuvi's fireworks propelled India to 218/4. England were always going to have it tough in the run chase but did manage to score 200. 57 of those runs came off Joginder Sharma's 4 overs. India nevertheless won by 18 runs. Their journey was finally taking off.
Fourth Match: India vs South Africa, Durban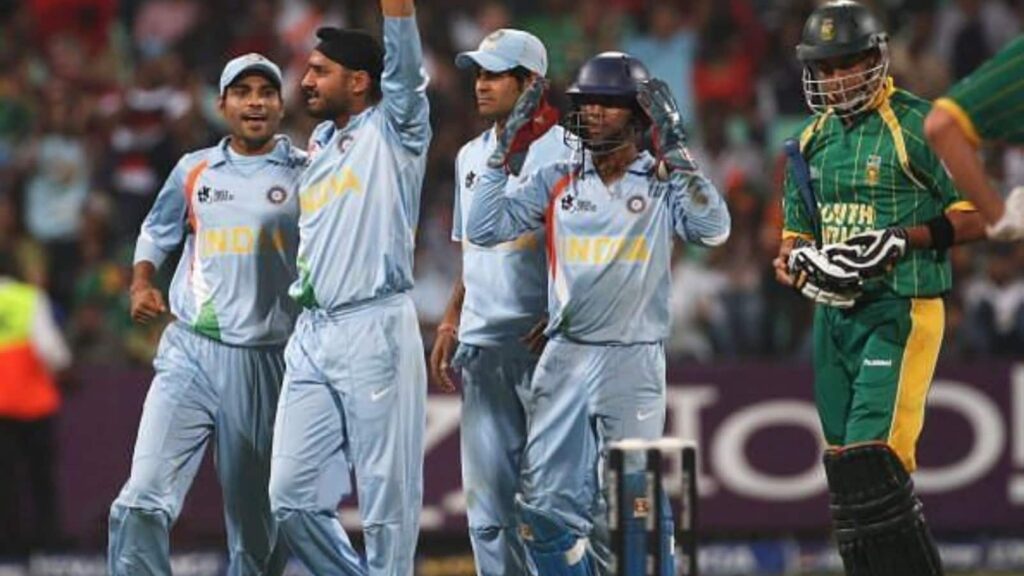 India were the underdogs going against hosts and title favourites South Africa. India, batting first again, were in trouble at 61/4 after 10.3 overs and were without the previous game's hero Yuvraj Singh. But then, as has always been the motif of the best Indian teams, an unknown player called Rohit Sharma rose to the occasion. The 20-year old Rohit (50 n.o off 40) and skipper Dhoni (45 off 33) carried India to a respectable total of 153/5.
Bolstered by the batting fight-back, the Indian bowlers put in a terrific display. RP Singh led the pack with 4/13 as South Africa managed just 116/9 in their 20 overs. Only two SA batsmen could reach double digit scores. A talented South African team boasting of names such a Gibbs, de Villiers, Pollock, Ntini and Greame Smith were out of their home tournament. The headlines mentioned the 'C' word yet again.
India had found a new batting star in Rohit Sharma and more importantly were into the semis only to face their toughest test yet: the ODI World Champions Australia.
Semi Finals: India vs Australia, Durban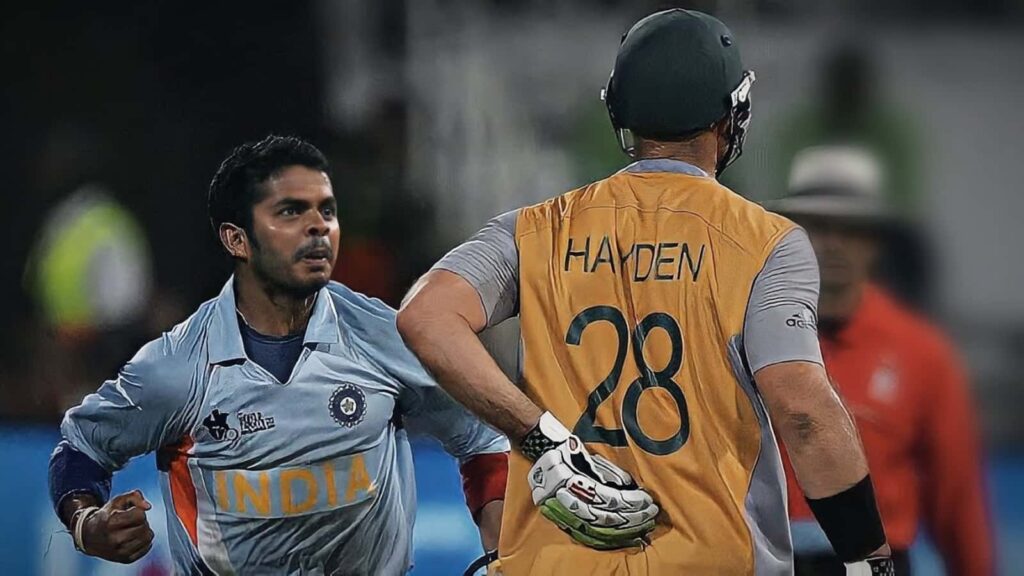 This was perhaps India's best win of the tournament. Dhoni decided to maintain the bat-first-at-Durban formula after winning the toss. After a slow start of 41/2 after 8 overs, it was the Yuvraj Singh show. Yuvi, now back into the team, picked up from where he left off against England. His batting was a perfect mixture of grace and aggression. His 70 off just 30 balls included 5 fours and 5 sixes and, along with cameos from Dhoni and Uthappa, took India to a strong total of 188/5.
Australia in reply were subjected to an uncharacteristic intensity from Indian bowlers. Sreesanth's wicket celebrations in particular became a talking point. The Austalian batsmen led by Matthew Hayden did well to keep up with the asking rate but the Indian bowlers never gave up and took the decisive advantage once Andrew Symonds was dismissed.
Australia finished with 173/8 and India were, against all odds, into the finals of a World Cup.
Finals: India vs Pakistan, Johannesburg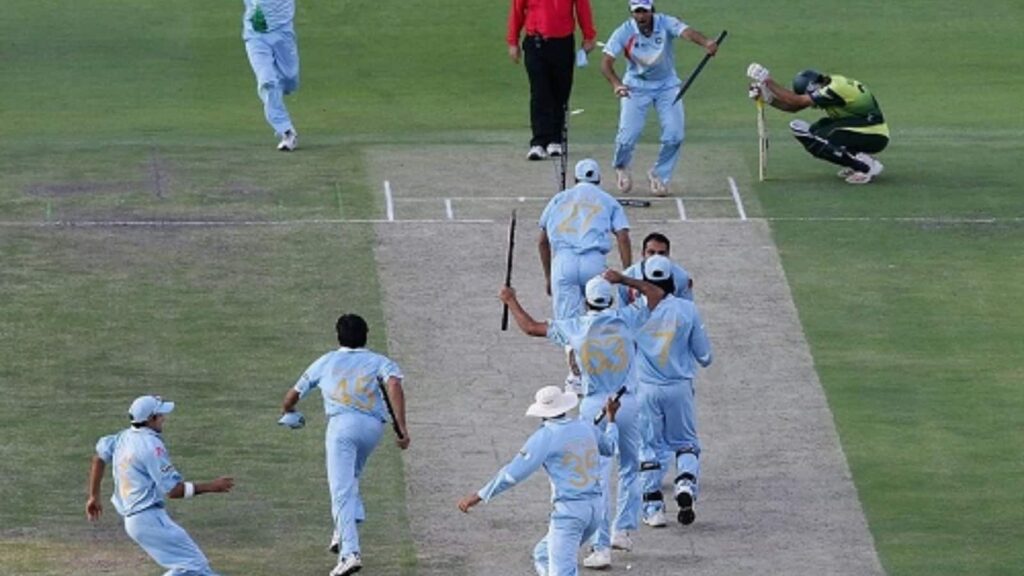 It was the best result fans and broadcasters could have hoped for. Rivals India and Pakistan were in the finals, both teams were led by young captains and both countries were searching for redemption after the agony of West Indies 2007.
The match itself was an edge-of-the-seat thriller. India were batting first again though they were out of their comfort zone of Durban. India went in with an untested opening partnership of Gambhir and Yusuf Pathan who was replacing the injured Sehwag. Yuvraj, Dhoni and Uthappa could not get into top gear on a slower Wanderers wicket but Gambhir's 75 off 54 and late-hitting by Rohit Sharma got India to a competitive 157/5. Gul took 3/28 for Pakistan.
Imran Nazir started off positively for Pakistan in reply but the team kept losing wickets regularly and were reduced to 77/6 and then 104/7. Misbah came to his team's rescue yet again. His sixes off Harbhajan took down the asking rate and him and Sohail Tanvir took the fight back to India. Pakistan ultimately required 13 runs from the last over with one wicket in hand. Dhoni went with the gamble of choosing medium-pacer Joginder Sharma over the experienced Harbhajan against a rampaging Misbah. After hitting a six off the second ball of the over, the 33-year old Pakstani batsman was in full control of the match.
But with 6 needed off 4 balls, Misbah strangely opted to play a scoop instead of a conventional shot. The ball ballooned in the air and went right into Sreesanth's hands as the Indian camp erupted into joy. India had won by 5 runs and had become the first ever T20 World Champions.
Everything related to the final over, from Misbah's shot to Dhoni giving the ball to Joginder is cricketing folklore today.
Aftermath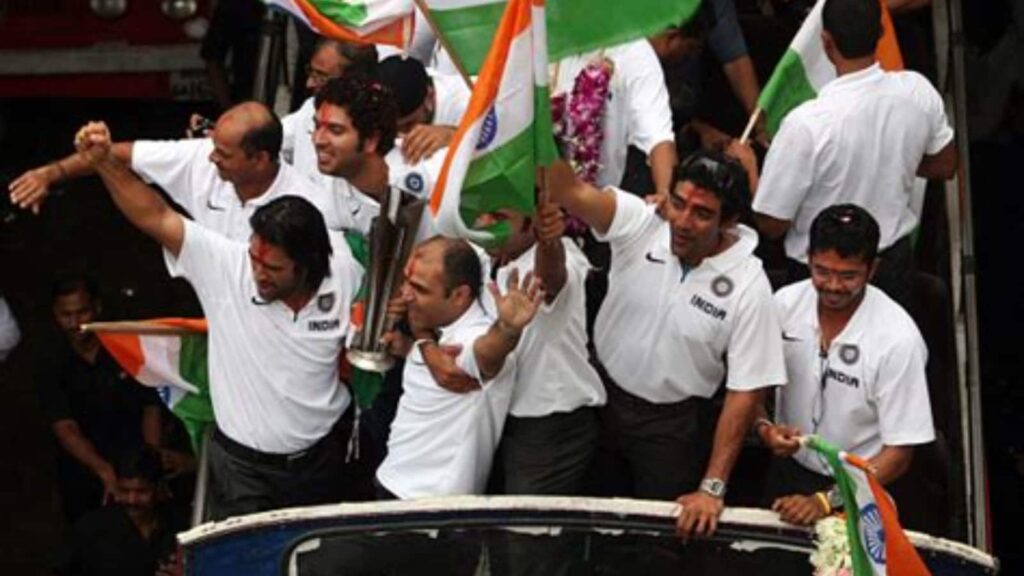 The Indian win was celebrated with immense frenzy and enthusiasm. The winning members were part of an open bus parade in Mumbai and were showered with cash awards. MS Dhoni and Yuvraj Singh became superstars. The IPL became a viable idea. World cricket had changed.
The mass hysteria of 2007 was not seen even after India's 2011 ODI World Cup win. Can Virat Kohli's men do a repeat in 2021? Only time will tell.