| | |
| --- | --- |
| Name | Suryakumar Yadav |
| Age | 32 |
| Occupation | Cricketer |
| Other sources of wealth | Advertisements |
| Net Worth | Rs 32 crores, $4 Million |
| Salary | Rs 9 crores |
| Residence | Mumbai |
| Sponsors | Ton, Free hit, Sareen Sports,100 Master Blaster, Go Noise |
| Charity | N/A |
| Marital status | Married |
| Last Updated | 2023 |
Over the years, Suryakumar Yadav has established himself as a top-notch player with sublime game-reading and pressure-absorbing skills. When he was a part of KKR in 2017, then he didn't get that many chances but now he's the top-ranked player in T20 Cricket and a permanent member of Indian Team.
In 2018, when Mumbai Indians saw the talent and Fire in Surya, to score which made them have the services of Surya in their team. It took a while for him to settle into the star-studded lineup. However, he scored 500+ runs in that tournament with a whopping average of 37, which helped him to catch the eyes of the Team Selectors.
2019 and 2020 were the golden years for Surya Kumar Yadav (aka SKY). Fearless innings of 71 in the Qualifiers of the 2019 IPL helped MI to win their 4th IPL title. With the flow of time, he even worked hard on his skills and techniques and eventually went on to play crucial innings every time the team needed him.
He was a potential match-winner for his side. The way he batted against RCB in 2020 was sublime to watch. Fearless cricket at its very best. Lofted Drives over covers and Pull shots against a class side like RCB were very delightful and extraordinary. He even got offers from New Zealand Cricket after that famous innings against RCB.
Surya Kumar Yadav Net Worth
Suryakumar Yadav's net worth for 2023 is estimated to be 32 crores or $4 million. Since Surya is in top form and an important part of the Indian cricket team as well, he would be able to turn up his net worth in 2-3 years.
Suryakumar Yadav Salary and Endorsement Deals
Suryakumar Kumar Yadav is currently in the C grade of BCCI contract cricketers, which is updated annually. He is paid 3 Crores from BCCI. His other source of income is from IPL and other tournaments like Vijay Hazare and Ranji Trophy where he is seen captaining for his side "Mumbai". His salary ranges are 9 crores per annum. Additionally, SKY has signed deals worth a fortune with brands like Ton, Free hit, Sareen Sports, 100 Master Blaster and Go Noise.
Suryakumar Yadav House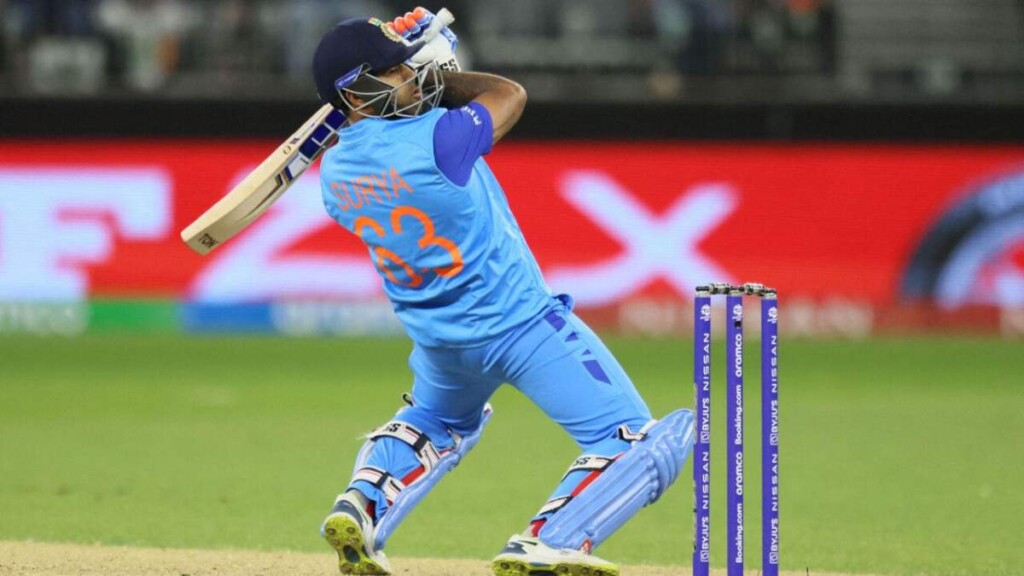 Surya owns a flat in Mumbai. Home to his lovely dog, Pablo, and his family, the Mumbai flat also comes with a balcony and is on one of the top floors of the high-rise building.
Is Suryakumar Yadav Married?
The answer is yes, which could be heart broking for some of his female fans. Devisha Shetty is the wife of Surya. They both tied the knot in 2016. Both of them are very supportive of each other and are seen actively on Social Media.
FAQs
What is Surya's salary?
Surya earns Rs 9 crores from IPL, BCCI contracts and domestic cricket.
How much is Suryakumar Yadav's net worth?
Surya Kumar Yadav's net worth is 32 crores, $4 Million as of now.
How old is Suryakumar Yadav?
Suryakumar Yadav is 32 years old.
Where is Suryakumar Yadav's house?
Suryakumar Yadav lives with his wife in Mumbai, where he owns his own flat.
Who is Suryakumar Yadav's wife?
Suryakumar Yadav is married to Devisha Setty.
Which Indian player is known as SKY?
Indian batsman Surya Kumar Yadav is known by the name SKY.
Is Surya Kumar Yadav a good batsman?
There is no doubt that Surya Kumar Yadav is a spectacular batsman. He has won several games for his IPL team Mumbai Indians, where he has the special charisma of playing pull shots and lofted cover drives.
When is Surya Kumar Yadav's birthday?
Surya Kumar Yadav was born on 14 September 1990.
How tall is Surya Kumar Yadav?
Surya Kumar Yadav is 1.8 m.
When did Surya Kumar Yadav debut for India?
Surya Kumar Yadav played his first match for the Indian cricket team on 14th March 2021.
Surya Kumar Yadav IPL team?
Surya Kumar Yadav plays for Mumbai Indians in the IPL.
Suryakumar Yadav's Lifestyle, Income, House, Wife, Cars, Family, Net Worth & Biography
Also Read: MS Dhoni Net Worth 2023, IPL Salary, Endorsements, Wife, House and more
Also Read: Moeen Ali Net Worth, Endorsements, Sponsors and More