Hogwarts Legacy is an action role-playing video game set in the Wizarding World of Harry Potter that was launched in 2023. Players assume the role of a student at Hogwarts School of Witchcraft and Wizardry, where they attend classes and embark on magical adventures. One of the many tasks that players can undertake is the assignments given by Madam Kogawa. This article provides a guide on how to complete all of Madam Kogawa's Assignments in Hogwarts Legacy.
Madam Kogawa's Assignments are a series of mini-quests that involve flying on a broomstick and popping balloons in different areas of Hogwarts. These assignments are designed to help players hone their flying skills and learn new spells. As the player completes each assignment, there are rewards for the player with experience points and a new spell. To begin the assignments, players must first speak with Madam Kogawa at the Flying Class Lawn in Hogwarts. Madam Kogawa will then give the player a series of tasks that involve flying on a broomstick and popping balloons in different locations. The assignments have different requirements, including level restrictions and the number of balloons that need to be popped.
To complete each assignment, players must use their broomsticks to fly around and locate the balloon. The assignments are a fun way to explore Hogwarts while also improving flying skills and learning new spells to help in battles.
Related: Hogwarts Legacy: How to complete Troll Control side quest
Madam Kogawa's Assignments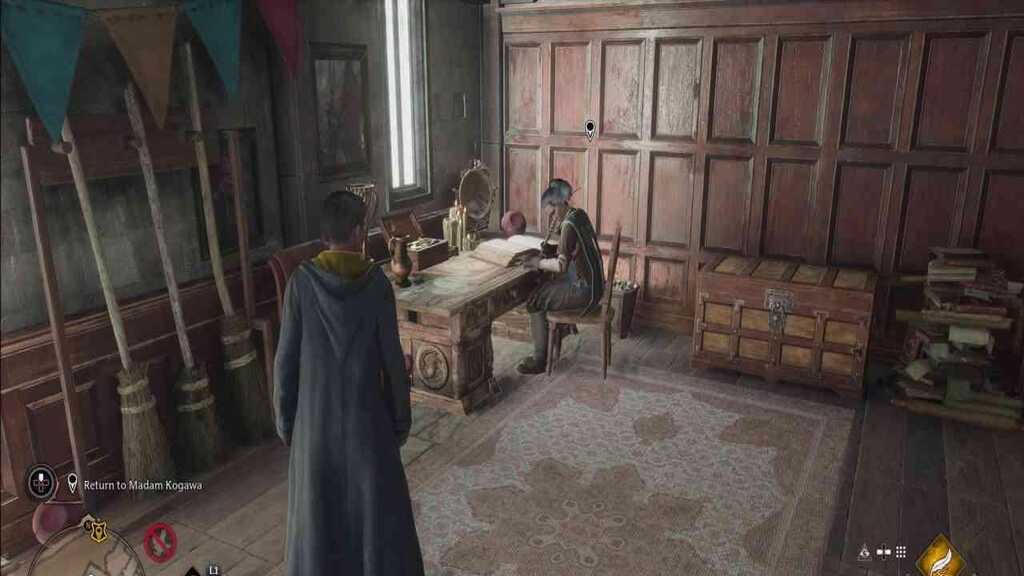 In Hogwarts Legacy, completing Madam Kogawa's assignments will help you test your flying skills and earn you valuable spells. Madam Kogawa's Assignment 1 requires players to pop balloons in Hogsmeade and the Quidditch Pitch while flying on a broomstick. There are ten balloons in total, five in each area, and finishing the task rewards the player with 150 XP and the Glacius Spell, an ice-based spell
Madam Kogawa's Assignment 2 is a similar challenge, with five balloons to pop in Keenbridge Tower and five in the Spires. After the player completes the task, Visit Madam Kogawa in Flying Class Lawn by following the quest sign there. She will teach you Arresto Momentum and you will also receive 150 XP.
Madam Kogawa's Assignments offer a great opportunity for players to improve their flying skills in Hogwarts Legacy. On top of that, you also get to learn 2 of the most useful spells. By following the quest marker to guide you to the balloons, players can complete each assignment with ease. Overall, completing all of Madam Kogawa's Assignments is a fun and rewarding experience that can enhance your gameplay in Hogwarts Legacy. So, don't hesitate to grab your broomstick and soar through the wizarding world to complete these exciting assignments.
In case you missed it: