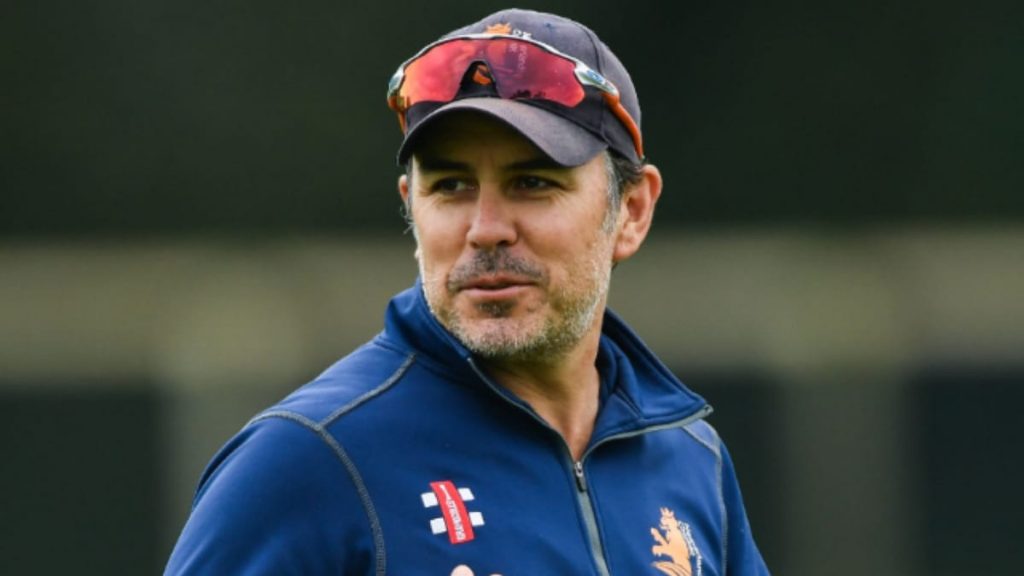 Former Australia and Hong Kong cricketer Ryan Campbell is widely known for his explosive strokeplay at the top of the order. Campbell arrived in Australia first-class cricket as an understudy of the great Adam Gilchrist. But his exploits with the bat saw him carve a place in the Western Australia side as a specialist batsman.
The flamboyant batsman rose to the top of the order with his breezy shots. Campbell took the Australian inter-state scene by storm as he hammered the fastest half-century and century during the 1996-97 season. Campbell's first-class career boasts of 6009 runs and 242 dismissals behind the wicket as he hung his boots in 2006.
The explosive opener who now serves as the head coach of the Netherlands cricket team also represented Hong Kong in the shortest format of the game. Campbell who is credited as the inventor of the scoop shot shares that he always thought of it as a great way to close off the innings and is glad it turned so well. The keeper-batsman went on to name Shane Warne as the greatest ever player he shared the field with.
Campbell opened up on cricketers' mental health, his most cherished moments on the field and much more as FirstSportz caught up with him for an exclusive chat.
Excerpts from the exclusive interview
When you were picked by Australia for the very first time in the national squad, how did you feel? Can you recollect your feelings and experiences?
Every little boy dreams of playing cricket for Australia. I was no exception. To be honest though I didn't really think I would get that chance as Adam Gilchrist was a once in a generation player and being his backup was tough. (He did play 96 Test matches in a row)….But to get the call is something that I will always remember, then phoning my parents to tell them was really emotional. I flew to Sydney that day to join the team. I will always remember walking into the SCG change rooms and seeing my name on the locker next to Steve Waugh's…..To say I was nervous to train with him, Warne, McGrath etc was an understatement!!
You were considered one of the hottest wicket-keeping prospects in Australian cricket at one time before Adam Gilchrist was chosen and went on to become one of the greats. Do you have any regrets at all about not playing much for Australia?
Like I mentioned, Gilly was a once in a generation player. Of course, I would have loved to play more but that's life….I was proud of the career I had with Western Australia and that is something no one can take away from me.
Like you stated, you were an understudy of the legendary Adam Gilchrist at Western Australia. You had similarities in your game. What were the things and aspects of cricket you learnt from him? Did Gilly's style of play influence yours? Or was your quite unorthodox style down to entirely you?
My style of batting was always me, from a very young age I was always very aggressive. The biggest influence on my batting was actually Rod Marsh. He was the Australian Cricket Academy Coach and whilst I was there he decided I should open the batting. It was something I had never thought of before and because of this switch, I was lucky enough to become WA's opening batsman with Mike Hussey, so I played whilst Gilly was still in the team.
As a coach, you've been doing a terrific job for the Netherlands team. How are the preparations for the T20 WC going?
Preparing for the World Cup has been extremely frustrating due to the CoronaVirus. We were really hoping to play in Australia as I felt that would have been a great place for us to play with all of our fast bowling options. With that gone we have done everything in our power to prepare and we will continue to do so. Hopefully, we will head to Namibia in Feb for an ODI & T20 series. 2021 will be a massive year for us with 5 Super League series (Eng, Ire, WI, Sth Afr & Zim) plus the World Cup.
What have been the changes in the Dutch national team from the time you took over to the present? Do you think Netherlands can continue stringing together consistent performances to challenge the big guns?
The big changes I think I've made is bringing in fresh talent and deepening our depth of talent. Youngsters like O'Dowd Glover de Leede have been given chances and have taken them. We also changed our captain and Pieter Seelaar has done a fantastic job. If we can continue to give our young talent opportunities, whilst being surrounded by our experienced players, yes I think we can compete.
You have played with among the greatest players of the game. Who have you looked up to the most and consider the GOAT?
Shane Warne is clearly the greatest I've ever played with or against. What that guy could do on a cricket field still amazes me….Gilly is up there and I was also a massive Steve Waugh fan……These guys were so great because they always got in the fight and always wanted to win.
Going back to your playing career, you didn't bowl much in your first-class career and yet you opened the bowling for Hong Kong and did quite well. This is something nobody sees often. How did that happen?
I was always a spin bowler throughout my junior career, I always bowled in the nets and for my club team. Once I went to Hong Kong I bowled a lot for Kowloon as there was no way I wanted to Keep!! haha….
You were also a part of the Indian Cricket League (ICL). How was that experience?
Playing ICL was fun but most importantly it got me back into cricket. Once I retired from WA I walked away from cricket as my Media career had taken off and I was so busy with it. Damian Martyn called me as captain of Ahmedabad and begged me to play. He finally convinced me and the experience re-ignited my passion for the game.
What do you think is the highest point in your career?
Winning is always the best thing about playing a team sport. Winning 2x Sheffield Shields and 3 x One Day Titles with WA was clearly my favourite moments.
Among the plethora of interesting things about your career, one thing that stands out as revolutionary (if true) is the fact that you've been credited by many to have invented the scoop shot. Do you take credit for it? How did that happen?
Yes, I did it first I believe….I did it in a game against Victoria and then repeated it against Sri Lanka a week later on National TV. I always had the theory that it would work as all bowlers thought that bowling yorkers at the death with fine leg up was the best way to finish an innings. This made me think that if they were going to bowl full, why don't i get down low and get it on the full and it will go over my head and over short fine leg…That was the theory anyway and as it turned out it worked….
You've been supportive of raising voices for mental health in cricket. Glenn Maxwell recently spoke out as well. How important an issue do you think mental health is, in cricket or any sport for that matter? Do you think mental health is being ignored and not getting the attention and importance it deserves?
I think we are opening our eyes more and more to the issue. Sportsmen will always be vulnerable as we play a highly elite game that is very visible to the public, and we rely on our numbers to make sure we stay in the team. One bad game may see you out…that's a lot of pressure to be under. We also spend a lot of time on our own and if you do have some gremlins in your head, they can very easily become bigger and bigger. Let's just hope more guys put their hands up if they need help and we make sure they get it….There should be no more stigma attached to it and no more "you'll be right mate just suck it up".
Can you give a piece of advice for young and aspiring cricketers?
Keep learning, don't think that just because you have become a professional that you have made it…The very best are always evolving their games. But most importantly, enjoy the game…Cricket is such an awesome game, make sure you love it!!
One final question about your playing career. Favorite game you've been a part of? And is there a favorite performance of yours?
The best week I ever had was against Queensland. We played the MMC final on the Sunday and I made 100 in a winning final. I then came out two days later and made 203 against them in a Sheffield Shield match…I had had my issues playing against Queensland over the course of my career so to do that was a pretty good feeling.
Also read : "I found a lot of opportunities in para-badminton," says Manasi Joshi in an exclusive interview with FirstSportz