In the Formula 1 community, the close bond that Mercedes Team Principal Toto Wolff shares with his star recruit and seven-time F1 World Champion Lewis Hamilton has been discussed a lot. While many of the pundits and the fans have questioned how long Hamilton will be able to continue his racing as the Briton is already 37-year-old, Wolff has given a clear answer that they are not looking to replace him and he can keep racing with Mercedes for as long as he deems fit.
When Lewis Hamilton joined Mercedes in 2013, Toto Wolff was also new at his job as the Team Principal of the Stuttgart-based outfit. But their duo has managed to give consistent, strong performances for all these years as Lewis has won six F1 World titles since he came to the German team and Mercedes established the record of winning eight consecutive World Constructors' Championships.
While every F1 fan knows of Lewis Hamilton and his partnership with Toto Wolff, it is a much rarely-acknowledged fact that Hamilton shares a connection with Wolff's wife Susie Wolff as well. Susie Wolff is an acclaimed British former racer who used to compete against Lewis Hamilton when they were about 8 in go-karting tournaments. The two are still very close as they later met at Formula Renault and have a link to Mercedes as well. When Lewis Hamilton got involved in the 2021 Abu Dhabi GP controversy where Max won against him despite many fans and pundits feeling that the FIA's ruling was unfair in his case, Susie Wolff even issued a statement supporting the Briton.
Related: "This curse is actually real," Tifosi in disbelief after Charles Leclerc crashes Niki Lauda's Ferrari in Monaco
Lewis Hamilton and Susie Wolff have both been honored for their achievements by the British royalty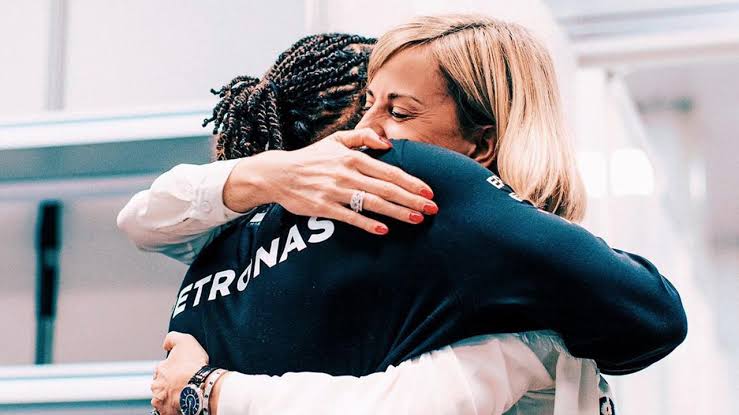 Toto Wolff's wife, Susie Wolff, is a celebrated name in women's racing in Britain. After retiring from regular racing, she took up the job of serving as the CEO of the Formula E team Venturi Racing. She had gone head-to-head with Lewis Hamilton in 2003 in the British Racing League and had shared the podium with him as Hamilton came first and Wolff finished in P3.
Wolff has been very vocal about her support for Lewis Hamilton as she once said, "For me, what's amazing to watch is how well he can push himself in times of pressure. I didn't have that, at that point, as a racing driver, but he has an ability amazing in the car, and out of the car. I'm inspired by Lewis as a racing driver, but also as a human being."
In 2008, Lewis Hamilton received the honor of becoming a Member of the Order of the British Empire (MBE) because of all his contributions to motorsports in Britain. In 2020, he was bestowed with the Knighthood by the Queen of England for his outstanding achievements in racing. Susie Wolff has also received the honor of an MBE in 2017 for her services to Women in Sports. Thus, the two racing greats share a strong connection outside of being a part of the Mercedes F1 team.
Also More : Lewis Hamilton and Michelle Obama share a warm embrace as former first Lady of US makes special appearance in Mercede Garage
Learn More: "Any conversations around buying McLaren is a non-starter" : Zak Brown