Right ahead of this year's debut of the Formula 1 Championship, Formula E is all-set to return for all the fans after a long winter break. And one of the Formula E racers who has seen many of the F1 greats of today up close and personal is Oliver Rowland. The Briton had had a close contest with Charles Leclerc–the Monegasque who is being touted as the next World Championship winner of F1–and in his own words, Rowland believes only he could give a challenge to Leclerc when they were in F2 together.
Luck was not on Oliver Rowland's side for the most part as he faced three cruel disqualifications during his Formula 2 run in the same year when Charles Leclerc was crowned the Champion. Then, Leclerc went ahead and joined the pinnacle of motorsports while Rowland had no such shiny offers from an F1 team to summon him. Thus, he had to choose Formula E as his career's next step and now, he is gearing up for the season's first E-Prix in Mexico with his team, Mahindra Racing.
Three other racers who were also close friends of Oliver Rowland's are Alex Albon, George Russell, and Lando Norris. In 2019, all three of them p the ticket to enter Formula 1–an opportunity that Rowland was never fortunate enough to taste. According to the thirty-year-old, Albon, Russell and Norris are all able racers to their own credit, but he was also as good as them yet he had never gotten the chances that they had landed.
Keep Reading: "Any conversations around buying McLaren is a non-starter" : Zak Brown
Oliver Rowland explained how he fell short of entering Formula 1 because of a string of unfortunate events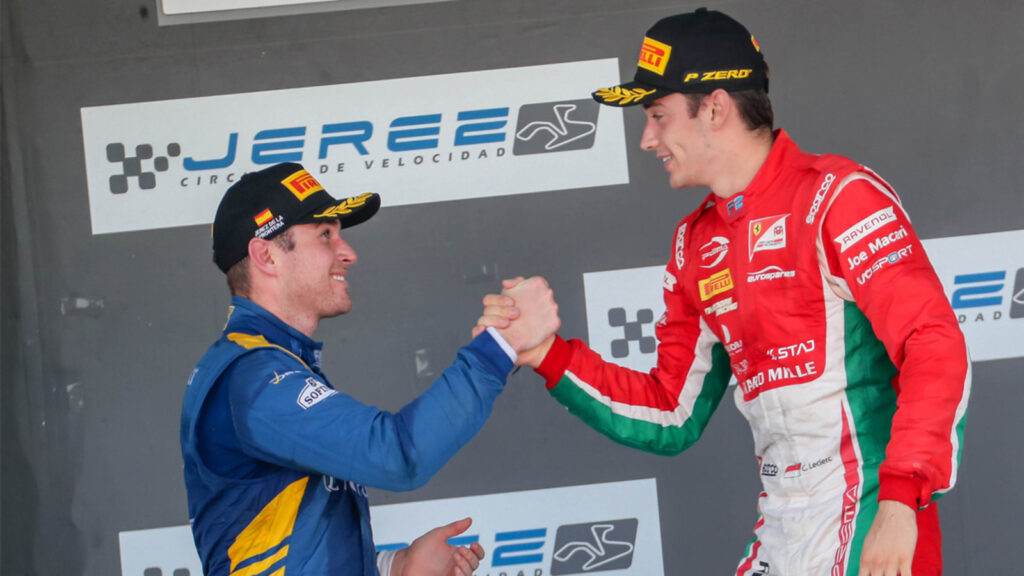 Speaking of how Oliver Rowland was once Charles Leclerc's fiercest competitor back in their F2 days, he explained, "Realistically, I was second in F2. I finished second in the championship and I was disqualified in the last race for 0.1mm of the plank. I was disqualified also three times during the season. For me, I was up there with Charles [Leclerc] and the really only one that could challenge him."
Taking the name of some other F1 racers whom he could have replaced with the right amount of luck, contacts, and racing records, Rowland said about George Russell, Lando Norris, and Alex Albon, "Those guys are good, but I have no doubt I could've fought against them pretty well. Albon was there the year I was there as well. I guess it's just the right place and right time. Some of those things require a bit of luck and it wasn't meant to be. I am happy with the way things are at the moment."
In the end, the bitter truth is that Oliver Rowland fell short of some crucial thing which held him back while all his acquaintances–Leclerc, Russell, Albon, and even Norris made it to Formula 1. Now, Leclerc is the racing series' next big thing while Russell is also giving his seven-time World Champion teammate a run for his money. And Alex has also come out of F1 exile holding hands with Williams while Lando Norris has outscored his teammate at McLaren twice in a row. Now it remains to be seen how luck shines on Oliver in the first race of Formula E this weekend.
Keep Reading: "You should try driving mate," Lando Norris opines on his heated altercation with Ted Kravitz after Mexican GP
Keep Reading: Lewis Hamilton and Michelle Obama share a warm embrace as former first Lady of US makes special appearance in Mercede Garage